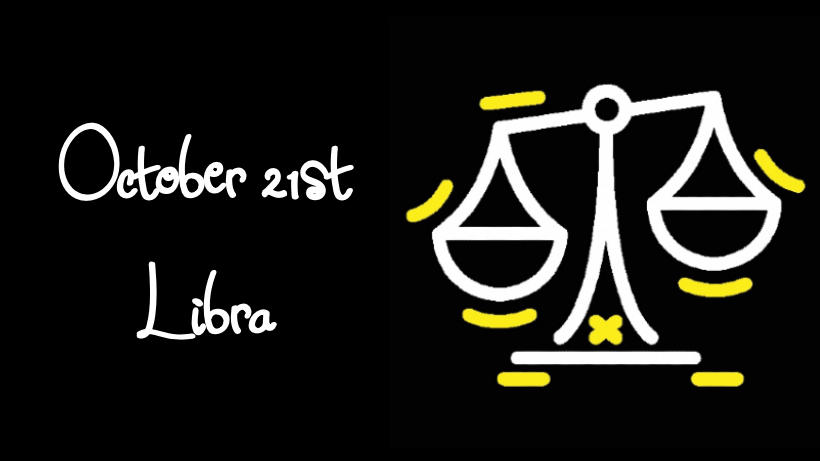 Were you born on October 21st? If so, then according to Western astrology your zodiac sign is Libra, the sign of the Scales. This means that when you were born, the Sun was in the stars that make up the constellation known as Libra. Learn the basics of your horoscope below.
Libra Overview
Libra is known as तूला (tula) in Sanskrit, or "measuring scale." Each sign of the zodiac is characterized by certain basic traits. This includes Symbol, Planetary Ruler, Element, Nature, and Gender. The general make-up of the Libra sign is below:
Sign of the Scales. Libra natives are balanced and judicious. However, they can be somewhat selfish.
Ruled by Venus. Venus is the planet of sensuality, fine food, the arts, and affairs of the home. Venetian individuals are fond of luxury and living the good life.
An air sign. Those with a Libra moon are imaginative, logical, and curious.
A movable sign. Persons born under this sign are fluid, spontaneous, and fond of change.
A masculine sign. This makes the native aggressive, bold, and thick-skinned.
Libra's preferred gemstone is diamond. Libras can also benefit from white sapphire and white topaz.
Traits of the Sun in Libra
In Western Astrology, also known as Tropical astrology, a person's sign is determined by the position of the Sun. If you were born on October 21st, then you're considered a Libra according to most people in the Western world.
The influence of the Sun in a birth chart will change depending on which house it is located in, its relative position in relation to other planets, as well as other factors. However, the following general traits are likely to be found in a native whose Sun is in Libra:
You are restless. Of the twelve signs of the Zodiac, the Sun is weakest in Libra. Ruled by the Sun's enemy, Venus, Libra is a sign of diplomacy and refinement. You feel uncomfortable in social settings. You are indecisive, and you often find yourself torn between multiple paths in life.
You will travel often. One plus side of this planetary placement is that you will have the opportunity for frequent travel, which you generally like to do. It is unlikely that you will settle in your place of birth when you are older.
You meet with many frustrations in life. The Sun is the planet of self-confidence, vigor, and enthusiasm. When the Sun is in Libra in the birth chart, the native struggles in these areas and meets with various obstacles. You may not feel you have ever found your "calling" in this lifetime. However, this can also be an impetus for detachment and spiritual exploration.
You may have an excessive desire for sex. Be wary not to over indulge in romantic pursuits. Short-term pleasures cannot compensate for inner feelings of deficiency, low self-esteem, boredom, and the like. If you practice yoga and meditation, especially bhakti-yoga, then you can become a master of your mind and senses and achieve enlightenment in this very life.
You know how to get along with people. You have a flexible personality type and you know how to adapt to any situation. You can easily fit in to any kind of group, and you may find that you belong to diverse circles.
RECOMMENDED: Check out all our articles on Vedic astrology to learn more about the different signs of the zodiac, as well as the planets, houses, and nakshatras.
Libra Careers
Librans do best in professions that allow a certain degree of independence. When working for themselves, they can be very enterprising.
Recommended careers: Libra-natives can do well as lawyers, judges, doctors, academics, artists, poets, sculptors, designers, and architects.
Careers to avoid: Librans are refined individuals. You may have a hard time working for others, especially bosses who are less intelligent or organized than you. For this reason, you may want to avoid careers that require selfless service or offer little recognition. For example, secretaries, janitors, plumbers, or mechanics.
Libra Mantras
A mantra is a short phrase that uplifts and cleanses our mind, heart, and consciousness. Most suffering takes place only within the mind, and by practicing mantra meditation, we can experience total relief from all suffering and negativity.
The Vedic wisdom texts offer many different mantras, powerful and sacred sound vibrations, that are customized for each individual depending on their unique, personal circumstances.
Librans can especially benefit by meditating with the following mantra:
ॐ परषुरामाय नमः
Om parashuramaya namaha
The Vedas contain many mantras that are effective for different people according to their particular situation. However, some mantras are universal. The following maha-mantra, or "super mantra," is beneficial for people born in any zodiac sign:
हरे कृष्ण हरे कृष्ण कृष्ण कृष्ण हरे हरे
हरे राम हरे राम राम राम हरे हरे
Hare krishna hare krishna krishna krishna hare hare
Hare rama hare rama rama rama hare hare
RECOMMENDED:In ancient times, all astrologers made calculations using the same sidereal system that's used in Vedic astrology. Check out our article on the differences between Western and Vedic astrology to learn more.
Famous Birthdays on October 21st
Glen Powell
Carrie Fisher
Amber Rose
Benjamin Netanyahu
Kane Brown
Dmitry Gordon
Ken Watanbe
Cella Cruz
Alfred Nobel
Blanca Suarez
Andrew Scott
Louis Koo
Zack Greinke
Ricky Rubio
Aaron Tveil
Lee Chong Wei
Monalisa
Nemanja Vidic
Will Estes
Bernard Tomic
Events in History on October 21st
2021: Actor Alec Baldwin shots cinematographer Halyna Hutchins dead and injures director Joel Souza with a prop gun in rehearsal on a film set at Bonanza Ranch, New Mexico
2020 :54th CMT Music Awards: Carrie Underwood, and Luke Bryan win
2020: Pope Francis backs same-sex civil unions in interview in documentary film "Francesco"< /li>
2019: Canadian Federal Election: Justin Trudeau's Liberal Party loses its majority but wins the most seats (157) to form a minority governmen
2018 :Julia Louis-Dreyfus is presented with the Mark Twain Prize, comedy's top honor, at a ceremony in New York
2017: Spanish government suspends Catalonia's autonomy in the face of a deepening political crisis over the region's push for independence
2015: German Chancellor Angela Merkel says German view of Holocaust will not change, after Benjamin Netanyahu says idea came from Mufti of Jerusalem
2013: The Parliament of Canada confers Honorary Canadian citizenship on women's rights and education activist Malala Yousafzai
2012: Kateri Tekakwitha canonized as the 1st Native American saint by Pope Benedict XVI
2007: Finnish Ferrari driver Kimi Räikkönen wins season ending Brazilian F1 Grand Prix
1993: Gary Kasparov defeats Nigel Short for chess championship
1991: Former California Governor Jerry Brown announces his run for the US Presidency
1990: Ayrton Senna of Brazil crashes his McLaren during the Japanese Grand Prix at Suzuka
1987: Nobel Prize in Economics awarded to Robert Solow for his theory of economic growth
1983: Pope John Paul II names 3 new Dutch bishops/li>
1982: Private funeral service held for Bess Truman, former First Lady of the United States
1980: Mikhail Gorbachev elected member of Politburot
1979: Israeli minister of Foreign affairs Moshe Dayan resigns
1976: Nobel prize for literature awarded to American Saul Bellow
Learn About the Zodiac
Learn more about your Zodiac Sign by checking out our complete guide on Libra. You can also learn about the signs of your friends and family!
Find the birth sign of any day of the year! Check out our comprehensive archive page where you can easily look up the Zodiac Sign for any day of the year!
Discover Your Nakshatra
In Vedic astrology the nakshatra is a used to determine many important aspects of a your life and personality. We have developed a free nakshatra calculator you can use to look up your nakshatra.