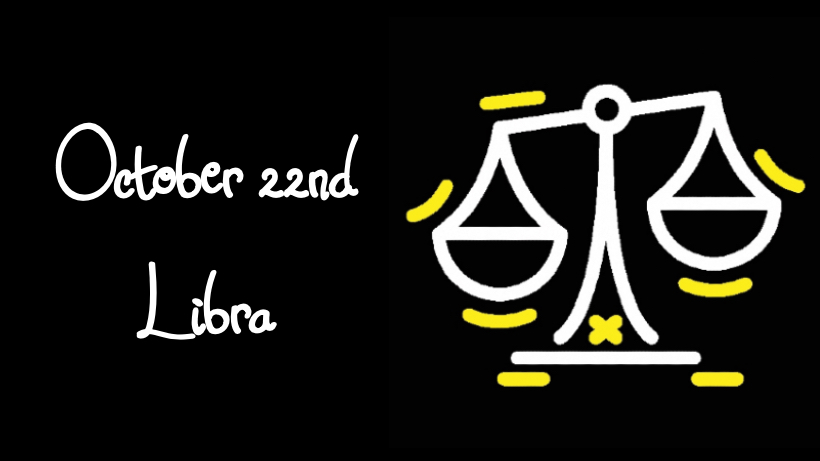 Were you born on October 22nd? If so, then according to Western astrology your zodiac sign is Libra, the sign of the Scales. This means that when you were born, the Sun was in the stars that make up the constellation known as Libra. Learn the basics of your horoscope below.
Libra Overview
Libra is known as तूला (tula) in Sanskrit, or "measuring scale." Each sign of the zodiac is characterized by certain basic traits. This includes Symbol, Planetary Ruler, Element, Nature, and Gender. The general make-up of the Libra sign is below:
Sign of the Scales. Libra natives are balanced and judicious. However, they can be somewhat selfish.
Ruled by Venus. Venus is the planet of sensuality, fine food, the arts, and affairs of the home. Venetian individuals are fond of luxury and living the good life.
An air sign. Those with a Libra moon are imaginative, logical, and curious.
A movable sign. Persons born under this sign are fluid, spontaneous, and fond of change.
A masculine sign. This makes the native aggressive, bold, and thick-skinned.
Libra's preferred gemstone is diamond. Libras can also benefit from white sapphire and white topaz.
Traits of the Sun in Libra
In Western Astrology, also known as Tropical astrology, a person's sign is determined by the position of the Sun. If you were born on October 22nd, then you're considered a Libra according to most people in the Western world.
The influence of the Sun in a birth chart will change depending on which house it is located in, its relative position in relation to other planets, as well as other factors. However, the following general traits are likely to be found in a native whose Sun is in Libra:
You are restless. Of the twelve signs of the Zodiac, the Sun is weakest in Libra. Ruled by the Sun's enemy, Venus, Libra is a sign of diplomacy and refinement. You feel uncomfortable in social settings. You are indecisive, and you often find yourself torn between multiple paths in life.
You will travel often. One plus side of this planetary placement is that you will have the opportunity for frequent travel, which you generally like to do. It is unlikely that you will settle in your place of birth when you are older.
You meet with many frustrations in life. The Sun is the planet of self-confidence, vigor, and enthusiasm. When the Sun is in Libra in the birth chart, the native struggles in these areas and meets with various obstacles. You may not feel you have ever found your "calling" in this lifetime. However, this can also be an impetus for detachment and spiritual exploration.
You may have an excessive desire for sex. Be wary not to over indulge in romantic pursuits. Short-term pleasures cannot compensate for inner feelings of deficiency, low self-esteem, boredom, and the like. If you practice yoga and meditation, especially bhakti-yoga, then you can become a master of your mind and senses and achieve enlightenment in this very life.
You know how to get along with people. You have a flexible personality type and you know how to adapt to any situation. You can easily fit in to any kind of group, and you may find that you belong to diverse circles.
RECOMMENDED: Check out all our articles on Vedic astrology to learn more about the different signs of the zodiac, as well as the planets, houses, and nakshatras.
Libra Careers
Librans do best in professions that allow a certain degree of independence. When working for themselves, they can be very enterprising.
Recommended careers: Libra-natives can do well as lawyers, judges, doctors, academics, artists, poets, sculptors, designers, and architects.
Careers to avoid: Librans are refined individuals. You may have a hard time working for others, especially bosses who are less intelligent or organized than you. For this reason, you may want to avoid careers that require selfless service or offer little recognition. For example, secretaries, janitors, plumbers, or mechanics.
Libra Mantras
A mantra is a short phrase that uplifts and cleanses our mind, heart, and consciousness. Most suffering takes place only within the mind, and by practicing mantra meditation, we can experience total relief from all suffering and negativity.
The Vedic wisdom texts offer many different mantras, powerful and sacred sound vibrations, that are customized for each individual depending on their unique, personal circumstances.
Librans can especially benefit by meditating with the following mantra:
ॐ परषुरामाय नमः
Om parashuramaya namaha
The Vedas contain many mantras that are effective for different people according to their particular situation. However, some mantras are universal. The following maha-mantra, or "super mantra," is beneficial for people born in any zodiac sign:
हरे कृष्ण हरे कृष्ण कृष्ण कृष्ण हरे हरे
हरे राम हरे राम राम राम हरे हरे
Hare krishna hare krishna krishna krishna hare hare
Hare rama hare rama rama rama hare hare
RECOMMENDED: In ancient times, all astrologers made calculations using the same sidereal system that's used in Vedic astrology. Check out our article on the differences between Western and Vedic astrology to learn more.
Famous Birthdays on October 22nd
Jeff Goldblum
Bob Odenkirk
Christopher lloyd
Catherine Deneuve
Franz Liszt
Shaggy
Hadise
Deontay Wilder
Ichiro Suzuki
Aresene Wenger
Amit Shah
Sonia Sui
Jesse Tyler Ferguson
Deepak Chopra
Brad Stevens
B.I
Spike Jonze
Saffron Burrows
Valeria Golino
Jonathan Lipnicki
Events in History on October 22nd
2019: Top US diplomat in Ukraine, Bill Taylor, testifies President Donald Trump tied aid to Ukraine to demands the country open an investigation into the Biden family
2019: Russian President Vladimir Putin and Turkish President Recep Tayyip Erdoğan agree deal to jointly control former Kurdish territory in Northern Syria
2018: Pipe bomb sent to George Soros' New York home address, first Democrat to receive series of pipe bombs in US< /li>
2018 :Actress Selma Blair reveals she has been diagnosed with multiple sclerosis
2009: Former Uruguayan dictator Gregorio Álvarez sentenced to 25 years in prison for aggravated murder of 37 Uruguayan dissidents who had fled to Argentina [1]
1999: NHL goaltender Grant Fuhr wins his 400th career game (vs Florida Panthers)
1979: Deposed Shah of Iran Mohammad Reza Pahlavi arrives in NYC for medical treatment
1978: Pope John Paul II is inaugurated as Pope
1969: Paul McCartney denies greatly exaggerated rumors of his death
1964: French philosopher and author Jean-Paul Sartre refuses Nobel prize
1962: Cuban Missile Crisis: US President John F. Kennedy addresses TV about Russian missile bases in Cuba
1957: Konrad Adenauer re-elected Chancellor of West Germany
1938: President of Czechoslovakia Edvard Beneš goes into exile in London, in the aftermath of the Munich agreement and German annexation of Sudetenland
1929: 8th French government of Aristide Briand falls
1928: Herbert Hoover speaks of "American system of rugged individualism"
1926: J. Gordon Whitehead sucker punches magician Harry Houdini in the stomach in Montreal
1907: Ringling Brothers Greatest Show on Earth buys Barnum & Bailey circus
1906: Henry Ford becomes President of Ford Motor Company
1879: Thomas Edison perfects carbonized cotton filament light bulb
Learn About the Zodiac
Learn more about your Zodiac Sign by checking out our complete guide on Libra. You can also learn about the signs of your friends and family!
Find the birth sign of any day of the year! Check out our comprehensive archive page where you can easily look up the Zodiac Sign for any day of the year!
Discover Your Nakshatra
In Vedic astrology the nakshatra is a used to determine many important aspects of a your life and personality. We have developed a free nakshatra calculator you can use to look up your nakshatra.