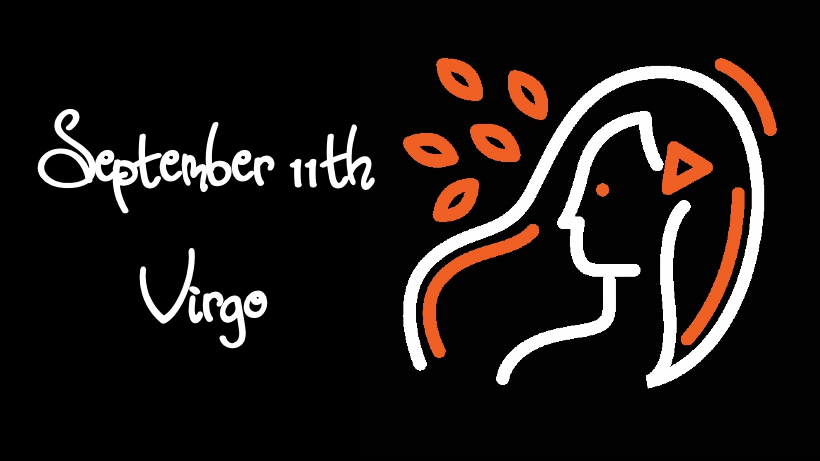 Were you born on September 11? If so, then according to Western astrology your zodiac sign is Virgo, the sign of the Virgin. This means that when you were born, the Sun was in the stars that make up the constellation known as Virgo. Learn the basics of your horoscope below.
Virgo Overview
Virgo is known as कन्य​ (kanya) in Sanskrit, or "virgin." Each sign of the zodiac is characterized by certain basic traits. This includes Symbol, Planetary Ruler, Element, Nature, and Gender. The general make-up of the Virgo sign is below:
Sign of the Virgin. Virgo natives are intelligent and resourceful. They may experience conflicting feelings and desires in life.
Ruled by Mercury. Mercury is the planet of thought, the nervous system, communication, and literature. Mercurial individuals are hard to predict. Their minds move so quickly that others have a hard time keeping up.
An earth sign. Those with a Virgo moon are dexterous, thoughtful, and practical.
A dual sign. Persons born under this sign are adaptable and multi-talented.
A feminine sign. This makes the native receptive, sensitive, and empathetic.
Virgo's preferred gemstone is emerald. Virgos can also benefit from green tourmaline and peridot.
Traits of the Sun in Virgo
In Western Astrology, also known as Tropical astrology, a person's sign is determined by the position of the Sun. If you were born on September 11, then you're considered a Virgo according to most people in the Western world.
The influence of the Sun in a birth chart will change depending on which house it is located in, its relative position in relation to other planets, as well as other factors. However, the following general traits are likely to be found in a native whose Sun is in Virgo:
You have a strong memory. Ruled by Mercury, Virgo brings ample mental strength. You pay attention to the events in your life and do not easily forget the people who have helped you, or those who have done you wrong.
You enjoy serving others. You have a natural inclination to serve others, especially people in religious, spiritual, or charitable positions. Service is a major part of your personal spirituality.
You are skilled in science and the arts. Mercury also brings artistic gifts. You are knowledgeable and talented in writing, calligraphy, art, and mathematics. And your strong memory enables you to learn almost anything.
You have feminine features. As a feminine sign, Virgo is recognized by soft features. You may not have much physical or mental stamina, but you excel in empathy and emotional intelligence.
You can be shy. You prefer to be in the background and do not like receiving too much attention for your work. You have a hard time asserting yourself in personal relationships and in the workplace.
RECOMMENDED: Check out all our articles on Vedic astrology to learn more about the different signs of the zodiac, as well as the planets, houses, and nakshatras.
Virgo Careers
Virgos are multi-talented individuals who can succeed in a number of different professions. However, they generally prefer to take up a helper role and are rarely to be found in the driver's seat.
Recommended careers: Virgos do well in careers involving hard facts, data, and anything service-related. They can make good mathematicians, scientists, linguists, architects, or researchers. Their literary and scholastic talent can make them excellent teachers, writers, or journalists.
Careers to avoid: Roles involving a high degree of leadership would likely not suit a Virgo. For example, CEOs, principals, or deans. Virgos are also dispassionate by nature. This means they may want to avoid roles which require a high level of empathy, such as a career in counseling, coaching, or childcare.
Virgo Mantras
A mantra is a short phrase that uplifts and cleanses our mind, heart, and consciousness. Most suffering takes place only within the mind, and by practicing mantra meditation, we can experience total relief from all suffering and negativity.
The Vedic wisdom texts offer many different mantras, powerful and sacred sound vibrations, that are customized for each individual depending on their unique, personal circumstances.
Virgos can especially benefit by meditating with the following mantra:
ॐ बुद्धदेवाय नमः
Om buddha-devaya namaha
The Vedas contain many mantras that are effective for different people according to their particular situation. However, some mantras are universal. The following maha-mantra, or "super mantra," is beneficial for people born in any zodiac sign:
हरे कृष्ण हरे कृष्ण कृष्ण कृष्ण हरे हरे
हरे राम हरे राम राम राम हरे हरे
Hare krishna hare krishna krishna krishna hare hare
Hare rama hare rama rama rama hare hare
RECOMMENDED: In ancient times, all astrologers made calculations using the same sidereal system that's used in Vedic astrology. Check out our article on the differences between Western and Vedic astrology to learn more.
Famous Birthdays on September 11th
Bashar Al Assad
Iosif Kobzon
Taraji P Henson
Tyler Hoechlin
Moby
Ludacris
Franz Beckenbaur
Kygo
Ariana Richards
Scott Patterson
Virginia Madsen
Mai Oshima
Mike Comrie
Kristy Mcnichol
Shaun Livingston
EG Daily
Harry Con Jr
Elizabeth Henstridge
O Henry
Paul Heyman
Events in History on September 11th
2021: Twentieth anniversary of 9/11 marked by US President Joe Biden and former presidents Barack Obama and Bill Clinton in New York
2018: "Fear: Trump in the White House" by Bob Woodward is published by Simon and Schuster
2018: Former UN Secretary General Kofi Annan lies in state in Accra, Ghana, ahead of a state funeral
2017: Hurricane Irma leaves 7 million US homes without power in Florida and Georgia
2005: US Open Men's Tennis: Roger Federer retains title; beats Andre Agassi
2001: Two passenger planes hijacked by Al Qaeda terrorists crash into New York's World Trade Towers causing the collapse of both and deaths of 2,606 people
1999: US Open Women's Tennis: Serena Williams wins her first Grand Slam title
1994: 46th Emmy Awards: Frasier, Picket Fences and Kelsey Grammer win
1988: US Open Men's Tennis: Mats Wilander of Sweden wins his only US title
1986: Egyptian President Hosni Mubarak receives Israeli Prime Minister Shimon Peres
1983: US Open Men's Tennis: American Jimmy Connors retains title
1977: The Atari 2600, originally known as the Atari Video Computer System (Atari VCS) is released in North America
1976: US Open Women's Tennis, Forest Hills, NY: Chris Evert retains her title
1973: Chilean President Salvador Allende, the 1st elected Marxist president of a South America country, is deposed in a military coup led by general Augusto Pinochet
1967: French President Charles de Gaulle visits Poland
1964: George Harrison forms Mornyork Ltd music publishing company /li>
1952: West German Chancellor Konrad Adenauer signs a reparation pact for the Jewish people
1941: FDR orders US Navy that any Axis ship found in American waters be shot at on sight
1940: Hitler begins operation Seelöwe (Sealion – aborted invasion England)
1906: Mahatma Gandhi coins the term "Satyagraha" to characterize the Non-Violence movement in South Africa.
Learn About the Zodiac
Learn more about your Zodiac Sign by checking out our complete guide on Virgo. You can also learn about the signs of your friends and family!
Find the birth sign of any day of the year! Check out our comprehensive archive page where you can easily look up the Zodiac Sign for any day of the year!
Discover Your Nakshatra
In Vedic astrology the nakshatra is a used to determine many important aspects of a your life and personality. We have developed a free nakshatra calculator you can use to look up your nakshatra.