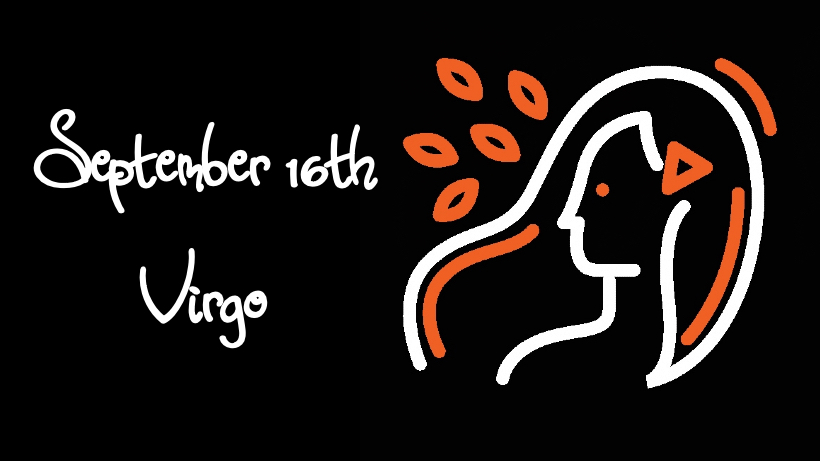 Were you born on September 16? If so, then according to Western astrology your zodiac sign is Virgo, the sign of the Virgin. This means that when you were born, the Sun was in the stars that make up the constellation known as Virgo. Learn the basics of your horoscope below.
Virgo Overview
Virgo is known as कन्य​ (kanya) in Sanskrit, or "virgin." Each sign of the zodiac is characterized by certain basic traits. This includes Symbol, Planetary Ruler, Element, Nature, and Gender. The general make-up of the Virgo sign is below:
Sign of the Virgin. Virgo natives are intelligent and resourceful. They may experience conflicting feelings and desires in life.
Ruled by Mercury. Mercury is the planet of thought, the nervous system, communication, and literature. Mercurial individuals are hard to predict. Their minds move so quickly that others have a hard time keeping up.
An earth sign. Those with a Virgo moon are dexterous, thoughtful, and practical.
A dual sign. Persons born under this sign are adaptable and multi-talented.
A feminine sign. This makes the native receptive, sensitive, and empathetic.
Virgo's preferred gemstone is emerald. Virgos can also benefit from green tourmaline and peridot.
Traits of the Sun in Virgo
In Western Astrology, also known as Tropical astrology, a person's sign is determined by the position of the Sun. If you were born on September 16, then you're considered a Virgo according to most people in the Western world.
The influence of the Sun in a birth chart will change depending on which house it is located in, its relative position in relation to other planets, as well as other factors. However, the following general traits are likely to be found in a native whose Sun is in Virgo:
You have a strong memory. Ruled by Mercury, Virgo brings ample mental strength. You pay attention to the events in your life and do not easily forget the people who have helped you, or those who have done you wrong.
You enjoy serving others. You have a natural inclination to serve others, especially people in religious, spiritual, or charitable positions. Service is a major part of your personal spirituality.
You are skilled in science and the arts. Mercury also brings artistic gifts. You are knowledgeable and talented in writing, calligraphy, art, and mathematics. And your strong memory enables you to learn almost anything.
You have feminine features. As a feminine sign, Virgo is recognized by soft features. You may not have much physical or mental stamina, but you excel in empathy and emotional intelligence.
You can be shy. You prefer to be in the background and do not like receiving too much attention for your work. You have a hard time asserting yourself in personal relationships and in the workplace.
RECOMMENDED: Check out all our articles on Vedic astrology to learn more about the different signs of the zodiac, as well as the planets, houses, and nakshatras.
Virgo Careers
Virgos are multi-talented individuals who can succeed in a number of different professions. However, they generally prefer to take up a helper role and are rarely to be found in the driver's seat.
Recommended careers: Virgos do well in careers involving hard facts, data, and anything service-related. They can make good mathematicians, scientists, linguists, architects, or researchers. Their literary and scholastic talent can make them excellent teachers, writers, or journalists.
Careers to avoid: Roles involving a high degree of leadership would likely not suit a Virgo. For example, CEOs, principals, or deans. Virgos are also dispassionate by nature. This means they may want to avoid roles which require a high level of empathy, such as a career in counseling, coaching, or childcare.
Virgo Mantras
A mantra is a short phrase that uplifts and cleanses our mind, heart, and consciousness. Most suffering takes place only within the mind, and by practicing mantra meditation, we can experience total relief from all suffering and negativity.
The Vedic wisdom texts offer many different mantras, powerful and sacred sound vibrations, that are customized for each individual depending on their unique, personal circumstances.
Virgos can especially benefit by meditating with the following mantra:
ॐ बुद्धदेवाय नमः
Om buddha-devaya namaha
The Vedas contain many mantras that are effective for different people according to their particular situation. However, some mantras are universal. The following maha-mantra, or "super mantra," is beneficial for people born in any zodiac sign:
हरे कृष्ण हरे कृष्ण कृष्ण कृष्ण हरे हरे
हरे राम हरे राम राम राम हरे हरे
Hare krishna hare krishna krishna krishna hare hare
Hare rama hare rama rama rama hare hare
RECOMMENDED: In ancient times, all astrologers made calculations using the same sidereal system that's used in Vedic astrology. Check out our article on the differences between Western and Vedic astrology to learn more.
Famous Birthdays on September 16th
Nick Jonas
Marc Anthony
Fan Bingbing
Alexis Bledel

Mickey Rourke
Lauren Bacall
Amy Poehler
Molly Shannon
BB King
Jennifer Tilly
Falk
Metro Boomin
Aaron Gordon
Flo Rida
Richard Marx
David Copperfield
Madeline Zima
Merve Bolugur
Kyla Pratt
Ian Harding
Events in History on September 16th
2021: French President Emmanuel Macron says France has killed leader of the Islamic State in the Greater Sahara Adnan Abu Walid al-Sahrawi
2020: Barbados' Prime Minister Mia Mottley announces the country's intention to remove Queen Elizabeth II as its head of state and become a republic
2020 :Yoshihide Suga confirmed as Prime Minister by the Japanese government after Shinzo Abe stood down due to ill health
2019: Marvel actor Mark Ruffalo rebuffs UK PM Boris Johnson
2018: "Green Book" wins People's Choice Award at the Toronto Film Festival
2015: Second Republican presidential candidates debate, hosted by CNN
1997: Apple Computer Inc names co-founder Steve Jobs interim CEO
1995: Greg Maddux of Braves sets record of 17 consecutive road victories
1993: "Frasier" starring Kelsey Grammer and David Hyde Pierce premieres on NBC
1991: US trial of former Panamanian leader Manuel Noriega begins
1990: Iraq televises an 8 minute uncensored speech from George H. W. Bush
1987: Pope John Paul II's ends his Los Angeles tour with an interfaith meeting at Dodger Stadium
1983: Arnold Schwarzenegger becomes a US citizen
1977: Ringo Starr releases single "Drowning in Sea of Love" in the UK
1974: US President Gerald Ford announces conditional amnesty for US Vietnam War deserters
1971: West German chancellor Willy Brandt meets with Soviet leader Leonid Brezhnev /li>
1941: Adolf Hitler orders that for every dead German, 100 Yugoslavs should be killed
1920: The "Wall Street bombing" occurs at 12:01
1906: Douglas Mawson, Edgeworth David and Alistair Mackay claim to have discovered the Magnetic South Pole in Antarctica
1847: Shakespeare Birthplace Trust buys bard's birthplace in Stratford-upon-Avon
Learn About the Zodiac
Learn more about your Zodiac Sign by checking out our complete guide on Virgo. You can also learn about the signs of your friends and family!
Find the birth sign of any day of the year! Check out our comprehensive archive page where you can easily look up the Zodiac Sign for any day of the year!
Discover Your Nakshatra
In Vedic astrology the nakshatra is a used to determine many important aspects of a your life and personality. We have developed a free nakshatra calculator you can use to look up your nakshatra.