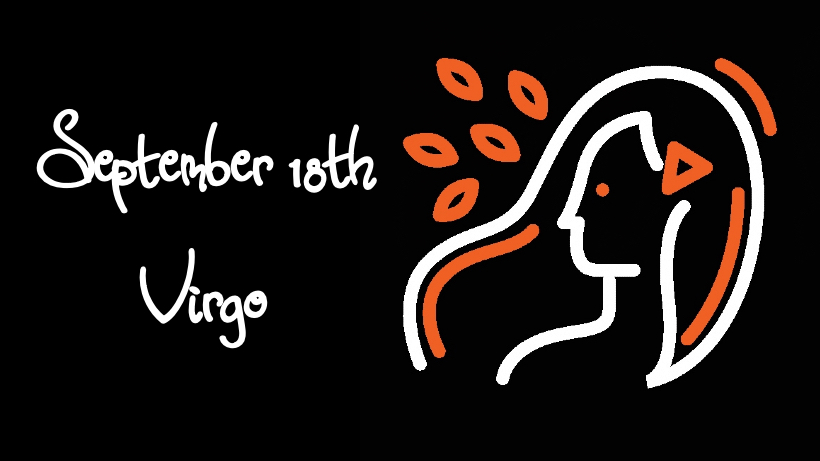 Were you born on September 18? If so, then according to Western astrology your zodiac sign is Virgo, the sign of the Virgin. This means that when you were born, the Sun was in the stars that make up the constellation known as Virgo. Learn the basics of your horoscope below.
Virgo Overview
Virgo is known as कन्य​ (kanya) in Sanskrit, or "virgin." Each sign of the zodiac is characterized by certain basic traits. This includes Symbol, Planetary Ruler, Element, Nature, and Gender. The general make-up of the Virgo sign is below:
Sign of the Virgin. Virgo natives are intelligent and resourceful. They may experience conflicting feelings and desires in life.
Ruled by Mercury. Mercury is the planet of thought, the nervous system, communication, and literature. Mercurial individuals are hard to predict. Their minds move so quickly that others have a hard time keeping up.
An earth sign. Those with a Virgo moon are dexterous, thoughtful, and practical.
A dual sign. Persons born under this sign are adaptable and multi-talented.
A feminine sign. This makes the native receptive, sensitive, and empathetic.
Virgo's preferred gemstone is emerald. Virgos can also benefit from green tourmaline and peridot.
Traits of the Sun in Virgo
In Western Astrology, also known as Tropical astrology, a person's sign is determined by the position of the Sun. If you were born on September 18, then you're considered a Virgo according to most people in the Western world.
The influence of the Sun in a birth chart will change depending on which house it is located in, its relative position in relation to other planets, as well as other factors. However, the following general traits are likely to be found in a native whose Sun is in Virgo:
You have a strong memory. Ruled by Mercury, Virgo brings ample mental strength. You pay attention to the events in your life and do not easily forget the people who have helped you, or those who have done you wrong.
You enjoy serving others. You have a natural inclination to serve others, especially people in religious, spiritual, or charitable positions. Service is a major part of your personal spirituality.
You are skilled in science and the arts. Mercury also brings artistic gifts. You are knowledgeable and talented in writing, calligraphy, art, and mathematics. And your strong memory enables you to learn almost anything.
You have feminine features. As a feminine sign, Virgo is recognized by soft features. You may not have much physical or mental stamina, but you excel in empathy and emotional intelligence.
You can be shy. You prefer to be in the background and do not like receiving too much attention for your work. You have a hard time asserting yourself in personal relationships and in the workplace.
RECOMMENDED: Check out all our articles on Vedic astrology to learn more about the different signs of the zodiac, as well as the planets, houses, and nakshatras.
Virgo Careers
Virgos are multi-talented individuals who can succeed in a number of different professions. However, they generally prefer to take up a helper role and are rarely to be found in the driver's seat.
Recommended careers: Virgos do well in careers involving hard facts, data, and anything service-related. They can make good mathematicians, scientists, linguists, architects, or researchers. Their literary and scholastic talent can make them excellent teachers, writers, or journalists.
Careers to avoid: Roles involving a high degree of leadership would likely not suit a Virgo. For example, CEOs, principals, or deans. Virgos are also dispassionate by nature. This means they may want to avoid roles which require a high level of empathy, such as a career in counseling, coaching, or childcare.
Virgo Mantras
A mantra is a short phrase that uplifts and cleanses our mind, heart, and consciousness. Most suffering takes place only within the mind, and by practicing mantra meditation, we can experience total relief from all suffering and negativity.
The Vedic wisdom texts offer many different mantras, powerful and sacred sound vibrations, that are customized for each individual depending on their unique, personal circumstances.
Virgos can especially benefit by meditating with the following mantra:
ॐ बुद्धदेवाय नमः
Om buddha-devaya namaha
The Vedas contain many mantras that are effective for different people according to their particular situation. However, some mantras are universal. The following maha-mantra, or "super mantra," is beneficial for people born in any zodiac sign:
हरे कृष्ण हरे कृष्ण कृष्ण कृष्ण हरे हरे
हरे राम हरे राम राम राम हरे हरे
Hare krishna hare krishna krishna krishna hare hare
Hare rama hare rama rama rama hare hare
RECOMMENDED: In ancient times, all astrologers made calculations using the same sidereal system that's used in Vedic astrology. Check out our article on the differences between Western and Vedic astrology to learn more.
Famous Birthdays on September 18th
Jada Pinkett Smith
James Marsden
Jason Sudeikis
Patrick Schwarznegger
James Gandolfini
Lance Armstrong
Ben Carson
Greta Garbo
Anna Netrebiko
Aisha Tyler
Serge Ibaka
Robert Blake
John Mcafee
Xzibit
Billy Eichner
Amber Liu
Alison Lohman
Frankie Avalon
Angela Simmons
Camillie Combat
Events in History on Sep17th
2019: Second Israel General Election in five months results in another deadlock between Benny Gantz's Blue and White Party and Likud Party under Benjamin Netanyahu
2018: 70th Emmy Awards: "Games of Thrones". "The Marvelous Mrs. Maisel", Rachel Brosnahan, Matthew Rhys, Claire Foy, Bill Hader win
2017: England footballer Wayne Rooney pleads guilty to drunk driving and is banned for driving for 2 years
2005: Federation Cup Women's Tennis, Paris, France: Russian pair Elena Dementieva & Dinara Safina win deciding doubles rubber 6-4, 1-6, 6-3 over Amélie Mauresmo & Mary Pierce of France; clinches Russia's 2nd consecutive title, 3-2
1999: 24th Toronto International Film Festival: "American Beauty" directed by Sam Mendes wins the People's Choice Award
1997 :Ted Turner gives $1 billion to the United Nations
1987: Film thriller "Fatal Attraction" directed by Adrian Lyne, starring Michael Douglas and Glenn Close is released
1986: David Boon's 3rd Test cricket century, 122 v India at Madras
1977: Brooks Robinson Night in Baltimore
1976: Mao Zedong's funeral takes place in Beijing
1965: TV comedy "Get Smart" created by Mel Brooks and starring Don Adams premieres
1948 :Ralph Bunche confirmed as acting UN mediator in Palestine
1947: The Central Intelligence Agency officially comes into existence after being established by President Truman in July
1943: Adolf Hitler orders deportation of Danish Jews (unsuccessful)
1914: General Paul von Hindenburg named commander of German armies on the Eastern Front
1911 Louis Napoleon Parker's "Disraeli" premieres in NYC /li>
1895: Booker T. Washington delivers 'Atlanta Compromise' address
1850:US Congress passes Fugitive Slave Law as part of Compromise of 1850
1837: Charles Lewis Tiffany and John B. Young co-found a "stationery and fancy goods emporium" in New York City, later renamed in 1853 as "Tiffany & Co."
1812: Great Fire of Moscow burns out after 5 days, 75% of the city destroyed and 12,000 killed
Learn About the Zodiac
Learn more about your Zodiac Sign by checking out our complete guide on Virgo. You can also learn about the signs of your friends and family!
Find the birth sign of any day of the year! Check out our comprehensive archive page where you can easily look up the Zodiac Sign for any day of the year!
Discover Your Nakshatra
In Vedic astrology the nakshatra is a used to determine many important aspects of a your life and personality. We have developed a free nakshatra calculator you can use to look up your nakshatra.