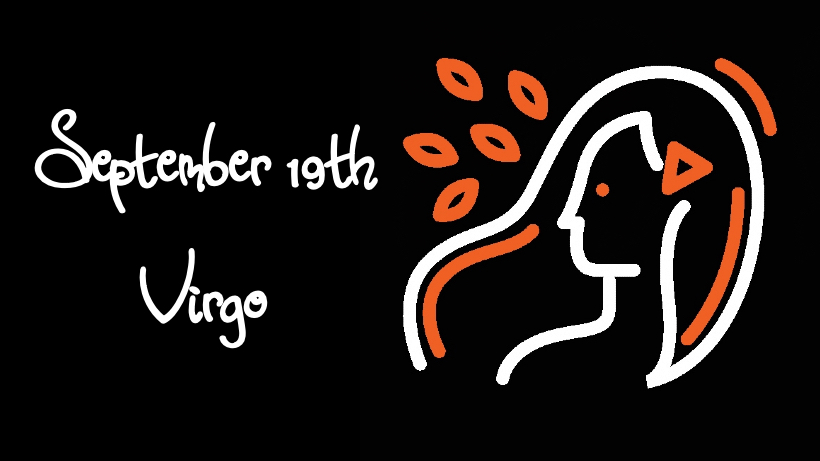 Were you born on September 19? If so, then according to Western astrology your zodiac sign is Virgo, the sign of the Virgin. This means that when you were born, the Sun was in the stars that make up the constellation known as Virgo. Learn the basics of your horoscope below.
Virgo Overview
Virgo is known as कन्य​ (kanya) in Sanskrit, or "virgin." Each sign of the zodiac is characterized by certain basic traits. This includes Symbol, Planetary Ruler, Element, Nature, and Gender. The general make-up of the Virgo sign is below:
Sign of the Virgin. Virgo natives are intelligent and resourceful. They may experience conflicting feelings and desires in life.
Ruled by Mercury. Mercury is the planet of thought, the nervous system, communication, and literature. Mercurial individuals are hard to predict. Their minds move so quickly that others have a hard time keeping up.
An earth sign. Those with a Virgo moon are dexterous, thoughtful, and practical.
A dual sign. Persons born under this sign are adaptable and multi-talented.
A feminine sign. This makes the native receptive, sensitive, and empathetic.
Virgo's preferred gemstone is emerald. Virgos can also benefit from green tourmaline and peridot.
Traits of the Sun in Virgo
In Western Astrology, also known as Tropical astrology, a person's sign is determined by the position of the Sun. If you were born on September 19, then you're considered a Virgo according to most people in the Western world.
The influence of the Sun in a birth chart will change depending on which house it is located in, its relative position in relation to other planets, as well as other factors. However, the following general traits are likely to be found in a native whose Sun is in Virgo:
You have a strong memory. Ruled by Mercury, Virgo brings ample mental strength. You pay attention to the events in your life and do not easily forget the people who have helped you, or those who have done you wrong.
You enjoy serving others. You have a natural inclination to serve others, especially people in religious, spiritual, or charitable positions. Service is a major part of your personal spirituality.
You are skilled in science and the arts. Mercury also brings artistic gifts. You are knowledgeable and talented in writing, calligraphy, art, and mathematics. And your strong memory enables you to learn almost anything.
You have feminine features. As a feminine sign, Virgo is recognized by soft features. You may not have much physical or mental stamina, but you excel in empathy and emotional intelligence.
You can be shy. You prefer to be in the background and do not like receiving too much attention for your work. You have a hard time asserting yourself in personal relationships and in the workplace.
RECOMMENDED: Check out all our articles on Vedic astrology to learn more about the different signs of the zodiac, as well as the planets, houses, and nakshatras.
Virgo Careers
Virgos are multi-talented individuals who can succeed in a number of different professions. However, they generally prefer to take up a helper role and are rarely to be found in the driver's seat.
Recommended careers: Virgos do well in careers involving hard facts, data, and anything service-related. They can make good mathematicians, scientists, linguists, architects, or researchers. Their literary and scholastic talent can make them excellent teachers, writers, or journalists.
Careers to avoid: Roles involving a high degree of leadership would likely not suit a Virgo. For example, CEOs, principals, or deans. Virgos are also dispassionate by nature. This means they may want to avoid roles which require a high level of empathy, such as a career in counseling, coaching, or childcare.
Virgo Mantras
A mantra is a short phrase that uplifts and cleanses our mind, heart, and consciousness. Most suffering takes place only within the mind, and by practicing mantra meditation, we can experience total relief from all suffering and negativity.
The Vedic wisdom texts offer many different mantras, powerful and sacred sound vibrations, that are customized for each individual depending on their unique, personal circumstances.
Virgos can especially benefit by meditating with the following mantra:
ॐ बुद्धदेवाय नमः
Om buddha-devaya namaha
The Vedas contain many mantras that are effective for different people according to their particular situation. However, some mantras are universal. The following maha-mantra, or "super mantra," is beneficial for people born in any zodiac sign:
हरे कृष्ण हरे कृष्ण कृष्ण कृष्ण हरे हरे
हरे राम हरे राम राम राम हरे हरे
Hare krishna hare krishna krishna krishna hare hare
Hare rama hare rama rama rama hare hare
RECOMMENDED: In ancient times, all astrologers made calculations using the same sidereal system that's used in Vedic astrology. Check out our article on the differences between Western and Vedic astrology to learn more.
Famous Birthdays on September 19th
Song Joong Ki
Jimmy Fallon
Jeremy Irons
Danielle Panabaker

Adam West
Twiggy
CJ McCollum
Sanaa Lathan
David Zepeda
David McCallum
Lauren Goodger
Paulio Freire
Kim Richards
Mario Batali
Takanori Nishikawa
Katrina Bowden
Trisha Yearwood
Lorenza Izzo
Lita Ford
Skepta
Events in History on Sep17th
2017: President Hassan Rouhani of Iran in his UN speech criticizes US President Donald Trump for his comments about Iran in his own UN speech
2017: US President Donald Trump addresses the United Nations vowing to "totally destroy North Korea" if threatens the US
2011: Ashton Kutcher debuts on "Two and a Half Men", replacing Charlie Sheen
2009: 34th Toronto International Film Festival: "Precious" directed by Lee Daniels wins the People's Choice Award
2007: MS Dhoni named Captain of Indian Cricket team for the 1st time for the ICC World Twenty20
2000: Ken Griffey Jr. pinch-hits his 400th home run becoming the first major league player to reach the mark as a pinch-hitter
1998: 23rd Toronto International Film Festival: "Life Is Beautiful" directed by Roberto Benigni wins the People's Choice Award
1993: Tom Glavine wins 20 games in 3 straight years
1993: 45th Emmy Awards: Seinfeld, Picket Fences & Ted Danson win
1989: "Doogie Howser, M.D.", starring Neil Patrick Harris as a teenage physician, debuts on ABC
1988: Bon Jovi release their 4th album "New Jersey" – most top ten hits of any rock/glam metal album
1986: 3-D short film "Captain EO" with Michael Jackson premieres at Disney theme parks
1982: 34th Emmy Awards: Hill St Blue, Barney Miller, Alan Alda & Carol Kane win
1960: "LIFE" magazine celebrates artist Anna Mary "Grandma" Moses' 100th birthday by putting her on their cover
1959: Nikita Khrushchev is denied access to Disneyland
1952: The United States bars Charlie Chaplin from re-entering the country after a trip to England /li>
1945: Kim Il-sung arrives in harbor of Wonsan, Korea
1941: 1st meeting of partisan leaders Tito & Draza Mihailovic in Yugoslavia
1922: Queen Wilhelmina assumes Dutch throne with 119 word speech
1893: New Zealand becomes the first country to grant all women the right to vote
Learn About the Zodiac
Learn more about your Zodiac Sign by checking out our complete guide on Virgo. You can also learn about the signs of your friends and family!
Find the birth sign of any day of the year! Check out our comprehensive archive page where you can easily look up the Zodiac Sign for any day of the year!
Discover Your Nakshatra
In Vedic astrology the nakshatra is a used to determine many important aspects of a your life and personality. We have developed a free nakshatra calculator you can use to look up your nakshatra.