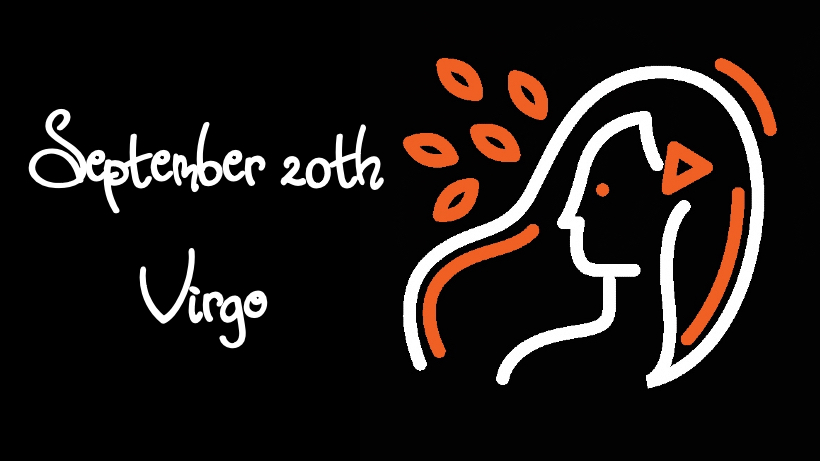 Were you born on September 20? If so, then according to Western astrology your zodiac sign is Virgo, the sign of the Virgin. This means that when you were born, the Sun was in the stars that make up the constellation known as Virgo. Learn the basics of your horoscope below.
Virgo Overview
Virgo is known as कन्य​ (kanya) in Sanskrit, or "virgin." Each sign of the zodiac is characterized by certain basic traits. This includes Symbol, Planetary Ruler, Element, Nature, and Gender. The general make-up of the Virgo sign is below:
Sign of the Virgin. Virgo natives are intelligent and resourceful. They may experience conflicting feelings and desires in life.
Ruled by Mercury. Mercury is the planet of thought, the nervous system, communication, and literature. Mercurial individuals are hard to predict. Their minds move so quickly that others have a hard time keeping up.
An earth sign. Those with a Virgo moon are dexterous, thoughtful, and practical.
A dual sign. Persons born under this sign are adaptable and multi-talented.
A feminine sign. This makes the native receptive, sensitive, and empathetic.
Virgo's preferred gemstone is emerald. Virgos can also benefit from green tourmaline and peridot.
Traits of the Sun in Virgo
In Western Astrology, also known as Tropical astrology, a person's sign is determined by the position of the Sun. If you were born on September 20, then you're considered a Virgo according to most people in the Western world.
The influence of the Sun in a birth chart will change depending on which house it is located in, its relative position in relation to other planets, as well as other factors. However, the following general traits are likely to be found in a native whose Sun is in Virgo:
You have a strong memory. Ruled by Mercury, Virgo brings ample mental strength. You pay attention to the events in your life and do not easily forget the people who have helped you, or those who have done you wrong.
You enjoy serving others. You have a natural inclination to serve others, especially people in religious, spiritual, or charitable positions. Service is a major part of your personal spirituality.
You are skilled in science and the arts. Mercury also brings artistic gifts. You are knowledgeable and talented in writing, calligraphy, art, and mathematics. And your strong memory enables you to learn almost anything.
You have feminine features. As a feminine sign, Virgo is recognized by soft features. You may not have much physical or mental stamina, but you excel in empathy and emotional intelligence.
You can be shy. You prefer to be in the background and do not like receiving too much attention for your work. You have a hard time asserting yourself in personal relationships and in the workplace.
RECOMMENDED: Check out all our articles on Vedic astrology to learn more about the different signs of the zodiac, as well as the planets, houses, and nakshatras.
Virgo Careers
Virgos are multi-talented individuals who can succeed in a number of different professions. However, they generally prefer to take up a helper role and are rarely to be found in the driver's seat.
Recommended careers: Virgos do well in careers involving hard facts, data, and anything service-related. They can make good mathematicians, scientists, linguists, architects, or researchers. Their literary and scholastic talent can make them excellent teachers, writers, or journalists.
Careers to avoid: Roles involving a high degree of leadership would likely not suit a Virgo. For example, CEOs, principals, or deans. Virgos are also dispassionate by nature. This means they may want to avoid roles which require a high level of empathy, such as a career in counseling, coaching, or childcare.
Virgo Mantras
A mantra is a short phrase that uplifts and cleanses our mind, heart, and consciousness. Most suffering takes place only within the mind, and by practicing mantra meditation, we can experience total relief from all suffering and negativity.
The Vedic wisdom texts offer many different mantras, powerful and sacred sound vibrations, that are customized for each individual depending on their unique, personal circumstances.
Virgos can especially benefit by meditating with the following mantra:
ॐ बुद्धदेवाय नमः
Om buddha-devaya namaha
The Vedas contain many mantras that are effective for different people according to their particular situation. However, some mantras are universal. The following maha-mantra, or "super mantra," is beneficial for people born in any zodiac sign:
हरे कृष्ण हरे कृष्ण कृष्ण कृष्ण हरे हरे
हरे राम हरे राम राम राम हरे हरे
Hare krishna hare krishna krishna krishna hare hare
Hare rama hare rama rama rama hare hare
RECOMMENDED: In ancient times, all astrologers made calculations using the same sidereal system that's used in Vedic astrology. Check out our article on the differences between Western and Vedic astrology to learn more.
Famous Birthdays on September 20th
Sophia Loren
Khabib Numagomedow
Jon Bernthai
Belen Rodriguez
Asia Argento
George RR Martin
Namie Amuro
Ainsley Earhardt
Julian Draxier
Kristen Johnston
Loredana Berte
Phillip Phillips
Michelle Visage
Hu Ge
Anna Meara
Charlie Weber
Yui Horie
Sawa Suzuki
A Lin
Van Jones
Events in History on September 20th
2021: First edition of Mary Shelley's 1818 novel "Frankenstein" sells for $1.17 million, setting new world record for a printed work by a woman
2019: Australian PM Scott Morrison welcomed for week-long visit at the White House by US President Donald Trump
2019: Students from 185 countries stage the world's largest-ever protest on climate change culminating in Manhattan rally led by Greta Thunberg
2018: EU leaders, including Donald Tusk and Emmanuel Macron, criticize Theresa May's Brexit plan at a summit in Salzburg, Austria
2015: Pope Francis meets Fidel Castro in Havana, on the 1st day of his tour of Cuba
2011: "Call Me Maybe", single by Canadian singer Carly Rae Jepsen, is released
2011: "New Girl", starring Zooey Deschanel, debuts on Fox
2001: In an address to a joint session of Congress and the American people, US President George W. Bush declares a "war on terror"
1989: Musical "Miss Saigon," premieres in London, created by Claude-Michel Schönberg and Alain Boublil
1987: French driver Alain Prost wins Portuguese Grand Prix at Estoril; his record 28th Formula 1 victory
1987: 39th Emmy Awards: LA Law, Bruce Willis & Sharon Gless win
1980: "Blizzard of Ozz", the debut solo album by English rock musician Ozzy Osbourne, is released in the United Kingdom
1979: Coup in Central African Republic as David Dacko overthrows Emperor Bokassa I
1975: David Bowie's "Fame," single goes #1 for 2 weeks
1973: Billie Jean King beats Bobby Riggs in battle-of-sexes tennis match
1970: Jim Morrison found guilty of "open profanity and indecent exposure" after allegedly exposing himself at a concert in Miami in 1969 /li>
1968: Mickey Mantle hits final career homer # 536
1967: British liner Queen Elizabeth II launched at Clydebank Scotland
1963: JFK proposes a joint US-Soviet voyage to the moon /li>
1932: Mahatma Gandhi begins a hunger strike against the way Hindu untouchables are treated
Learn About the Zodiac
Learn more about your Zodiac Sign by checking out our complete guide on Virgo. You can also learn about the signs of your friends and family!
Find the birth sign of any day of the year! Check out our comprehensive archive page where you can easily look up the Zodiac Sign for any day of the year!
Discover Your Nakshatra
In Vedic astrology the nakshatra is a used to determine many important aspects of a your life and personality. We have developed a free nakshatra calculator you can use to look up your nakshatra.