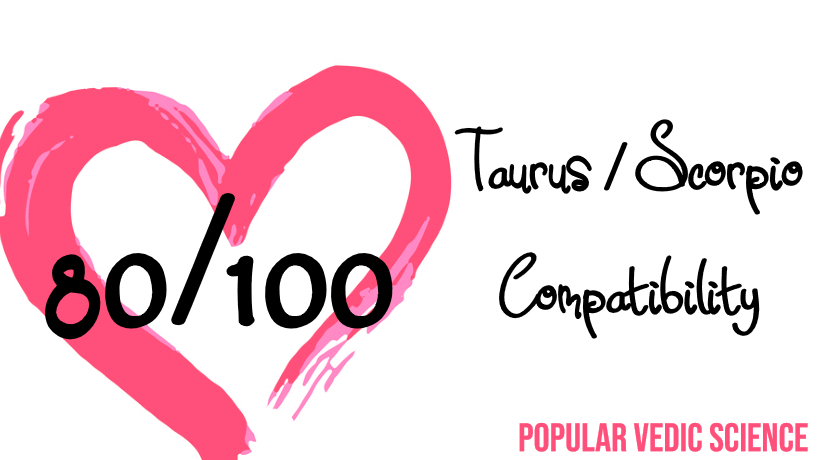 In this article we break down the astrological compatibility of Taurus and Scorpio signs, in terms of strengths and challenges in the relationship, romantic compatibility, communication, and more. We give tons of practical insights on how to nourish your relationship and overcome obstacles you'll likely face.
Recommended: Learn more about yours and your partner's overall personality, check out our complete guides to Taurus and Scorpio zodiac signs.
Taurus Overview
Sign of the Bull. Taurus natives are hard-working, determined, and have a big heart. However, they tend to show partiality to their own group, and can be callous toward outsiders.
Ruled by Venus. Venus is the planet of sensuality, fine food, the arts, and affairs of the home. Venetian individuals are fond of luxury and living the good life.
An earth sign. Those with a Taurus moon are grounded, thoughtful, and calm.
A fixed sign. Persons born under this sign are steady, predictable, and slow to change.
A feminine sign. This makes the native receptive, sensitive, and empathetic.
Core Strengths
Dutiful and hard-working
Easy-going
Thoughtful and contemplative
Caring and charitable
Main Weaknesses
Stubborn
Gullible and overly trusting
Sensual, prone to addictions
Scorpio Overview
Sign of the Scorpion. Scorpio natives are intense and secretive. They may react harshly if provoked.
Ruled by Mars. Mars is the planet of war, explosions, sudden events, and land. Martian individuals are hard-working and self-confident.
A water sign. Those with a Scorpio moon are perceptive, artistic, and sentimental.
A fixed sign. Persons born under this sign are steady, predictable, and slow to change.
A feminine sign. This makes the native receptive, sensitive, and empathetic.
Core Strengths
Calm and composed
Straightforward and honest
A sharp and perceptive thinker
A powerful speaker
Main Weaknesses
Insensitive
A severe critic
Somewhat of a miser
May be pessimistic and grumpy
How Taurus Approaches Relationships
Taurus natives are loyal and committed partners, and their relationships tend to epitomize the saying "opposites attract." They just need to keep their stubbornness in check so that it doesn't come between them and their spouse. They should endeavor to find common values and interests that bring them and their partner together.
How Scorpio Approaches Relationships
Scorpio-natives are passionate lovers. They can form an intense bond with their significant other. However, there is a risk of falling "head-over-heels" for a person without checking to ensure the two of you are actually compatible for the long-term. They may also become attracted to men or women who are not available.
Planetary Compatibility
When assessing the compatibility of any two Zodiac signs, one of the first things to look at is the planetary friendships. Taurus and Scorpio are ruled by Venus and Mars respectively, with Scorpio also having a co-rulership with Ketu as per Vedic Astrology. Although Mars and Venus are typically viewed as enemies, the additional influence of Ketu helps make for a very compatible pairing between these otherwise opposing signs.
Venus symbolizes love, beauty, and comfort, while Mars signifies passion, drive, and determination. This combination brings together the best of both worlds, making for a dynamic and passionate relationship. The influence of Ketu provides Scorpio with depth, intensity, and transformational energy.
Taurus, an Earth sign, is practical, materialistic, and seeks stability. They manifest Venus's qualities in a tangible, comforting, and sensual manner. Scorpio, a Water sign, is deep, emotional, and transformative, driven by Mars's passion and the transformative energy of Ketu. This blend of elements and planetary influences suggests a mix of both complementary and dissonant energies. Both partners will have to regularly express their appreciation and gratitude for one another in order to offset any incompatibilities that may exist between their unique personalities.
Strengths of the Relationship
Despite their inherent differences, Taurus and Scorpio can form a powerful bond due to their shared fixed quality. Both signs are steadfast, loyal, and committed — when they decide to invest in each other, they do so fully. This loyalty can create a deep sense of security in the relationship.
Taurus and Scorpio are opposites on the zodiac wheel, and this opposition can lead to a magnetic attraction. They both admire qualities in each other that they lack themselves. Taurus is drawn to Scorpio's intensity and emotional depth, while Scorpio appreciates Taurus's stability and practicality.
Moreover, both Taurus and Scorpio value honesty and transparency. Neither sign tolerates dishonesty, which will help create an atmosphere of trust in the relationship. They also share a need for a deep, almost possessive connection with their partner, which can make their bond particularly strong and resistant to many of the little things that get between other couples.
Challenges in the Relationship
Despite the strengths of a Taurus and Scorpio partnership, they may face some challenges due to their differing approaches to life. Taurus' practicality can sometimes clash with Scorpio's intensity. Scorpio may perceive Taurus as too rigid or mundane, while Taurus may find Scorpio's emotional depths overwhelming.
Another potential challenge is their shared stubbornness. As fixed signs, both Taurus and Scorpio can be inflexible, which can lead to standoffs when they disagree. It can be difficult for them to find a middle ground, so they will both need to work on seeing things from each other's point of view, and practicing compromise based on the principle of give-and-take.
The Sexes at a Glance
The Taurus Man
Steady
Moral
Responsible
Thrifty
Stubborn
May be overweight
The Taurus Woman
Positive
Respectful
Motherly
Pleasure-loving
Sexy
Worldly
The Scorpio Man
Patient
Determined
Outwardly calm, but aggressive within
Proud
Difficult to understand
Enjoys a good struggle
The Scorpio Woman
Ambitious
Loyal friend
Dedicated wife
Arrogant
Secretive
Vengeful
Romantic Compatibility
In the realm of romance, Taurus and Scorpio can be an intensely passionate pairing. Taurus, ruled by Venus, is sensual, tender, and affectionate, while Scorpio, ruled by Mars and Ketu, is passionate, deep, and emotionally complex. When these forces combine, it can lead to a deeply sensual and emotionally fulfilling romantic connection.
The physical attraction between these two signs is usually strong, and they often have a powerful sexual chemistry. Both Taurus and Scorpio value a deep, exclusive connection with their partner, which can further enhance their romantic compatibility.
Things You Can Do Together
Taurus and Scorpio can find enjoyment in shared activities that cater to their mutual appreciation for beauty, comfort, and sensory experiences. They might enjoy preparing a lavish meal together, or cultivating a joint gardening project. They could also find satisfaction in outdoor activities that bring them close to nature.
Intellectual activities can also serve as a common ground. Both Taurus and Scorpio enjoy deep conversations and learning. They might enjoy reading a book together, attending a lecture, or watching thought-provoking movies. In general, both Taurus and Scorpio tend to be introverted signs, so they will be content to spend time at home together. They will feel comfortable and happy just being in one another's company.
How Taurus and Scorpio Communicate
The communication between Taurus and Scorpio can be deep, honest, and transformative. Taurus' straightforwardness pairs well with Scorpio's depth and intensity, leading to conversations that are often meaningful and productive.
However, their communication style can also be challenging. Scorpio's intense emotions might be too overwhelming for Taurus at times, and Taurus' grounded and practical approach might seem too simplistic to Scorpio. However, their shared commitment to honesty can help them navigate these differences and maintain open lines of communication.
For each sign, there are different strengths and weaknesses. Rather than focusing on what you don't like about your partner, try to see their strengths. There will inevitably be differences in communication styles between you and your partner. The key is to find respectful ways you and your partner can express yourselves while still staying true to your core values.
Summary and Overall Score
On average Taurus and Scorpio natives score 80/100.  This makes Taurus and Scorpio highly compatible signs. Their numerous strengths are more than likely to help them overcome the challenges any challenges they'll face in a partnership.
No two people are perfectly compatible. Thus, there is no such thing as 100/100 compatibility. For Taurus, the best score attainable is with a Virgo partner, which scores 84/100. The idea is that every relationship requires self-sacrifice, respect, and mutual effort.
Note: Astrological compatibility is a highly nuanced science, and it is always a good idea to get a complete reading from a skilled astrologer to learn about the specifics of your personal chart and your romantic compatibility with your partner.
The 12 Signs of the Zodiac
Learn about each of the twelve signs of the zodiac.