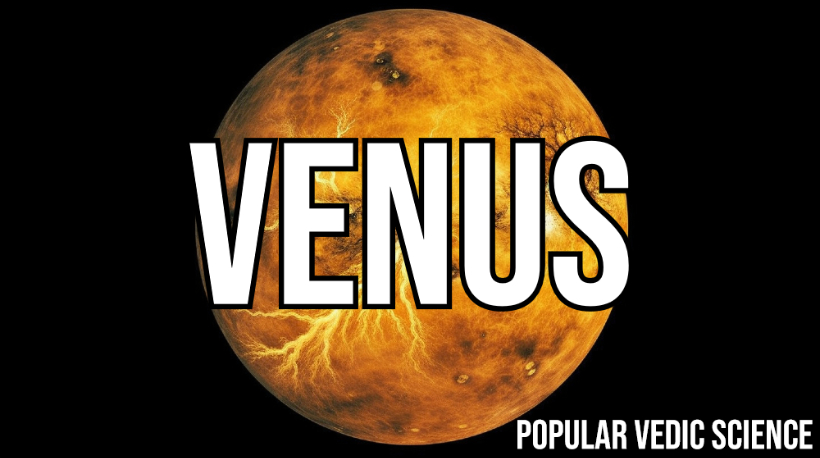 Navigating the intricate landscape of Vedic Astrology, Venus, or Shukracharya, stands out with its distinctive role. Associated with marriage, sensuality, and desire, Venus represents the teacher of the godless in Vedic theology. Even though Romans worshipped Venus as a goddess symbolizing desire, sex, and sensuality, Vedic tradition perceives Venus as the divine preceptor of the asuras. The interpretation of Venus's influence is multi-dimensional, touching upon various aspects of human life and relationships. To gain a comprehensive understanding of Venus in Vedic astrology, we delve into its etymology, celestial cycle, and areas of influence.
Venus: Etymology and Roman Interpretation
Venus derives its name from the Latin term for sexual love. This name has roots in the Sanskrit word 'vāñchā,' denoting longing or desire. Hence, Venus inherently symbolizes the more passionate aspects of life like love and desire. This understanding seamlessly aligns with how Romans viewed Venus, although they chose to portray it as a goddess, the empress of desire, sex, and sensuality.
Venus's Day: Friday
The importance of Venus in Vedic astrology extends to the realm of time as well, ruling over Friday. In Latin, Friday is referred to as 'Veneris,' the day of Venus. Similarly, in Sanskrit, it is known as 'Shukravar,' translating to the day of Shukra. This association brings into focus the resonance of Venus's energy on this particular day, aligning actions and events with its influencing qualities.
Venus's Astronomical Journey
When it comes to celestial motion, Venus has a pace slower than Mercury but faster than Mars. Completing a zodiac cycle in around seven months and fifteen days, Venus travels through each sign in a period of approximately 18 days and 18 hours. The speed of Venus's transit and its position at the time of one's birth significantly influence how its energy manifests in an individual's life.
Venus' Areas of Influence
Venus casts its influence over multiple aspects in an astrological chart. These domains offer insights into our traits, behavior, and life circumstances.
Worldliness, Sex, and Attachment
Venus, symbolizing worldliness, sex, and attachment, provides cues about one's inclination towards materialistic pleasures and earthly experiences.
Artists and Individuals on Society's Fringe
Its rule extends to musicians, poets, and individuals living on society's periphery, such as prostitutes. The positioning of Venus can offer insights into our interactions with these groups or our tendencies towards artistic expression.
Marriage and Relationships
Venus also governs aspects related to marriage, sensual pleasures, and luxury. Thus, it can significantly affect romantic relationships, marital bonds, and our pursuit of pleasure and opulence.
Creative Expressions
The realm of Venus includes dance, singing, and poetry, offering a richer understanding of our capacity for creative expressions and appreciation of the arts.
Infatuation, Intoxicants, and Love Affairs
Venus is also linked with infatuation, intoxicants, and love affairs. Its influence can reflect the intensity and nature of these aspects in one's life, highlighting the unstable sides of love and desire.
Prosperity and Material Wealth
The planet's role extends to prosperity, money, and vehicles, shedding light on financial prospects and lifestyle choices.
Indulgence and Enjoyment
Venus oversees the capacity to enjoy life, romance, and indulgence. Its position can hint at our ability to find joy and our inclination for romantic engagements.
Beauty and Aesthetic Pleasures
Finally, Venus governs jewelry, flowers, and cosmetics. This connection emphasizes our affinity for aesthetic pleasures, our love for beauty, and our preference for adornment.
Concluding Thoughts
In Vedic Astrology, each planet carries a unique resonance that influences different facets of our lives. Venus, being the planet of marriage, sensuality, and desire, steers our romantic inclinations, materialistic pursuits, and our relationship with beauty and the arts. Recognizing the influence of Venus provides valuable insights into our personality and life path.
However, it's crucial to remember that the interpretation of Venus's influence is complex and nuanced, requiring consideration of other elements in an individual's astrological chart. Through a thorough understanding of these celestial influences, one can truly appreciate the depth and intricacies of Vedic astrology.
Whether you're an experienced astrologer or a curious novice, exploring Venus's role in Vedic astrology offers a fascinating insight into understanding the profound ways the cosmos is interconnected with our lives. As you continue your journey into the realm of Vedic astrology, may the energy of Venus guide your path.
Venus in the Twelve Signs of the Zodiac
Learn more about Venus' influence in your birth chart by checking out our guides on Venus in each of the twelve signs of the Zodiac.