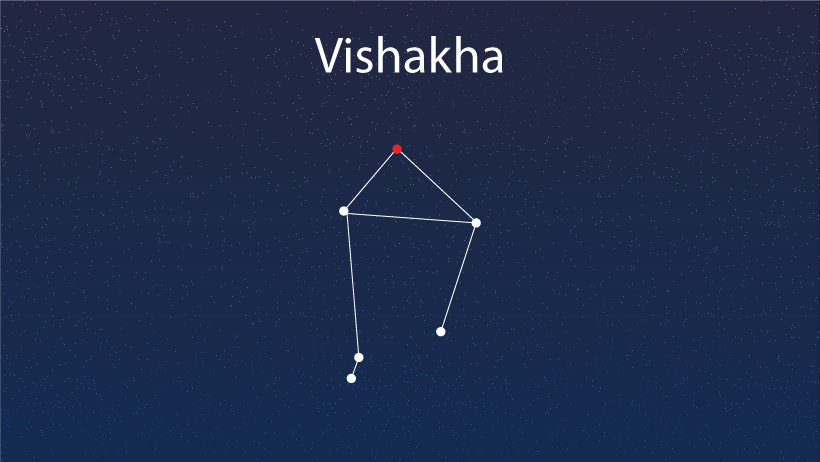 The nakshatras (lunar mansions in English) are small constellations of stars that the moon travels through as it orbits Earth. In English, nakshatras are known as "lunar mansions." Vishakha Nakshatra is the 16th of 27 nakshatras. If you were born when the moon was between 20:00 degrees Libra-3:20 degrees Scorpio, then this guide is for you. You'll learn all about your characteristics, strengths, weaknesses, compatibility, ideal careers, and more.
Recommended: Learn more about your moon sign. If you were born in the 1st, 2nd, or 3rd quarters of Vishakha, your moon sign is Libra. If you were born in the 4th quarter of Vishakha, your moon sign is Scorpio. You can also look up your friends' nakshatras with our free Nakshatra Calculator.
Vishakha Nakshatra Astrology
Nakshatras are an important feature of Vedic Astrology. Every nakshatra has its own set of fixed attributes. This includes planetary ruler, nakshatra group, zodiac sign, deity, symbol, and power. The features of Vishakha are below:
Sanskrit Name: विशाखा (Vishakha) comes from the Sanskrit words वि (divided) and शाखा (branch). One meaning of Vishakha is "the branched one," indicating intelligence, vitality, and many talents.
Planetary Ruler: Jupiter. In Vedic theology, Jupiter is considered to be the advisor and guru of the gods and is known as Brhaspati. Jupiter is associated with wisdom, virtue, and spirituality.
Nakshatra Group: Monstrous. Nakshatras are divided into three classes — monsters, humans, and gods. Vishakha is a monstrous nakshatra. People in this group are generally intuitive, strong-willed, and assertive. They may be prone to anger and violence.
Zodiac Sign: Libra (1st-3rd quarters) and Scorpio (4th quarter). Libra natives possess excellent taste and good judgement. They are friendly, learned, and dignified, but may be prone to arrogance. Scorpios are intense, reclusive, and bursting with energy.
Deity: Indra. In Vedic theology, Indra is the lord of svarga, the heavenly realm, and the chief among the demigods. He presides over rain and weather.
Symbol: Potter's wheel. This represents karma, creativity, patience, and the creative potential.
Power: To spread or pervade. Persons born under the star of Vishakha have a wide sphere of influence. For this reason, they do well in social and political arenas.
Resonant Syllables: In India, the birth nakshatra is traditionally used as one means of choosing the name of a child. The corresponding syllables for the four quarters (padas) of Vishakha are Tee (ती), Tu (तू), Tay (ते), and Toe (तो). The syllable of a person's first name is sometimes used when calculating an astrological chart if the time of birth is unknown.
Strengths
Vishakha natives are charming and kind individuals. Due to their warm and altruistic personality, they can easily make friends with others. Their diversity of personal interests also helps them to form friendships with a wide variety of people. Thus they have no issue maintaining an active and vibrant social life.
Those born under the star of Vishakha are wise for their age. They have a natural insight into the workings of the world and of human nature. They are truthful and devout, and are naturally-inclined toward spirituality. They bring energy and enthusiasm to whatever tasks they undertake.
You are driven, bright, and outgoing. You enjoy a fresh challenge, and you know how to make the most of trying circumstances. You are an attractive and inspired person.
Vishakha Careers
Persons born in Vishakha can excel in a variety of careers, particularly anything having to do with speaking, or speech pathology.
Some ideal professions include:
Astrologer, psychic, or psychotherapist
Researcher or scientist
Any career in radio, TV or film
Priest, preacher, or chaplain
Speech pathologist
Weaknesses
Vishakhas are extreme and passionate individuals. While this can be a strength, they often go overboard, showing intense enthusiasm for a particular project or cause for a short time before they give it up and move on to the next crusade. This can cause personal frustration, and others may perceive them to be inconsistent or unreliable.
Persons born in Vishakha may be too talkative, prying into others affairs, gossiping, and so on. Though they are compassionate deep down, they do not always understand personal boundaries or the meaning of privacy. This can cause them to lose friends and the favor of their peers, if they cannot control their tendency to be a busybody.
You may be stingy with others and envious of the success of your peers. Others may perceive you as greedy, scheming, and manipulative. By regularly going out of your way to help others, even those who are not in your inner circle, you can maintain a humble and friendly disposition.
Recommended: Learn more about science of the Vedas and how Vedic knowledge can help you elevate your consciousness and enhance your life.
Other Personality Traits
You are drawn to marriage. You long for a committed partnership, and you see marriage and romance as a major part of your life.
You don't like to take advice from others. You prefer to carve out your own path in life and may have a hard time taking guidance from others. Be careful, as it is often much easier to learn from others mistakes than having to figure everything out on your own.
You have many diverse interests. Many different activities, hobbies, and topics of knowledge attract you. However you may find some of these interests to compete with one another, and you will have to ultimately choose how you wish to spend your time, being unable to dedicate yourself to everything that interests you.
You may feel dissatisfied in life. It is difficult to find satisfaction in the modern age, and it is all the more difficult for Vishakha natives, who feel somewhat restless and conflicted in their life path. You should try to seek spiritual satisfaction instead of looking for fulfillment on the material platform.
Vishakha Compatibility
Vishakhas' sexuality is symbolized by a male tiger. In terms of physical compatibility, this makes them an ideal match for persons born under Chitra nakshatra.
Based on holistic matching, Vishakhas are most likely to find happiness in long-term partnerships with:
For Vishakha natives in Libra (1st-3rd Quarters):
Ashwini (for female natives)
Bharani (for male natives)
Rohini
Mrighashira in Gemini (for female natives)
Ardra
Magha (for female natives)
Chitra in Virgo (for female natives)
Chitra in Libra
Swati (for female natives)
Shravana (for male natives)
Dhanishta
Shatabhisha
For Vishakha natives in Scorpio (4th Quarter):
Bharani (for male natives)
Rohini
Pushya (for female natives)
Ashlesha
Magha (for female natives)
Chitra (for female natives)
Anuradha (for male natives)
Jyeshta (for male natives)
Uttara-bhadrapada
Revati (for male natives)
Note: Compatibility in relationships is a complex science that looks at many different factors. You should always consult with an experienced astrologer who can carefully analyze the charts of both you and your partner.
Vishakha's Four Quarters (Padas)
Each nakshatra is divided into four quarters, also known as padas, of 3:20 degrees each. These quarters are based on a 1/9th divisional chart, known in Sanskrit as navamsha.
The moon's position at your time of birth determines the quarter in which you are born.
First Quarter (20:00-23:20 degrees Libra): Aries. You are ambitious and single-minded, and you work with a passion. Others may find you to be unpredictable.
Second Quarter (23:20-26:40 degrees Libra): Taurus. You are blessed with great stamina and vitality. You are a creative person, and you enjoy life. However, you may be tempted to have multiple affairs.
Third Quarter (26:40-30:00 degrees Libra: Gemini. You are light-hearted and curious. You enjoy learning and acquiring knowledge on diverse topics. You may be afflicted by anxiety and often struggle with conflicting emotions.
Fourth Quarter (0:00-3:20 degrees Scorpio): Cancer. You are a sensitive and emotional soul. You express yourself openly, wearing your feelings on your sleeve. You can easily persuade others.
Vishakha in Electional Astrology
In electional astrology, also known as muhurtha, nakshatras are used to determine favorable days and times for important ceremonies and events, such as weddings, buying a new house or vehicle, commencing a project, or conceiving a child.
The electional nature of Vishakha is Mishra, "mixed." Vishakha is a versatile nakshatra and can be good for:
Cleaning or organizing
Discarding unwanted things
Giving up bad habits
Giving in charity or volunteering
Performing a vrata or spiritual vow, such as a vow of silence
A List of the 27 Nakshatras
The Twelve Signs of the Zodiac