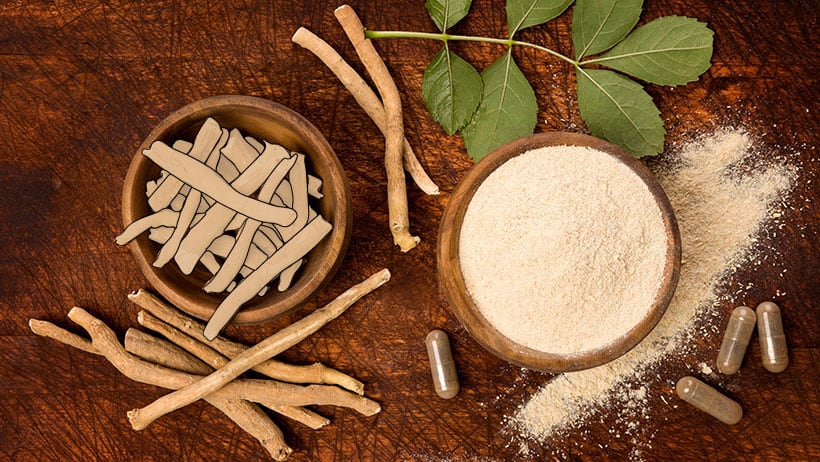 Ashwagandha is one of Ayurveda's most prized herbs. It is sometimes referred to as the 'herb of modern life' due to its effectiveness in combating some of the most common symptoms that result from our modern lifestyle.
Stress has become an almost inevitable part of most people's lives. We live and work at such a break-neck pace that it is easy to feel tense and overwhelmed. Ashwagandha is known as a rasayana, or rejuvenative herb, meaning that it supports the body and mind, providing strength and energy, while simultaneously supporting an inner calm.
What is Ashwagandha?
Ashwagandha (Withania Somnifera) is a plant native to India that has over 45 active healing compounds. Although they are not related botanically, ashwagandha is often referred to as 'Indian Ginseng' as they have many similar medicinal properties. It has been used since ancient times for a variety of conditions, and is best known for its restorative and regenerative qualities. As an adaptogenic, ashwagandha also adapts to the needs of the body and helps to resist physiological and psychological stress.
Health Benefits
Boosts the immune system
Aids healthy and restorative sleep patterns
Reduces anxiety/combats stress
Calms the mind
Restores / preserves the nervous system
Improves concentration, memory, and cognitive function
Supports healthy male and female reproductive systems
Promotes energy, vitality, and strength
Supports of bone and joint health
Boosts thyroid health
Stabilizes blood sugar
Helps lower cholesterol
Reduces inflammation (anti-inflammatory)
Aids healthy functioning of the adrenal glands
When is it Recommended to Take Ashwagandha?
Ashwagandha is traditionally prescribed for people experiencing an imbalance of vata or kapha dosha, as it is heating, strengthening and nourishing in nature. If you recognize symptoms of vata aggravation — anxiety, feeling ungrounded, poor sleep or aching joints — ashwagandha is an excellent supplement. It is also good for stirring up stagnant kapha and promoting vitality, strength and energy.
Ashwagandha is known to effectively boost the immune system and aid healing after a major illness, chemotherapy, or surgery.
If you travel a lot, ashwagandha is an excellent aid to overcoming jet-lag and helping to settle the system into new environments.
How to Use It
Ashwagandha is most commonly found either in capsules or as a powder supplement to be added to warm water or milk. It should usually be taken once or twice daily (depending on the dosage prescribed on the label of your chosen product). Ashwagandha can really be taken any time of day, on a full or empty stomach. However, I prefer to take it in the evening or even just before bed to support a restful nights sleep.
Traditionally, ashwagandha powder would be taken with equal parts ghee and honey as an anupan, or means for carrying the medicine deep into the bodily tissues and enhancing the effectiveness of the herb.
Contraindications
Ashwagandha is not recommended for anyone experiencing symptoms of high pitta dosha or excess ama due to its heating and unctuous qualities. Large doses of ashwagandha have been known to cause some abdominal discomfort and diarrhea.
Although in India ashwagandha has historically been used by women during pregnancy, Western medicine does not recommend this due to spasmolytic effects on the uterus. Eaten in very large doses, ashwagandha has also caused the induction of abortions in animals.
As is the case when adding any new herb or remedy into your regime, it is important to proceed with care and consult with your Ayurvedic practitioner or general medical doctor if you have any symptoms that need to be taken into consideration.