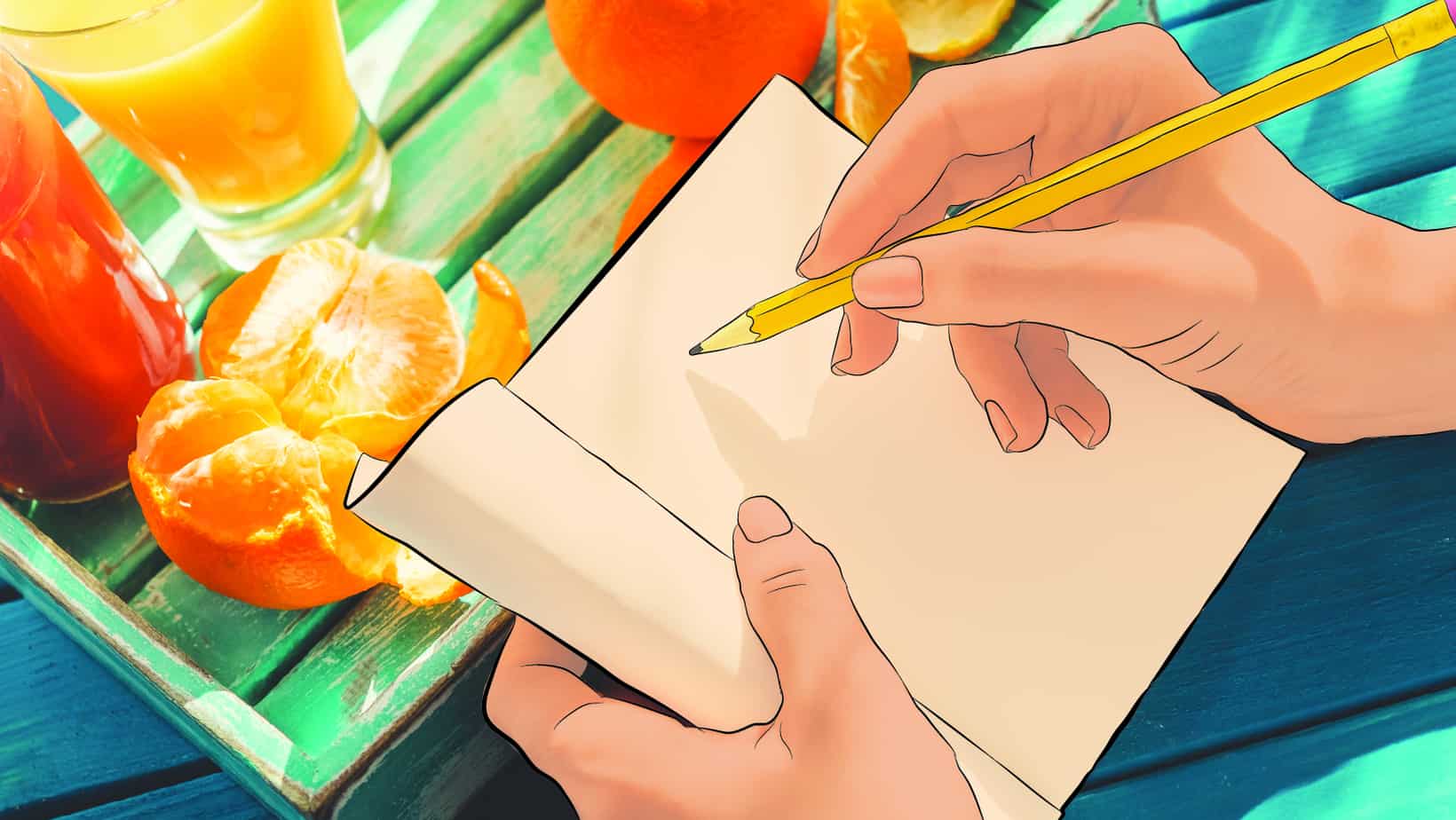 Research reveals a correlation between a healthy diet and lower mortality risk as well as improved longevity. Many people wish to eat a healthier diet, yet don't know where to start. Beginning a food journal can provide a perfect starting point.
When people think about a food journal, counting calories or other macronutrients often comes to mind. However, food journaling can involve a range of effective topics and approaches. Read on for more details about those along with five important reasons to start a food journal.
1. Make a Lifestyle Plan
Why do you want to start eating better?
A food journal provides an appropriate place to answer this question. If you decide to begin a food journal, try to include a section focused on your overall intentions. Perhaps you want to feel, look, or live better — or even all three. Maybe you want to inspire loved ones to eat better through your healthier food choices. Whatever the goal, a food journal makes a great place to explore and record them.
When setting your goals, remember to set them based on a lifestyle plan rather than "dieting." Dieting involves a short-term change. Instead, you should aim to change your lifestyle for the long-term. Your body and mind will thank you.
2. Plan Your Meals
Beginning a new lifestyle may seem overwhelming at first — especially when the changes involve everyday activities like cooking and eating. A food journal can help you during the initial, difficult part of this process, which provides another key reason to start this type of journaling practice..
Using your food journal to plan meals can help you kick-start your lifestyle changes. Here are three tips for using your journal in this way:
Create a Weekly Meal Plan. Healthy eating revolves around a plethora of fruits and vegetables. Plan your meals accordingly.
Make a Weekly Grocery List. After you decide on the meals you'll make in the coming week, create a grocery list in your journal based on that meal plan. Writing down the ingredients you need for each meal will make your grocery shopping easy and enjoyable.
Note Which Meals You Enjoyed Most. Eating healthy foods doesn't mean your meals won't taste good. Take note of the meals you especially enjoy so you can remember them for the future. Soon, you may even memorize how to make them.
3. Record How Your Meals Make You Feel
Some of the best health advice involves recording how you feel after each meal. Pay close attention to how you feel for up to several hours after you finish eating. Avoid overeating so you have an accurate account of how the foods in a particular meal make you feel. (Overeating can make you feel heavy regardless of what you food you eat).
Using your journal to track how you feel after your meals can help you better understand your body and its needs. Over time, you'll know exactly how to design your meals to deliver optimal energy and an overall sense of well-being.
4. Heal Trauma Surrounding Food
Trauma related to food often involves overeating, yet research shows food journaling can help ease overeating. Specifically, keeping a food journal can empower you to end poor eating habits — and that's an amazing reason to start this type of journal.
Here are two best practices for using journaling to help heal food-related trauma:
Create a Section About Your Relationship With Food. Use this part of your food journal to track your eating patterns and cravings. Think of these entries as meditations and ask yourself questions like, "When I ate that, was I actually hungry or just stressed?"
Go Easy on Yourself. Dealing with any trauma surrounding food requires a good amount of self-love. Try to treat yourself well during these times. Importantly, don't punish yourself if you slip up and eat in a way you want to avoid.
5. Track Your Progress
The path to better eating can prove treacherous. Why? It takes great mental strength, consistency, and a willingness to change to make this shift to a healthier lifestyle. Let your food journal act as a friend and hero during these challenging times.
Specifically, uses your food journal to help you track and recognize your progress. Over time, the types of meals you make will change and how you write about food and your eating habits will evolve. Even better, the way you feel because of food will improve. Having a place to track all of your progress can make you more successful — and motivated — as you work toward your food-related goals.
Beyond these important reasons, you should start a food journal because you're ready to make long-term lifestyle changes. Ultimately, adopting those lifestyle changes will lead to a healthier, more energetic, and higher-functioning version of yourself.