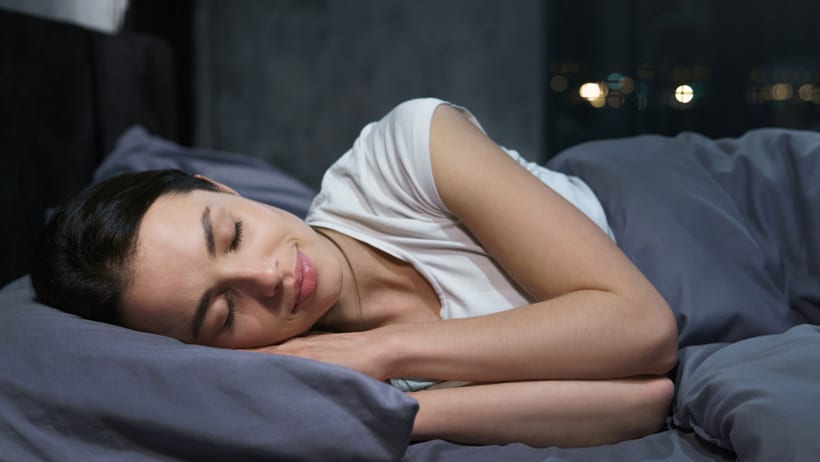 Sleeping well is essential for optimal performance at work, in social settings, and across all other areas of life. Without deep, healing sleep, people experience irritability, reduced motivation, and even depression. Luckily, you can help ensure you achieve the correct quantity and quality of sleep each night by adopting a few simple practices. Be sure to implement these accessible techniques in combination to achieve the best results.
1. Give up Electronics at Night
According to the Harvard Health Letter, "while light of any kind can suppress the secretion of melatonin, blue light at night does so more powerfully." Harvard researchers agree that even light from lamps and night-lights is enough to hinder melatonin secretion.
The secretion of melatonin from the pineal gland plays an essential role in creating a healthy circadian clock and sleep cycle for humans. Natural settings produce plenty of light during the day, but very little at night. For most of human evolution, our ancestors had very little exposure to light after sunset. The moon, stars, and fire provided the only source of light — all of which produce very different light than what our phone screens and household lights now create.
To foster a better quality of sleep, minimize your use of electronics at night. This will help your body maximize its production of sleep-inducing melatonin.
2. Try These Foods and Supplements
Research shows certain foods and herbal supplements can help improve sleep quality. Here are four worth trying in order to achieve a good night's rest:
Kiwifruit: Many people know kiwifruit as a sweet, tangy green treat that makes a pleasant snack on a warm day. But kiwifruit also provide a rich source of compounds that increase sleep quality. Specifically, these compounds promote rapid eye movement (REM) sleep as well as even deeper states of sleep. Kiwifruit also provides folate — a vitamin often found at low levels in patients with sleep disorders like insomnia.
Lettuce: Here's another extraordinary green food that helps people fall — and stay — asleep. Better known for its hydrating crispiness that works well in a sandwich or wrap, lettuce also has great potential for enhancing our sleep. It contains certain antioxidants, including caftaric acid, chlorogenic acid, and chicoric acid, which promote sleep quality and even heal oxidative stress caused by a lack of sleep.
Vervain: Vervain (verbena officinalis) is a fascinating herb available in supplement form as a capsule or tincture. Research shows it can provide both anti-anxiety and sleep-inducing benefits based on multiple neuroprotective and anxiety-reducing compounds found within this plant. This helped vervain earn a reputation as a treatment for sleep disorders, depression, and even panic.
Chamomile: Frequently mentioned for its ability to heal insomnia, many people consume this herb in tea form. In fact, humans' use of chamomile started in ancient times to treat a variety of ailments from anxiety, hysteria and depression to nightmares and insomnia.
3. Black Out Your Bedroom
When possible, try to sleep in complete darkness. Pull the blinds, turn off all the lights, and shut off all electronics. Blacking out your bedroom will improve your sleep quality by increasing your body's production of melatonin — essential for making you feel more relaxed and sleepy.
Exposure to light before bedtime actually hinders melatonin production in our brains. Moreover, nighttime light exposure limits not just the release of melatonin from the pineal gland, but also the duration of that distribution.
If you can't avoid using a lot of light and electronics at night, you can purchase blue light-blocking glasses. These glasses, as the name implies, block melatonin-suppressing blue light from entering your eyes. Trying using them when you work on a computer at night or complete other activities with indoor lights on.
4. Meditate and Read Before Bed
Meditation and reading both provide a powerful way to promote a good night's rest. As a result, consider using one or both practices during bedtime.
Meditation
While meditation produces a wide range of benefits that impact the whole body, its benefits to the brain, in particular, can help you sleep better. Here's how:
Meditation reduces stress. By cultivating present-moment awareness, meditation eliminates the tension caused by thoughts about the past or future. Researchers even used meditation as an effective stress-reduction treatment for a range of ailments, such as agoraphobia, panic disorder, generalized anxiety disorder, and depression.
Meditation enhances cognition. Meditation literally helps you grow certain areas of your brain. Specifically, it increases the density of gray matter — the tissue that allows our brains to function. Having a healthy amount of gray matter actually can prove beneficial for sleep, according to a study of military veterans.
Meditation improves sleep quality. Research also found mindfulness meditation as an effective way to fight insomnia and eliminate other sleep disturbances. This is pretty intuitive when you consider how relaxed meditation makes you feel. Meditation creates relaxing, alpha brain wave states, which provide an ideal environment in your brain to help you transition into sleep.
Reading
Reading offers another amazing option for closing out the day. Many people report waking up with their head in a book after trying to read before bed. So what makes reading so relaxing? Similar to meditation, reading relaxes the mind by creating a single stream of thought and attention.
Many people with trouble falling asleep experience rapid thoughts and active brains. Reading provides an effective way to slow down your thoughts, but remember to keep your evening reading sessions light and enjoyable. There's no need to task your brain at this time with complex nonfiction essays or political articles. Instead, try reading a fictional story that will guide you into a deep sleep.
Consistently Follow These Practices
Create an evening routine with these techniques — and follow it consistently — to help ensure you sleep better every night. For example, try putting your phone away for the night, taking some vervain or chamomile, closing your curtains, and them meditating or reading before falling asleep.
It may take a few nights to realize significant results from these changes, but you're likely to notice some improvement with the very first night.