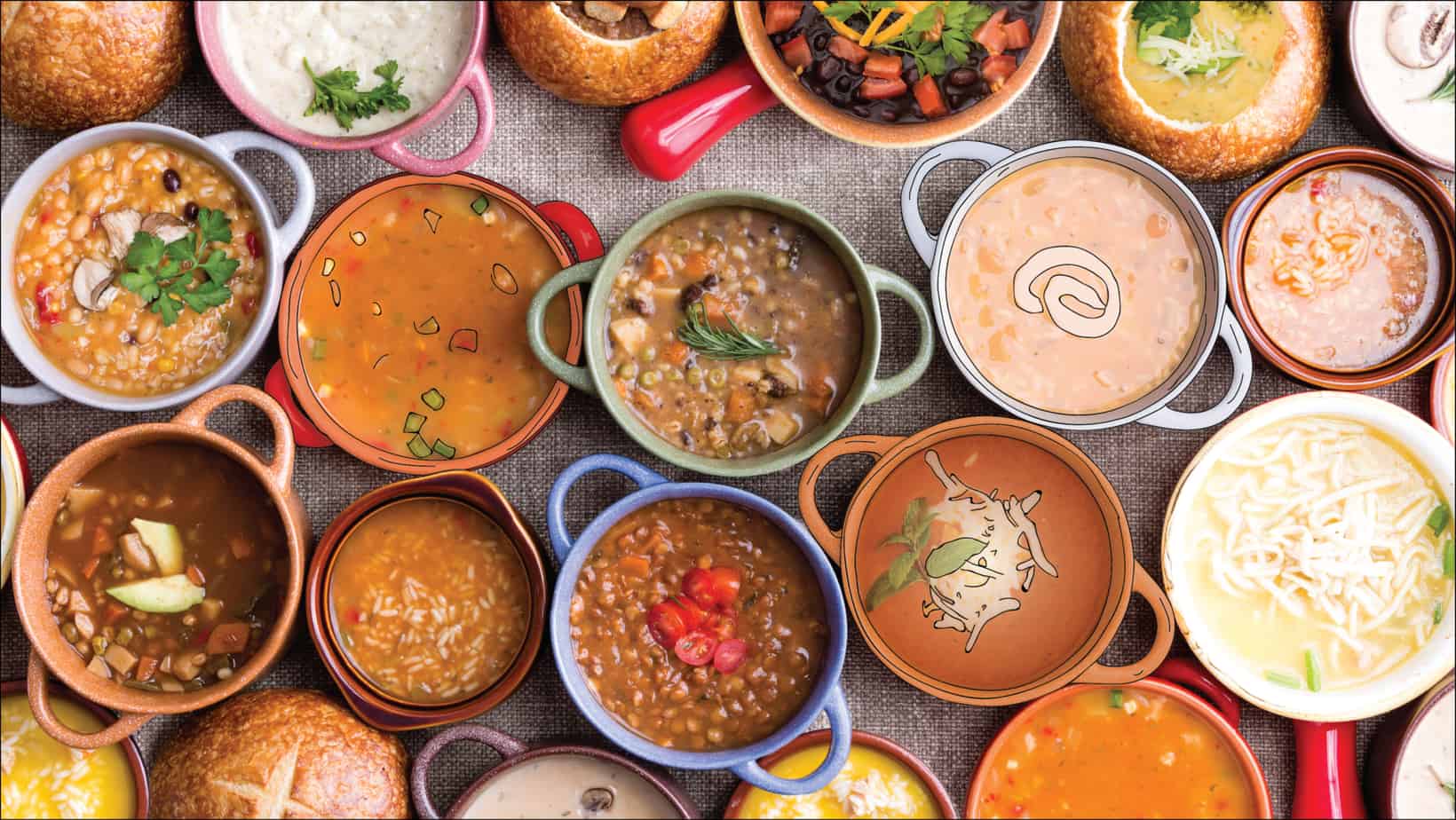 A soup cleanse is the savory and warm cousin to the juice cleanse. You might consider a soup cleanse if you want to:
Detoxify your body
Reset your appetite
Kickstart weight loss
Increase energy levels
Soup cleanses are a good option for people interested in cleansing, but need a heartier meal plan to quell their appetite or a cleanse that avoids the sugars found in fruit juices.
Because canned soup contains too much salt and too many additives, it's not a great choice for a cleanse. Instead, check out these five recommended soup cleanses for a healthier option.
1. Splendid Spoon Soups and Smoothies
Splendid Spoon provides some great options for people looking to ease into cleansing. The company recommends substituting your regular breakfast, lunch, or both with its products and then continuing to eat solid foods for dinner. Focused on plant-based, gluten-free products, it offers breakfast smoothies and dense, flavorful soups for lunch. Busy professionals who want to eat healthfully, but don't have time to prepare their own meals can find this arrangement useful.
Splendid Spoon soups come in a variety of interesting flavors, such as "Red Beet Buddha Bowl" and "Mexican Tomato." The company's smoothies mainly focus on fruits, but a few feature veggie flavors like "Power Greens" and "Carrot Ginger Chia." Customers can sign up for one week's worth of products or subscribe to have food delivered to them on a weekly basis. While Splendid Spoon doesn't make weight loss promises, it states that many customers lose weight while using its products.
2. Urban Remedy Warming Soup Cleanse
Inspired by Chinese medicine, Urban Remedy's Warming Soup Cleanse contains certified organic ingredients. The company's focus on plant-based, gluten-free soups also makes this cleanse appropriate for most people with dietary restrictions. Customers can choose from three types of soup: "Lemony Greens," "Cauli-Dal," and "Carrot Avo." You can figure out your favorite or mix and match — and you can buy these soups on their own or use them to supplement the company's juice cleanses.
Urban Remedy also provides instructions on how to cleanse so you can ensure you're doing it in a healthy manner. The company recommends cutting out alcohol, caffeine, meat, refined sugar, and more at least three days before starting a cleanse, for example, as well as setting an intention to focus on while cleansing.
Urban Remedy operates multiple locations in the San Francisco Bay Area, where customers can pick up soups and juices in person. The company also ships its products nationwide, but requires a minimum order of $95 for shipments outside California.
3. JUS by Julie Soups
Best known for its juice cleanses, JÙS by Julie also sells soup. You can choose your favorite flavors and combine them however you'd like to create your own soup cleanse. JÙS by Julie offers many more flavors than most soup cleanse companies, including:
Red lentil
Roasted tomato
Potato leek
Detox broth
Split pea
Carrot ginger
Pumpkin coconut
Butternut squash
Carrot turmeric
You can also try the company's three-day, soup and juice cleanse hybrid to experience the best of both worlds. In addition, JÙS by Julie offers group cleanse opportunities that not only provide support and accountability, but also can earn you a discount.
You can find JÙS by Julie products at physical locations in New York City and New Jersey or via shipment nationwide. The company often offers free shipping and discounts on various products.
4. Soupelina's Soup Cleanse
Soupelina's Soup Cleanse is a well-known soup cleanse created by Elina Fuhrman, a vegan chef- to-the-stars, award-winning journalist, and cancer survivor. You can create your own soup cleanse at home by following the recipes in Soupelina's Soup Cleanse: Plant-Based Soups and Broths to Heal Your Body, Calm Your Mind, and Transform Your Life. In addition to containing recipes for plant-based soups, the book also provides a step-by-step outline of how to complete three- and five-day soup cleanses.
People living in select areas of California can engage in Soupelina's Soup Cleanse without having to make their own soups. In these locations, Soupelina's delivers products for one- and three-day cleanses as well as single containers of soup in a variety of flavors, such as "I Can't Believe It's Butternut" and "Kale-ifornia Dreaming."
5. Medlie Organic Blends and Mashes
Medlie (formerly called ZUPA NOMA) is unique in the sense that it offers a "shop by diet" option, allowing you to sort its products according to four diets:
Medlie sells blended "veggie drinks," which have a consistency more like a cold soup than a juice. These come in a variety of interesting flavors, such as "Yellow Pepper Turmeric" and "Tomatillo Kale Jalapeno." The company also offers "mashes" — thicker, blended soups you'll likely want to heat up. Mashes come in three flavors: "Avocado Greens," "Tomato Tahini," and "Sweet Potato Cinnamon." Many of them contain added protein, making a Medlie soup cleanse a good choice for people on a higher-protein diet.
You can find Medlie products in many stores, including Whole Foods, and the company also ships its offerings nationwide. If you buy Medlie products on a subscription basis, you'll receive a 10 percent discount.
With so many soup cleanse options available, it's easier than ever to find one (or more) to fit your needs. Once you find a soup cleanse that tastes good and works well for you, you can turn to it whenever you need to jump-start your healthy living routine.