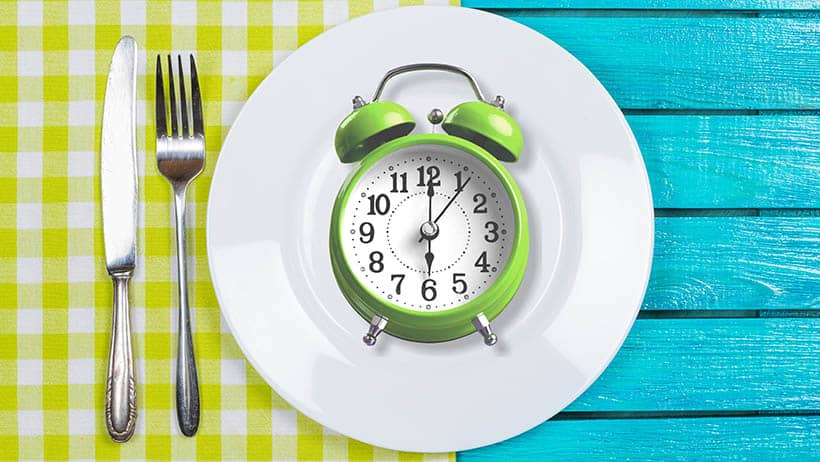 Fasting regimens vary greatly from person to person based on individual preferences, health goals, and lifestyle. Some people choose to skip meals, others prefer intermittent fasts in which they restrict themselves to eating only at certain times of the day, while some individuals opt to fast continuously for 24 hours or a longer period of time.
If you plan to go on a 24-hour fast for religious or health reasons, read on to learn about the different types of 24-hour fasts, what to expect, and what you can do to make the experience easier on your mind and body.
Different Types of 24-Hour Fasts
There are two main types of 24-hour fast: a simple 24-hour fast and the 5:2 diet.
1. A Simple 24-Hour Fast: Some people go on extended fasts from breakfast to the next day's breakfast or dinner to the next day's dinner without eating another meal the entire day. Alternatively, you can choose to eat just one meal in the middle of the day, such as around 2 p.m., and then fast until the same time the next day. Some people call this fasting technique the eat-stop-eat method.
The actual fasting period lasts slightly less than 24 hours because you still eat one meal on your fasting day. You can choose to do this once or up to three times a week, depending on your health and comfort level.
2. The 5:2 Diet: The 5:2 diet involves eating normally five days a week and then fasting for the remaining two days. On fasting days, you can still consume 500 calories. Some people opt to distribute those 500 calories into multiple, small meals throughout the day while others prefer to consumer their allotted 500 calories in one regular meal. If you choose the latter option, this approach can mirror a simple 24-hour fast.
How to Fast Safely for 24 Hours
While most healthy individuals can safely complete a 24-hour fast, it's not suitable for everyone. If you're pregnant, breastfeeding, less than 18 years old, or have medical conditions or a history of eating disorders, you should avoid fasting. Always perform your due diligence before starting a fast and, if necessary, consult a medical professional.
If you do choose to fast, here are some tips to help you fast safely:
Start Small
If you've never fasted before, don't go on a 24-hour fast on your first day. Instead start by skipping one meal a day. Once you're comfortable with this (and it may take up to two weeks), you can move on to daily intermittent fasting in which you restrict your eating to a period of eight to 12 hours in a day. This way, you can gradually build up your fasting period until you are ready for a longer fast.
Don't Overdo It
While some people choose not to eat at all during their 24-hour fasting period, most fasts involve consuming at least 25 percent of your daily calorie intake during the day. This approach may prove especially beneficial to people new to fasting because it can help counteract side effects, such as dizziness, mood swings, or irritability. It also may help you stick with the fasting habit for a longer time because you can still eat one regular meal a day.
Drink Up
Remember to keep yourself well-hydrated throughout your fast. Because your body gets 20 percent of its water requirements from the food you eat, you may need to increase your water intake during a fast. Sipping hot liquids like tea and coffee also can reduce hunger. However, drinking too much water can cause problems like hypotension. Listen to your body — it can tell you if you need water.
Be aware that hunger may come and go in waves during a fast. If you can hold out by distracting yourself with some activity or sipping water, you should feel fine in 10 minutes or so. If you feel ill at any time during the fast, however, stop immediately and seek medical attention.
Break Your Fast Safely
Resist the temptation to binge when you break your fast at the end of 24 hours. Eating a heavy meal after a fast will result in bloating, gastric discomfort, and fewer overall benefits from fasting. So eat normally as you would on a non-fasting day.
Because regular fasts can increase your risk for nutritional deficiency, consider taking a vitamin supplement if you plan to incorporate the art of fasting into your lifestyle.
Staying Motivated During a 24-Hour Fast
Going from three meals a day plus snacks to not eating at all can be really difficult. Follow these strategies to help keep yourself motivated during your fast:
Stay Busy
If you're active throughout the day, you're less likely to think about food. This will make it easier to complete your fast. Some activities to consider include:
Catching up on paperwork or housework
Watching a movie
Meditating
Doing yoga
Going for a walk
Reading a book
However, remember to stay away from strenuous exercise during fasting because it's likely more than your body can handle.
Take a Light Snack
If you choose to have a small meal or snack during your fasting period, opt for low-calorie, nutrient-dense foods like beans, nuts, fruits, and vegetables. Be liberal with spices to add flavor and help keep hunger at bay.
Fasting doesn't always involve total abstinence from eating. A fruit and veggies fast, for example, or a liquid fast can provide a great way to give your mind and digestive system a break while posing less of a challenge than a complete fast.
Eat Healthy Meals When You're Not Fasting
To help your body handle periodic fasting — and to maximize the benefits you'll achieve from fasting — it's essential to maintain a healthy diet on non-fasting days. Make sure you eat well-rounded meals that contain a variety of grains, fruits, and vegetables. Stay away from junk foods, excess sugar, ultra-processed foods, alcohol, and red meat. This approach will help keep your body in top shape so you can easily manage a longer fast.