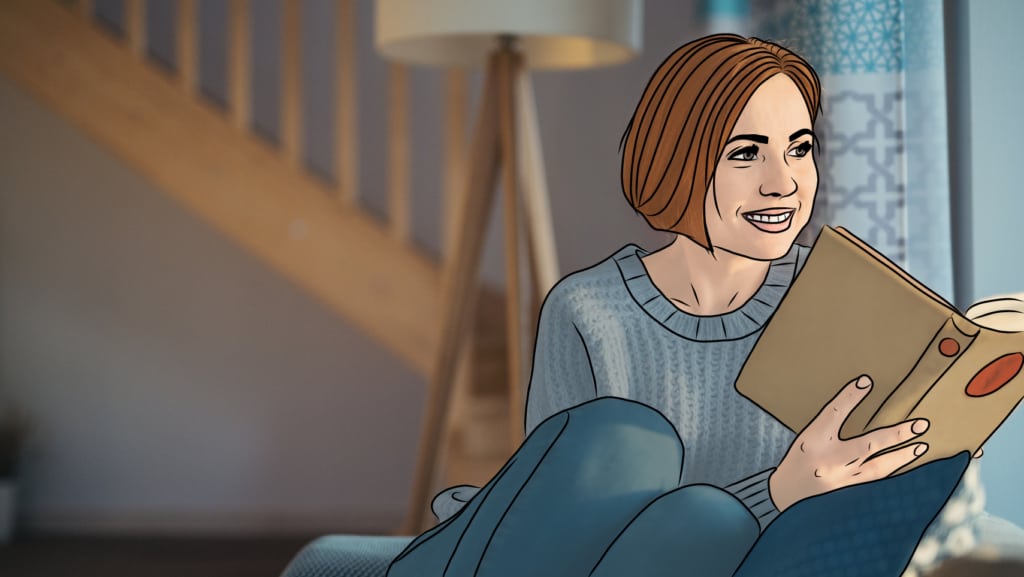 Did you know that some of the world's most successful people — Bill Gates, Mark Zuckerberg, and Warren Buffet — share one common trait? They all read voraciously.
Reading builds your knowledge, opens you up to new ideas, and widens your perspective on life, which all help make you a better, more successful person. If your New Year's resolutions include reading more books, follow these strategies to help you achieve that goal before the end of the year.
Add Reading to Your Daily Schedule
The best way to start reading more books is to make time for it in your daily schedule. Block off at least an hour for reading every day to prevent other commitments from creeping in. If you find your attention wandering when you read in one long sitting, split up your reading time into two 30-minute sessions — one in the morning and one at night just before you go to bed.
Carry a Book Everywhere
You can find time for reading if you just know where to look. Do you take the bus to work? That's a great time to read. Are you waiting at the doctor's office or to pick your child up from soccer practice? That's more time to read. Carry a book with you everywhere so you can grab each free moment life gives you with both hands. The amount of reading you can squeeze in by adding up all those extra minutes may amaze you.
Steal Time From Other Activities
If you find it challenging to make time for reading, try reducing the time you spend on other, less-important activities like watching television. If you have a habit of scrolling through social media platforms before bed, devote this time to reading instead.
Find a Format That Works for You
We all love to read the real thing. While e-books or audiobooks can't match the feel of an actual book in your hands, don't let that hold you back. You can't read while driving, but a long commute provides a great time to listen to an audiobook. With e-books, you can access your own personal library from anywhere — as well as the thousands of available free books. Most e-book readers also have apps that allow you to read the same books on your smartphone. That means if you're stuck somewhere without a paperback or your e-reader, you can still read on your phone.
Note: While reading on your phone works in a pinch, try to avoid it as much as possible. Why? It's very easy to distract yourself when you have all of your social media feeds, email, and streaming services right at your fingertips. To read with full focus and comprehension, stick with physical books or dedicated e-readers.
Register for a Reading Challenge
Many online communities and websites, such as Goodreads annual readathons, challenges to inspire more people to pick up books. Joining such a group can help boost your motivation to pursue your reading goals. Moreover, as part of a like-minded community, you can discuss your thoughts about the latest books you read as well as find new recommendations.
Watch for New Books to Add to Your "TBR" List
Always keep looking for new books to add to your "to be read" (TBR) list. Once you get into the habit of reading, there's no worse feeling than not knowing what to read next. Besides, a big TBR list will serve as motivation for you to read more. If your shelf looks a little empty, check out these 15 books everyone should read in their lifetime for some interesting suggestions.
Choose a Mixture
This is one area in which you can — and should — mix business with pleasure. You don't always have to read educational or self-improvement books. Mix up your fiction and non-fiction reads. Read non-fiction in the morning when your mind is fresh and open to learning. When it's time to relax and unwind after a long day, read fiction for an enjoyable escape.
Accept That You May Not Finish Every Book You Start
Don't feel like you have to finish every book you start reading. With millions of books out there, you likely won't love or enjoy every one you pick up. It's okay to stop reading a book if it's not to your taste. Even if your friend enjoyed the book, it may not suit you. Don't feel guilty about putting it down and finding another, more suitable book.
When you enjoy what you read, you won't consider it a chore to strike off your to-do list. That will make you more likely to stick with a daily reading habit.
Know Your Reason for Reading
What made you decide to read more books this year? Revisit your reason for reading once in a while to keep sight of your goals and ensure you read the right kind of books to achieve those goals. While reading, don't forget to take notes or highlight important passages for later reference. This also can help you retain more information.
People who read every day are the same as everyone else. While they also face demanding work schedules, personal commitments, and responsibilities, they still find time for reading because they make it a priority. As J. K. Rowling once said, "If you don't like to read, you haven't found the right book."