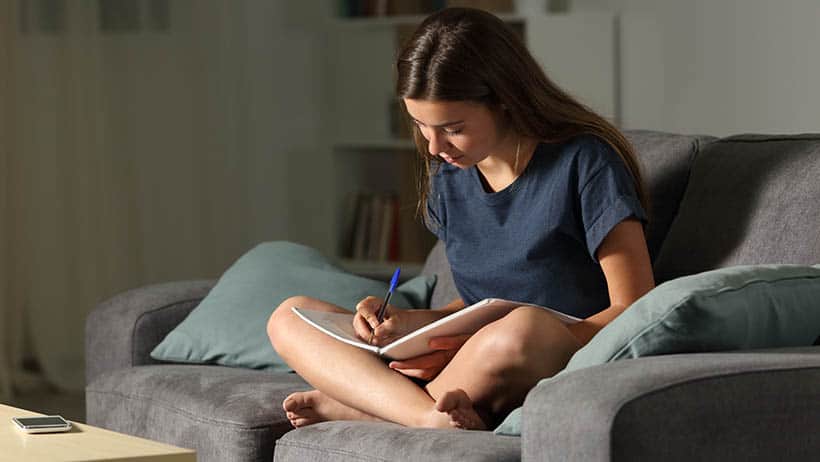 Journaling can provide an effective means for personal transformation because it often empowers people to change how they think about — and interact with — the world. From gratitude and reflective journals to writing about events or a sudden loss or trauma, journaling consistently proves effective for reworking the human mind.
Follow these five best practices to ensure you get the most out of your journaling experience.
Choose an Overarching Topic or Theme
There are many effective forms of journaling. Some people keep a gratitude journal where they write about things for which they're grateful in hopes of viewing the world with a new eye of appreciation and joy.
Some people prefer to keep a journal that focuses on their daily activities, thoughts, and transformational processes. This form of journaling often works well for anyone aiming to improve their reactions and depth of participation in daily activities. These activities include human interaction, hobbies, and work-life.
Reflective journaling represents another popular option. It provides a way for individuals to dig deep into their troubling thoughts. Through this practice, people get to know those thoughts on a more raw, understandable level. Only then can individuals understand how to change the way they see their thoughts. For example, someone may choose to believe or disbelieve such thoughts based on their origins.
Deciding what you want to write about is a matter of choosing an effective form of journaling and then committing to that choice. Before you start writing, make sure you know your overall goal. You may find it most effective to stick with a single form of journaling for long periods of time.
Find Your Preferred Time to Write
Finding the perfect time to write in your journal can lead to a consistent, powerful, and enjoyable practice. Two times of day — either morning or evening — can work well for journaling.
Morning: Journaling first thing in the morning is effective because your mind isn't fully awake yet. As counterintuitive as that sounds, it can actually prove beneficial to start writing when your mind remains slightly unconscious. In this state, you have access to deep emotions, feelings, and thoughts you usually can't tap into during waking hours. Journaling immediately after waking up enables you to learn amazing things about yourself, including insights about your unconscious pain or trauma, interests, and deepest longings.
Evening: Journaling in the evening before bed can prove especially beneficial because, by evening, you've been through an entire day's worth of activities, occurrences, and thoughts. Evening marks the perfect time to unravel tensions, confusions, and insights gathered throughout the day. Many people prefer to practice reflective journaling in the evening because a long, busy day can bring confusion to the mind. Luckily, you can use journaling to help reshape the way you think about the day's troubles and turbulences.
Whether you write in the morning or evening (or both), journaling at the same time each day builds a habit required for an effective journaling practice.
Include Key Details in Every Entry
Ensure your journal entries include these details to make it easier to look back on them with clarity.
Dates: Adding the date to each of your journal entries is essential for tracking your thoughts and mental processes at specific times of your life. Looking back on this detail can mean the difference between clarity and confusion on your journaling path.
Artifacts: These can include leaves, twigs, bookmarks, or other symbols of a specific day. Keeping small items in your journal is an ideal way to mark your days with symbolism and reminders of what each day involved.
Titles: Titles make perfect stopping places when you look back on your journal entries. They also can reveal a lot about your transformational process at specific points in time. Aim to add titles at the end of each journaling session to avoid influencing your entry by choosing a title upfront.
Remember,
Nobody Will Grade Your Entries
With no one grading your journal entries, you don't need to take yourself too seriously. In fact, forget about proper spelling, grammar, and sentence structure. Focus on your train of thought and jotting down what's on your mind as quickly as possible.
Moreover, try to avoid approaching your journaling as an assignment. Instead, treat journaling as a sacred space in which you can be free and inventive. Your thoughts are micro-creations that deserve freedom and expression.
As you write, let one thought follow into another. Your journal doesn't need to look or read a certain way. After all, your journal is there for your reference and to help with your personal transformation. It's not for anyone else's eyes (unless you decide it is).
Use Journaling to Find Your Power
Many people consider journaling a transformational practice because it helps them find their power. Writing about what makes you grateful, how you feel, or where you are in life can reveal a lot and, ultimately, change you as a person.
Overall, effective journaling involves one main rule: Make it fun. In the meantime, remember to make your entries about you and your free expression.