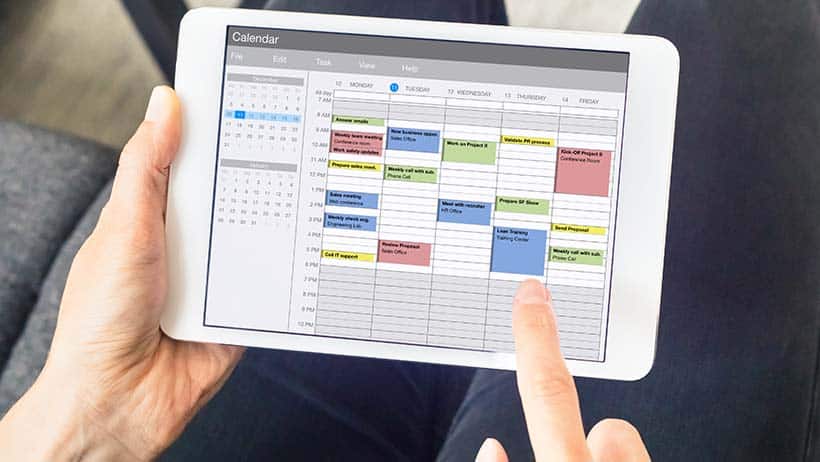 Today, many people view productivity as a watchword for measuring success. Companies no longer evaluate employees by the amount of time they put in at work. Delivering results is what really matters. The more value you add to your company, the more valuable you are to your employer.
Of course, beyond the obvious career benefits, improved productivity also means you can accomplish more in less time. That ability can reduce stress and give you more free time to focus on activities you enjoy. Read on to learn about six productivity tips to help you supercharge your performance at work and, ultimately, change your life.
1. Adjust Your Schedule to Your Internal Clock
One of the first steps to improving productivity involves taking a more deliberate approach to planning your schedule. If you're an early bird, your best working hours happen in the morning. These typically include the first two to four hours after you wake up. This is the time of the day when your brain is most alert and releases hormones that support creative thinking and problem-solving. Instead of wasting this time on answering emails or returning phone calls, use it for your most meaningful tasks.
On the other hand, if you're a night owl, you may notice your energy peaking during the evening. In this case, you can boost your productivity by using your mornings for tasks that require less creativity and brain power, such as checking email, and leave the heavier jobs for later. In short, work with — not against — your body's internal clock to have a more productive day.
2. Be Your Personal Cheerleader
Most people habitually talk to themselves throughout the day — often on a subconscious level. In the middle of a particularly difficult task, you may think, "Come on, you've got this!" or "You're going to embarrass yourself if you fail."
If you channel the self-talk habit into a positive means of motivating yourself to work better, it can help you boost your confidence, navigate challenges more easily, and work more effectively. However, if you use the wrong language, self-talk can destroy your confidence and bring you down.
In order to use self-talk to improve your productivity, you must first ditch the negativity and focus on what you can do to improve. Instead of telling yourself, "You're so bad at this," try saying, "That was okay, but you can do better if you try harder."
3. Take Regular Breaks
Have you ever spent hours focused on a difficult problem with no success and then later had the answer magically dawn on you? Working for long hours without a break can stress out your brain and lower your creativity, reasoning ability, and willpower. A well-timed break gives your brain a chance to recoup and tackle problems from a new perspective, which often leads to success.
While productivity techniques like the Pomodoro advise working in 25-minute blocks with a five-minute break in between, a recent study found the ideal work schedule is closer to roughly an hour of work followed by a break of around 15 minutes. Track your natural energy levels and outputs to find the work rhythm that works best for you.
4. Make Your Breaks Count
What you do during your break is just as important to your productivity as remembering to take one in the first place. Mindlessly scrolling through social media sites and taking a walk represent two very different activities. When you use your breaks wisely, you come back to work recharged and productive.
The next time you take a break, go outside, get some exercise, talk to a friend, read a book, take a power nap, or simply sit and do nothing as you let your mind and body completely relax and rejuvenate.
5. Practice Mindfulness
While mindfulness may not immediately come to mind when you think about productivity, research shows workplace mindfulness training can improve employee performance while reducing stress and burnout. In fact, insurance company Aetna noticed an increase of 62 minutes of productivity per week per employee after introducing yoga and meditation programs for its workforce.
In simple terms, mindfulness means you're fully aware of your thoughts, emotions, and experiences at the moment without letting them consume you. In a mindful state, you think more clearly and don't let distractions bother you. You're also able to focus fully on the task at hand, which will help you complete it quickly and efficiently.
6. Don't Break the Chain
Popularly known as Jerry Seinfield's productivity secret, the "don't break the chain" technique helps many people boost their skills and enhance their productivity. It's actually pretty simple. Just follow these three steps:
Identify Your Goal. What do you want to accomplish? Do you want to learn how to design a website? Do you want to read more every day? Set yourself a goal and establish boundaries and rules. Statements like, "I want to read 20 pages of a book every day," will work better than simply saying, "I want to read more."
Set a Visual Reminder. Once you set a goal, print out a calendar and place it somewhere prominent.
Build the Chain. For each day you achieve your goal, draw a thick "X" on the calendar. Over time, you'll create a chain of "X"s that provide a visual reminder of your progress and will inspire you to continue working on the task.
Of course, things won't always go your way. You'll still have days where you aren't 100 percent productive. What matters is that you never give up and you continue to make an effort to improve. Every new day brings a new opportunity to get it right. You can do this!