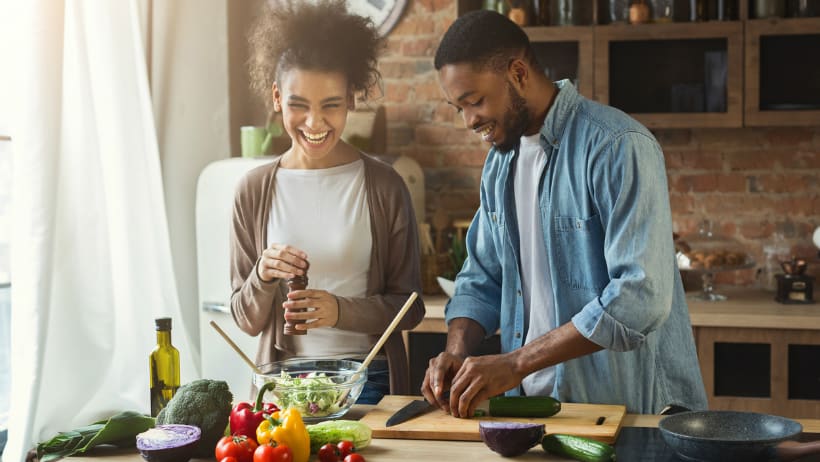 Cooking provides pure therapy. It's also an art form and an enjoyable activity to do with friends and family. In fact, there are many reasons to cook for yourself instead of eating out. For example, it gives you greater control over the nutrition you wish to receive.
Read on for a closer look at three key reasons to skip the restaurant and dine at home more often.
1. You Control What's on Your Plate
The ability to decide exactly what you eat is a huge benefit when considering whether or not to cook for yourself. Consider this: When you cook at home, you choose every ingredient that goes into your body. From oils and spices to your favorite veggies — cooking for yourself gives you complete control over how your food tastes and the health value of your meals.
Maybe you want to boost your intake of raw foods, beneficial oils, or cooked veggies. Perhaps you're trying to reduce the amount of artificial flavors, preservatives, and added sugars in your diet. Preparing your own food helps you to take control so you can achieve such goals.
Greater control over what goes into your food can also help you manage any food allergies. Restaurant meals often include common allergens, such as wheat, nuts, and dairy products. Making your own meals allows you to avoid these ingredients — and reduce the risk of an allergic reaction.
2. You Choose Your Food Sources
Restaurants rarely provide customers with information about the source of the ingredients in their meals. By choosing to cook for yourself, you also must shop for yourself. When you control where you source your food, you can:
Choose Organic Foods
This will always be an option when you shop and cook for yourself. Organic foods offer an important choice for people seeking to cut back on genetically modified foods as well as pesticides due to health risks. Another popular reason people buy organic food relates to the environment. Here are some key ways that organic agriculture helps the environment:
It reduces air pollution and climate change. Organic growing protocols minimize non-renewable energy use. In conventional growing methods, farmers use agrochemicals produced with the help of fossil fuels. In addition, organic farming practices seem much better for the soil, making it reusable and thus lessening the need for more fossil fuels long-term.
It protects the water supply. Harmful chemicals and pesticides used in conventional farming tend to run off into local wells and aquifers. Organic farming practices prohibit the use of these substances and, therefore, reduce the risk of groundwater pollution.
It promotes long-term, agro-ecological sustainability. Through organic, responsible growing methods, farmers help to ensure a balanced environment for future crops.
Support Local Growers
When you shop for yourself, you have the option to buy local foods that support small businesses and farms. Many people prefer this approach vs. supporting large, corporate farms that may potentially harm the environment and public health.
Similar to choosing organic foods, buying local foods can help the environment. Why? Locally grown and raised foods require fewer transportation miles to reach consumers.
Save Money
Compare the price of a week spent eating out with the cost of a week's worth of groceries. You'll immediately realize cooking for yourself can help you trim your food budget. Moreover, you often can find cheaper prices when shopping at a local farmers market than at a conventional grocery store.
3. You Participate in an Actual Art Form
The culinary arts involve preparing, cooking, and presenting food. When you cook for yourself, you participate in an ancient art form. Some might even call cooking soothing to the mind and healthy for the intellect. Once you start cooking for yourself, you may find it very enjoyable.
In fact, many people can easily slip into a focused zone or meditative state while cooking. Cooking fosters creativity by providing an effective creative outlet. Moreover, cooking can even provide some therapeutic benefits. It also can heighten an individual's sense of purpose while enhancing their self-esteem and socialization.
Bonus: Tips to Start Cooking for Yourself
If you're a beginner ready to try cooking for yourself — or an experienced home cook aiming to make more meals for yourself — here are four tips to consider as you practice this art form:
Keep It Simple (at First). Start with easy recipes that don't require too many ingredients or instructions.
Prepare Your Kitchen. Be sure to have all the necessary cookware on hand, including pans, pots, cutting boards, knives, utensils, and more.
Try Cooking With Friends. You may have friends who already cook well. Cooking alongside them can help you learn key cooking skills and techniques faster.
Have Fun. Remember to enjoy yourself as you explore cooking as a healthy, cost-effective activity.
Cooking for yourself most of the time rather than eating out can provide many benefits well worth the effort. In the process, you will look after your own health, the health of the environment, and the health of your wallet.