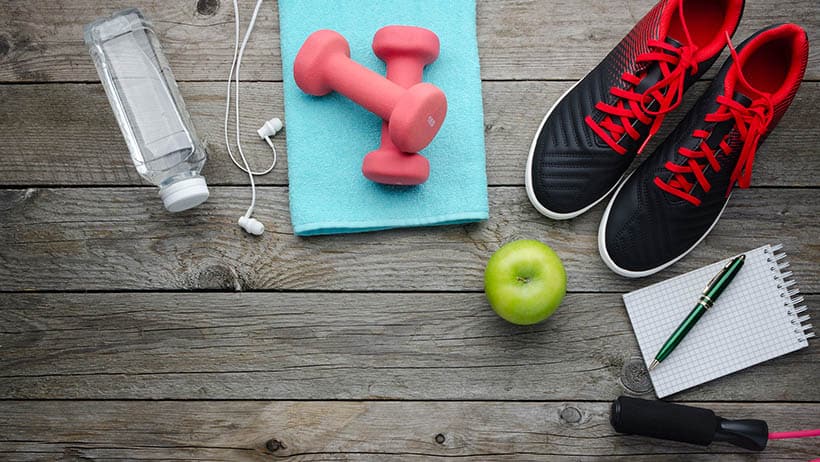 Starting a fitness journal can mean the difference between working out with a sense of purpose or in an unmotivated mindset. Keeping a fitness journal can not only help you track progress and goals, but also the specific movements you wish to incorporate into your routine. This practice also enables you to view your improvements over long periods of time.
Read on for more details about four motivating reasons to keep a fitness journal.
1. You'll Remember Your Workout Goals
Maintaining a fulfilling workout routine requires ongoing motivation. When you forget why you exercise, you may notice your workouts begin to fall flat. So how can keeping a fitness journal help with motivation?
A fitness journal is an ideal place to write about the "why" behind your exercise routine. Keeping a section to jot this down before each workout can prove highly effective. It can not only help you get into the gym or out on a run with more vigor and passion, but also keep your goals in mind during the hard work.
Seeing improvements also can help keep you excited to maintain a fitness routine. That's why tracking progress is another key reason to start a fitness journal.
2. You'll More Easily Track Your Progress
To many fitness aficionados, tracking progress is the main reason to keep a fitness journal. It's a great way to spark motivation because it exposes your improvements over long periods of time. Here are three other ways tracking progress in a fitness journal can prove beneficial:
It Helps Guide Your Workouts. If you haven't made much improvement in your sprints, for example, your journal will show this. It will remind you to do them and encourage you to focus your workout entirely on how to improve your time for each sprint.
It Highlights Your Strengths and Weaknesses. Part of tracking your workouts entails jotting down times, distances, weights, and other details. This information highlights key areas of growth in your level of fitness and tells you when it's time to add more weight or complete that extra stretch of running or cycling.
It Provides a Satisfying Activity. Many people enjoy taking note of their progress because it inspires them to push just a little harder to achieve a new personal record. Tracking your progress also may inspire you to keep your journal close during every workout.
3. You'll Have More Effective Workouts
Keeping a fitness journal can help you increase the effectiveness of your workouts in several ways:
You'll Have a Plan Before Each Workout. Entering the gym or workout space with a solid idea of what you plan to accomplish will ensure you spend more time exercising and less time thinking about what's next.
You'll Have Shorter Workouts. Research shows that shorter, more intense workouts may actually offer greater benefits than prolonged workouts. Keeping a fitness journal will help you complete intense, yet satisfying workouts by, again, ensuring you know your course of action before you start exercising.
You'll Feel More Accomplished After Your Workouts. Completing or going beyond what you write down in your fitness journal will leave you with a greater sense of satisfaction at the end of each workout.
4. You'll Create a Place for Tracking Your Diet
Nutrition is an extremely important aspect of meeting your fitness goals. With proper fitness, you will lose weight, gain muscle, and increase your strength much more rapidly.
Using your fitness journal to track your macronutrients can help you keep your goals in check. For example, maybe you yearn to add some muscle. After a bit of research, you can determine your target daily intake of macronutrients. This will include calories, protein, fat, and carbohydrates. Alternatively, perhaps you want to shed a few pounds. In that case, you'd count macronutrients in the journal according to your current body weight and new weight goal.
You can find macronutrient calculators online with a quick search or check out apps, such as MyFitnessPal, to help you count macronutrients and hold yourself accountable.
Getting Started With This Exciting, Life-Changing Practice
Starting a fitness journal can take you on an amazing journey. Have fun with it, and try to avoid obsessing over small details like beating records in every workout. Take time to achieve your goals in a way that's reasonable and kind to yourself. Keeping a fitness journal likely will keep you motivated to stay healthy and in shape. Moreover, this practice may even help you enjoy your workouts more.
If you decide to track your progress by counting macronutrients, be sure to make this a healthy habit. It's not about perfectionism, but long-term consistency and improvement. It's okay if you don't precisely follow your meal and macronutrient plans every day.
Overall, starting a fitness journal can provide a rewarding aspect of achieving your fitness goals. It'll connect you more deeply to the core of your exercise regime while guiding you toward the best path forward.