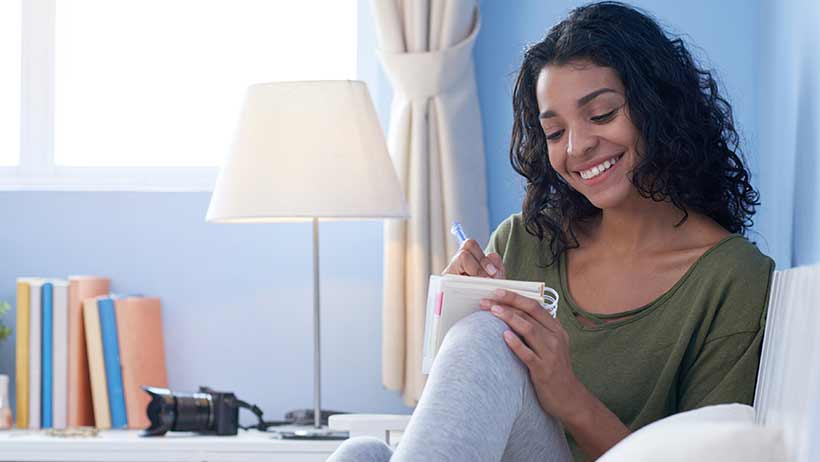 Keeping a gratitude journal is a trend that has become popular in recent years, and for good reason. Studies show that regularly writing down the things you feel grateful for can lead to increased happiness, improved relationships, decreased depression and anxiety, healthier eating habits, improved quality of sleep, and even a lower risk of heart disease.
It's proven to be an effective way to increase gratitude, and best of all, it's incredibly easy (you can start as soon as you finish reading this article).
Sounds pretty great, doesn't it? Keep reading to find out more about the benefits of keeping a gratitude journal.
What Is A Gratitude Journal?
A gratitude journal is more or less exactly what it sounds like: it's a journal where you write down things that you are grateful for. You can write down your gratitude for big things like world peace (we'll keep hoping), a loving family, or a job promotion – or small things like a blueberry muffin you ate for breakfast, a sunrise, or a stranger that complimented your shoes. The important thing is to focus on feeling appreciation for what you have in your life.
Keeping a gratitude journal is a practice that has become prominent in recent decades in the field of wellness and positive psychology. Oprah, Arianna Huffington, and other celebrities have talked publicly about the benefits they've gotten out of this practice.
Your gratitude journal can be a document on your computer, a note on your phone, an app, one of the many gratitude journal notebooks available for purchase, or a regular notebook. The choice is totally up to you. However, experts do recommend that whatever you choose to use for your gratitude journal be used only for that purpose.
In short, a gratitude journal is a place where you practice gratitude by recording what you are grateful for.
Eight Reasons to Start a Gratitude Journal
1. It is One of the Most Effective Ways to Increase Gratitude
Numerous studies have been conducted in the field of positive psychology to determine the benefits of gratitude and the best way to get those benefits. Keeping a gratitude journal is a method that researchers have found to be effective for most people.
In a study published in the Journal of Personality and Social Psychology, it was found that people who kept a gratitude journal for as little as two weeks reported increased gratitude, improved emotional well-being, and better sleep.
2. It Can Increase Happiness
Gratitude and happiness are qualities that are related. If you experience a high level of gratitude, you probably experience a high level of happiness.
The most popular course in Yale's history is one that teaches students how to become happy. Laurie Santos, the professor who created the course, teaches that you can train yourself to become happier by making conscious changes to your behavior and thought processes.
Santos teaches that expressing gratitude is one way to increase happiness. Students in her course kept their own gratitude journals, writing down five things they were grateful for every day.
Gratitude journals help you to focus on the positive. Taking time to notice and appreciate the positive things about yourself and about the people and the world around you can result in better self-esteem, more peace of mind, and more optimism about the future.
By keeping a gratitude journal, you train yourself to appreciate what you have and not to focus so much on the negative. The result? Increased happiness.
3. It Helps You Build Better Relationships
Keeping a gratitude journal has been shown to have a host of social benefits. It often results in increased generosity, patience, compassion, and decreased aggression – all qualities that help us develop and maintain healthy relationships with others.
It can even help you become more outgoing and experience less loneliness, according to gratitude expert Robert Emmons.
When you learn to recognize the positive in your own life and in your own self, you compare yourself less to others and can appreciate them for who they are. This makes it easier to establish healthy, meaningful relationships.
4. It Can Decrease Depression and Anxiety
Multiple studies have been conducted that show gratitude's impact on depression and anxiety. When you feel more gratitude, you generally perceive more social support and feel more at peace with yourself. These factors can help to mitigate both anxiety and depression.
Gratitude increases happiness, optimism, and self-esteem, which all help prevent or decrease depression and anxiety.
Keep in mind that if you are experiencing depression, a gratitude journal should not be used as a replacement for getting help from a therapist, doctor, or other professional.
5. It Helps You Eat Healthy (And Avoid Those Late-Night Snack Binges)
It's never easy to stick to that diet, but guess what can help? Keeping a gratitude journal.
In two studies conducted on high schoolers and young adults, it was found that keeping a gratitude journal resulted in healthier eating habits.
This makes sense. We've already discussed how increased gratitude leads to more patience, better self-esteem, and less stress. These qualities all make it easier for you to stick to your healthy eating goals and avoid unhealthy food.
6. It Can Improve Your Quality of Sleep
In almost all of the studies conducted on the benefits of gratitude, one of the documented results is improved quality of sleep. People who experience more gratitude report falling asleep more quickly, sleeping for longer, and feeling more refreshed upon waking up.
Why does this happen?
When you regularly write down the things you are grateful for, it results in a greater number of positive thoughts and a decreased number of negative thoughts. This means that when you try to fall asleep, you're more likely to be thinking about positive things than negative things.
Instead of stressing about the tasks you didn't complete that day or the coworker who gave you a hard time, you're more likely to think about a nice conversation or an event you are looking forward to.
7. It Lowers the Risk of Heart Disease
Not only does increased gratitude improve your mood and your relationships, it can also make your heart healthier.
Gratitude tends to fend off stress, anxiety, and other factors that can increase the risk of heart disease. Increasing your gratitude therefore can be beneficial for heart health.
A professor at University of California San Diego School of Medicine, Paul Mills, conducted studies to examine gratitude's effect on the heart. In one study, Mills found that people who experience more gratitude were healthier. "They had less depressed mood, slept better and had more energy," he reported.
In another study, Mills instructed a group of patients to keep gratitude journals for two months. He tested their hearts both before and after the two month period and found that the patients had decreased their risk of heart disease after the two months were completed.
8. It's Easy!
Keeping a gratitude journal is one of the best ways to increase gratitude because it's effective, and one of the reasons it's so effective is because it is so easy to do.
All you need is a notebook, a smartphone, or a computer, and a couple of minutes.
And if writing down things you are grateful for every day sounds like too much, you're in luck: experts say that writing in your gratitude journal less often is actually more effective. People who write in their journals three times a week, rather than daily, find the practice to be more effective in the long run.
What are you waiting for? Go start that journal!