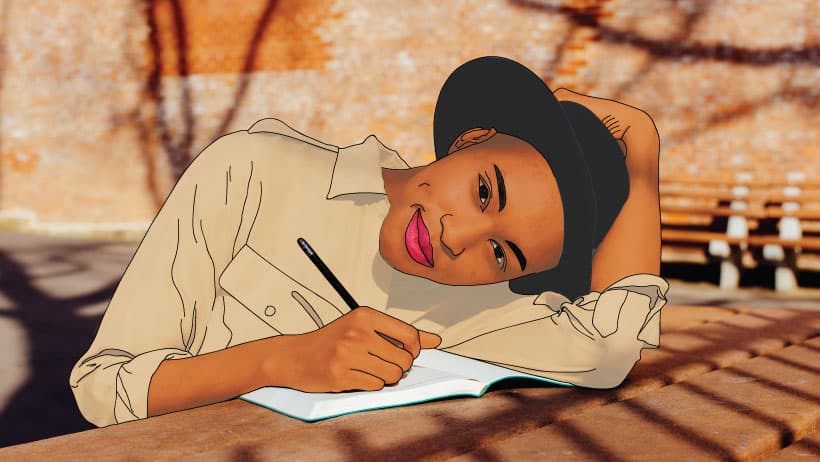 Reading can enhance your quality of life by enriching you with new worlds of information, stories, and characters. A good reading habit can not only increase your intelligence and imagination, but also your sense of connectedness to the world. Many people enjoy reading fiction and poetry while others prefer nonfiction and essays.
Starting a reading journal is a great way to keep track of what you read. Ideally, you'd use your reading journal to track your progress through individual books, write book reviews, and record key learnings from the books you read. These forms of journaling will enable you to more easily remember the book you read.
Whether you're an avid reader or someone who enjoys a book on occasion, check out these four reasons why you should consider starting a reading journal.
Track Your Reading Progress
Helping yourself track your progress in a book is an excellent reason to start a reading journal.
This can mean simply writing small reports on each chapter. By doing so, you'll ensure you remember where you left off if you ever decide to take an extended break from a specific book.
People often continue to read books because one or more characters intrigue them. Character development often drives the plot forward, and strong characterization can hook readers who may see a bit of themselves in a specific character.
Journaling about characters provides an effective way to trace a book from beginning to end. This practice will not only help you better understand good characterization, but also immerse yourself more deeply in a story. Overall, many people find writing about characters a rewarding activity.
Write Book Reviews
If grade school was the last time you wrote a book review, you may not remember the many benefits of this type of writing. Here are three important perks of writing book reviews in your reading journal:
They'll help you remember the stories you read. After you read a large number of books, you may start to forget the stories and information you acquired in the past. Keeping your book reviews handy will ensure you remember what you read, your impression of each book, and even how you "rated" a book overall.
They'll help you recommend books to friends. It's common to want your friends to read your favorite books. Yet, simply recommending a title may not provide enough enticement for a friend to buy a copy. Now imagine showing your friends detailed reviews of your recommendations with thorough impressions, thoughts, and opinions about them. Armed with your personal book reviews, you have a much better chance of interesting your friends in reading the books you suggest.
They'll help you track your progress in reading comprehension. Somewhat of an art in and of themselves, book reviews hold a revered status in modern society. Literary journals and magazines often publish reviews of books in their specific niche, highlighting the skills required to create a thorough, intelligent review. Writing book reviews will help you track your improvement as both a reader and a writer. This practice also will help you notice more within the books you decide to read.
Record What You Learned
Reading provides many gifts — especially the key learnings you take away from each book. To paraphrase a famous saying, "stories are full of lies that tell greater truths." That's likely why many people continue to seek out and read stories.
Use your journal to record what you learn from the books you read. For example, consider creating a section in which you can jot down inspirational quotes, insights, and ideas. This section may prove especially useful as you read nonfiction books, which expose you to many facts and concrete ideas you may want to write down for future reference.
Create a To-Read List
Creating a to-read list is an important part of keeping a reading journal because it helps you track what you aim to read in the future. Many bookworms feel excited, yet overwhelmed by the vast number of books available to read. Keeping a to-read list can make it feel less daunting and more exciting to read a customized set of titles that interest you.
Start by writing down only the books you definitely plan to read. That way, you won't drown yourself in a sea of books as a result of wishful thinking.
Inspiration for Your Reading Journal
To help you make the most of your reading journal, consider these additional sources of inspiration:
Goodreads: This increasingly popular online platform has a reputation for making readers want to read more. You can even use Goodreads as your reading journal in digital form. Opening a Goodread account enables you to write book reviews, connect with other readers, and create lists of what you've read and wish to read.
Local Bookstores and Libraries: Browsing among the bookshelves can inspire both your reading and writing life. Many bookstores also sell a range of journals that might work well for your reading journal. Aim to buy a journal with an artistic cover and sections that support your journaling habit. At a minimum, you'll want sections that include space for lists, paragraphs, and notes.
Book blogs: A kind of public reading journal, book blogs often contain reviews and other essays composed in response to the author's regular reading. They can be a great source of inspiration for how to approach your own writing about what you read.
Keeping a reading journal is a great way to help you remember and enjoy the many benefits of reading. In addition, writing about what you read helps you connect more deeply to stories and the worlds contained within them. As you start a reading journal, keep it nearby anytime you pick up a book to encourage yourself to write and learn more from every book you read.