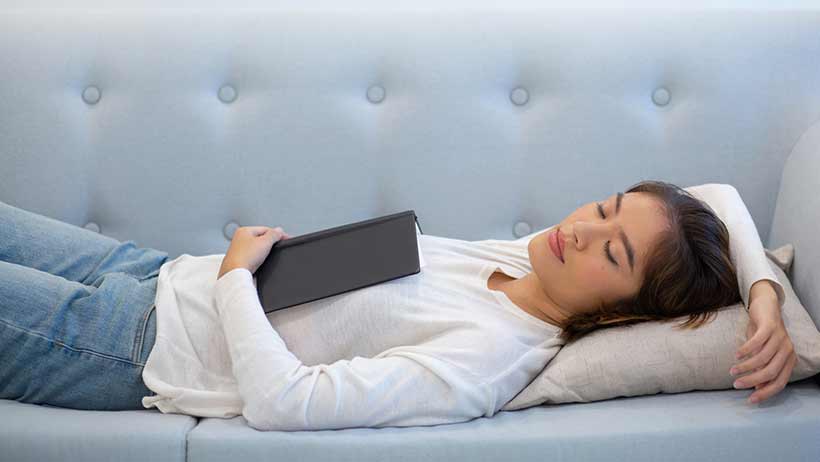 Everyone sleeps, and our sleep habits are a vital part of our physical and mental health. By documenting the one-third of life spent at rest, you'll get unique personal insights and benefits. In this article, you'll find out how to keep a sleep journal and also learn six reasons to get started today.
What is a Sleep Journal?
Sleep journals keep track of when you sleep, as well as things which promote or detract from healthy sleep habits. Journal entries can be hand written or digital, and are usually composed every day, right before or after sleep.
Tapping into the therapeutic benefits of sleep journaling has been popularized by contemporary medical professionals, and our list begins with some of these health-related findings:
1. Track Sleep Habits
It's easy to take sleep for granted, but the CDC reports that one out of three adults don't get enough sleep. Bringing awareness to the amount and quality of sleep we're getting is the first step toward cultivating sleep habits which work for us, and which meet our needs.
As far as sleep quality, here are some questions to address in your journal entries:
Is it dark enough?
Is it quiet enough?
Is there room for me on the bed?
Is any pain or stress keeping me awake?
2. Cultivate a Sleep Routine
The patterns of when we rise, what we do, eat, drink and so forth are among the many factors which can affect our sleep. Representing all those factors in prose alone may be challenging, so incorporating a spreadsheet into your sleep journal can help you track everything at a glance.
Whether you use your journal privately, or in consultation with your physician, this data can give you insight into your sleep strengths, as well as areas needing the most attention. When identifying which resources you have to develop your sleep schedule, consider tracking:
Types of day in your week (work, school, personal, etc.)
Food, drinks or drugs consumed before bedtime
Sleep amount and quality from the day before
To-do lists for the next day
Recurring obstacles to restful sleep
3. Sleep Better
Can you recall a time when you were late due to oversleeping, or felt irritable? Although getting better sleep is the most obvious goal of starting a sleep journal, it may also be the one which takes the longest to achieve. But your wellness is worth any amount of time and effort.
Those with irregular work schedules are at a heightened risk for sleep problems. For them, starting a sleep journal can offer dramatic benefits. And although sleep deprivation has not been shown to directly kill human beings, car accidents have.
Getting good sleep, along with diet and exercise, can't be long ignored. Sleep journaling is a simple, free and effective way to bring the attention you need to your sleep habits. The alternatives are a slew of chronic diseases, professional pitfalls, and chemical imbalances.
4. Develop Strategic Thinking
Identifying the impact, and the frequency of the impact which things have on your sleep is essential to sleep journaling. Thinking about how to best use your available resources in terms of these two metrics is at the foundation of the coveted leadership trait, strategic thinking.
Our sleep habits are impacted by the resources we have at our disposal. By working with given resources like quiet time at night, exercise opportunities during the day, diet choices and so forth, in a sense we're all strategic thinkers. But is our sleep strategy benefiting us?
Starting a sleep journal gives us a private daily reminder to ask ourselves the tough questions about how we're using our resources. Honestly answering these frank questions benefits us beyond just developing and implementing a new sleep plan.
5. Discover Health Benefits Beyond Sleep
Here's a hypothetical example:
While making an entry in her sleep journal, Jane noted that eating pineapple before bed the previous night had led to stomach upset, and had disrupted her sleep. She then looked into how diet might be affecting other parts of her health.
In the example, diet was the issue, but every part of health is interrelated. What we learn from preparing a sleep journal can have crossover benefits into other parts of our lives such as exercise, work, companionship and so forth.
By taking charge of your own health, you can avoid spending unnecessary time and money on medical care. Revenues from the sleep-care industry are exploding, but starting a sleep journal is a free and easy option you can begin now, before getting the doctor's orders (and the bills).
6. Diagnosing Sleep Disorders
Sleep journaling is a part of the diagnostic strategy used by specialists to identify a number of sleep disorders including insomnia, sleep apnea and parasomnias (unusual behaviors while sleeping, such as walking, talking, or eating).
By reviewing the results of a sleep log, a doctor gains valuable insights about the patient's symptoms. These are then evaluated in the context of other test results and the patient's medical history to help pinpoint sleep problems and to suggest treatment plans.
While there are many strategies which can only be adopted in partnership with your doctor, starting a sleep journal is something you can do today at no risk to your health.
Final Thoughts
Starting a sleep journal is a remarkably easy and affordable way to gain insight to your sleep health. Your sleep habits are as important to your wellness as diet, exercise and social life. You have what it takes to start now. The question then isn't so much why to start one, but why not?