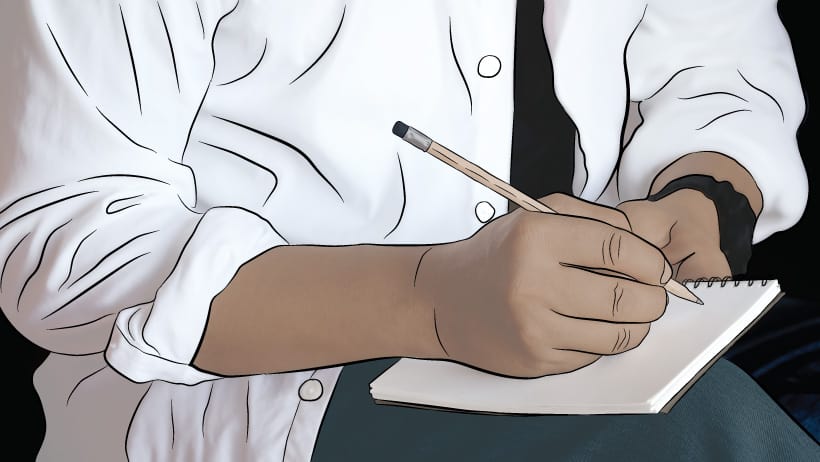 Many people feel motivated to keep a daily journal from time to time. But not everyone perseveres and remains a consistent journal writer. Yet, keeping a daily journal is a transformative practice that, with consistency, can change your life. Through journaling, you have the power to transcend your anxieties, connect deeply with yourself, and promote growth and self-improvement.
Read on for tips to help you start and maintain an effective journaling practice.
Choose a Journal You'll Love
Selecting a charming journal you love will help encourage you to use it consistently.
Find a journal that draws your eye. Many people enjoy the aesthetic of leather journals because they make writing feel like a serious, noble duty. Other people seek out journals with highly artistic covers. Perhaps you'd prefer a journal with your favorite animal or a nature scene on the cover. Some journals feature beautiful displays of suns, moons, and/or stars.
Next, consider if you want a journal with lined or unlined pages. This is an important aspect of a journal that could mean the difference between using it consistently or not at all.
Overall, buy a journal that sparks your creativity and yearning to write often.
Set an Alarm for Journal Time
Setting an alarm on your phone can help you remember to write in your journal every day. You can even leave yourself small messages to remind you what to journal about on any given day.
On Tuesdays, for example, you might want to write about what you'd like to manifest in life. If so, you could set your alarm for Tuesdays with a small message that reads, "manifestation journal." Perhaps you'll then choose Thursdays as your gratitude journaling days. In that case, you'd set another alarm for Thursdays with a small message that reads, "gratitude journal."
The main purpose of this tip, however, is to help you start journaling at the same time each day — another best practice for effective daily journaling.
Journal at the Same Time Every Day
Journaling at the same time every day is a great way to maintain a consistent journaling habit. Ultimately, this approach can help you build journaling into an unbreakable habit.
Imagine journaling at the same time every evening. Sooner or later, you'll begin to crave this time of self-reflection and will find yourself looking forward to it each day.
The best times to journal are in the morning or at night. In the morning, the mind isn't fully conscious. Journaling in the morning can help bring unconscious material to the surface so you can jot it down and remember it later. After a full day of thoughts and activities, turning to your journal in the evening provides an effective way to allow any unwanted tension or confusion to unravel.
Write About What Will Help You Grow
If you write about what's applicable to your life, you'll likely find yourself picking up your journal more often. Here are three key topics to explore in your journal:
Writing about what you love is a great way to spark your interest for journaling every day. This can include anything good that happened to you that day, a delicious meal you ate, a hobby you're enjoying, or someone with which you're falling in love. Writing about what you love will help you associate your journaling practice with feelings of goodness, beauty, and motivation.
Writing about what you're grateful for can help improve your overall happiness. This occurs because gratitude journaling encourages you to notice the small things that make you happy. Keeping a gratitude journal also tends to help people focus on the positive during difficult times in their lives. If you experience a health issue, for example, you could practice gratitude for your continued ability to see, hear, or smell (or all three). This life-changing practice will keep you returning to your journal regularly.
Writing about what irks you can provide a revealing practice you also should consider. While it doesn't sound very fun, this type of journaling can help you condition your mind to face hardships. It's basically a form of meditation. Think about it. During meditation, all the junk stored in your mind rises to the surface. Although you may find it difficult to face some of those thoughts and feelings, doing so gives you an opportunity to clear them all away.
You can approach writing about irksome topics in a similar way. Writing about your problems brings them to the surface and enables you to explore potential solutions. Whether you write about a challenging relationship with a family member, a job you can't take, or a health issue impacting your mental health, journaling about these issues can prove extremely powerful.
Maintain a Good Habit
While these four tips represent some of the most powerful ways to maintain a consistent journaling practice, you may find many other ways to help you make a habit of journaling. If you're considering keeping a journal, buy an attractive one that'll keep you coming back and fill it with writing on topics that'll help you grow through life. Best of luck as you practice consistency with this powerful habit.