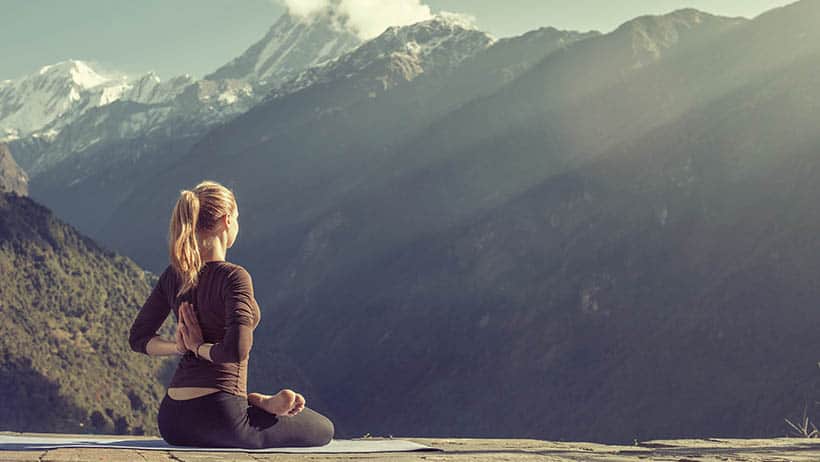 Good posture is essential for maintaining flexibility, strength, and balance because it reduces stress on your joints and muscles. As you grow more mindful of your posture, you'll also become aware of areas of tension and tightness throughout your body you never noticed before.
Poor posture can cause tremendous back pain and wear away at the spine. However, you can make a number of simple changes to correct your posture until good posture becomes second nature.
Assess Your Posture
To determine the specific steps you must take to correct your posture, you first need to know which parts of your body are out of alignment.
Start by standing in front of a full-length mirror with your muscles relaxed and your feet shoulder-width apart. Now, observe both your front and side profiles to see how you naturally stand. This profile assessment will help you identify the parts of your posture in need of improvement.
Ideally, you should hold your head upright rather than tilting it forward and pull your shoulders back slightly. In addition, your knees should have a slight bend, your feet should point straight forward, and your pelvis shouldn't tilt forward.
If you missed the mark in any of these areas, the following tips can help you improve your posture.
7 Posture-Improving Tips
Adopt these best practices to correct your posture and ensure proper body alignment:
Don't Slouch. Slouching strains your muscles, bones, and joints, which leads to back pain. It also can negatively impact more than just your back. Slouching minimizes the space for your internal organs, making it harder for your lungs and intestines to function optimally. This can cause difficulties in both breathing and digestion.
Improve Your Posture at Your Desk. If you spend long periods of time sitting at a desk at work or home, avoid sitting with a slumped posture. Instead, sit with your back against the chair and place a lumbar cushion behind your mid-back to maintain the natural curve of your spine. Alternatively, invest in a customized, ergonomically designed chair. Place your feet flat on the floor with your knees bent at a right angle, keeping your knees even with your hips. Be sure to take intermittent breaks to move around so you don't sit for too long.
Avoid "Text Neck." If you spend a large chunk of your time looking down at a smartphone, lift your phone up instead. Tilting your head downward for long periods of time adds stress to your spine and can cause neck pain. The tension caused by "text neck" also adds up over time, leading to more pain in the future.
Drive Comfortably. Don't overlook your posture when driving — especially during long commutes. Pull your seat up close to the steering wheel and place a cushion behind your lower back for support while keeping your knees slightly bent and at hip level. Position your driver's seat headrest three to four inches behind your head, ensuring it remains level with the center of your head. Adjust the mirrors so you can see the road without having to strain your neck by moving it into an uncomfortable position.
Don't Wear High Heels Too Often. While stilettos and pumps receive high marks for style, wearing high heels often can harm your back. High heels increase the arch in your back by shifting the base of your spine. This can change your spine's alignment and cause back pain. If you still want to wear heels, choose shorter, thicker heels instead.
Get Fit. Too much extra weight around your waist adds stress to your back that can cause pain and discomfort. Consistent cardiovascular and strength training can help you shed fat and build muscle to support your spine. It also will help you develop good posture.
Maintaining good posture while exercising is crucial for preventing injury — especially when lifting weights. If this is a major concern for you, consider hiring a personal trainer. A trainer can not only teach you the proper exercise positions to prevent pain or injury, but also help you optimize your workout.
Practice Yoga. Yoga is another form of exercise that can help you improve your posture. Specifically, it emphasizes body awareness — an important aspect of developing good posture. Yoga also strengthens your core, which is essential for supporting your spine. Lastly, yoga incorporates stretching and relaxation exercises to help relieve tension in the body that may contribute to bad posture.
The Bottom Line
Good posture allows people to go about their daily lives with physical comfort and ease. While improving your posture requires mindfulness and a number of lifestyle changes, the effort provides guaranteed benefits for your overall health.