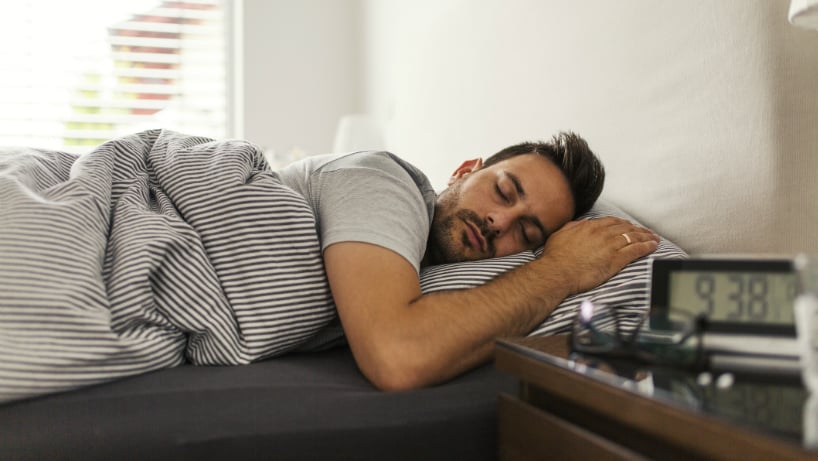 Having a consistent sleep schedule is essential for a healthy mind and body. The average adult needs seven to eight hours of sleep each night. However, it's not just the number of hours that count. The quality of sleep greatly determines whether or not you experience the full spectrum of health benefits. Check out these health benefits to encourage you to get more shut eye.
Helps Maintain a Healthy Weight
Lack of sleep has been shown to alter how your brain functions. Sleep deprivation reduces activity in the frontal lobe of the brain, which is the region that helps with decision making and self-control. Therefore people may struggle to make healthy choices and resist food cravings. In addition, the reward centers of the brain are more stimulated by food when you're tired. Research shows that lack of sleep can cause cravings for foods that are high in calories, carbs, and saturated fat.
Sleep deprivation can also lower your metabolism. Your resting metabolic rate (RMR) is the number of calories burned when your body is completely at rest. It's also affected by factors such as age, weight, height, sex and muscle mass. In one study, 15 men were kept awake for 24 hours, which caused their RMR to drop by 5%, and their metabolic rate after eating to drop by 20%.
Reduces Stress
When your body is deprived of sleep, it becomes stressed The body's functions are put on high alert, which causes blood pressure and stress hormones to increase. High blood pressure increases your risk of a heart attack or stroke.
In order to counteract this vicious cycle, practicing yoga, tai chi, or meditation before bed can help combat stress. These practices help with relaxation because they reduce stress hormones like cortisol and adrenaline, slowing down your heart rate via your breath.
Improves Mental Health
Sleep and mental health are closely linked as sleep deprivation can alter your psychological state and mood stability. Those with mental health problems have a higher risk for insomnia and other sleep disorders.
While asleep, a person goes through different stages of increasingly deep sleep. Studies show that REM sleep enhances memory and learning, and contributes to emotional health. sleep disruption, which affects levels of neurotransmitters and stress hormones, can wreak havoc in the brain through impairment of thinking and emotional regulation.
In this way, sleep deprivation may worsen symptoms of psychiatric disorders. Therefore, getting enough sleep is a necessity for mental health.
Strengthens Your Immune System
Lack of sleep can also have negative impacts on your immune system. Studies show that people who don't get enough sleep are more likely to get sick after exposure to a virus. Lack of sleep can also negatively affect how fast you recover from illness.
During sleep, your immune system releases proteins called cytokines, which promote deeper and thus more restful sleep. Certain cytokines need a larger increase if you have an infection, inflammation, or stress. Sleep deprivation may decrease the production of these protective cytokines, as well as infection-fighting antibodies and cells.
Helps Grow and Repair Muscles
When your body enters the non-REM deep sleep stage, your pituitary gland releases growth hormones that stimulate muscle repairment and tissue growth. Lack of sleep reduces growth hormone secretion, and growth hormone deficiency is associated with loss of muscle mass and minimized exercise capacity.
Non-REM Sleep makes up about 40 percent of total sleep time. This is the phase in which your blood pressure drops and your breath deepens and slows down. Your brain has little activity during this phase, so the blood supply available to your muscles increases. This increases the amount of oxygen and nutrients delivered to your muscles, promoting healing and growth.
Boosts Brain Function
Our brain function is optimal when we're well-rested. A clear and alert brain allows us to focus and learn better, and it also helps us retain information. On the other hand, when we're tired, we're more likely to make mistakes and be less productive. Researchers have tested this out by teaching people new skills, then scanning their brains after a period with or without sleep.
When well-rested people learn a new skill like piano scales, for example, the parts of the brain that control speed and accuracy are more active than those regions in the brains of people who are sleep deprived.
Scientists believe that while we're asleep, memories and skills are transferred to more efficient and permanent brain regions, causing higher proficiency the next day. In fact, going to sleep shortly after learning new information has been shown to help with remembering that information.