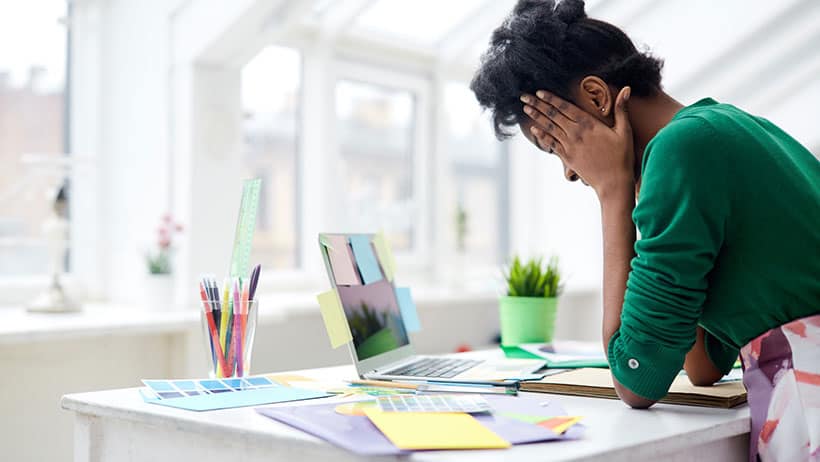 These days, nearly everyone considers themselves a master of multitasking. People cook dinner while watching television, answer emails while talking on the phone, listen to podcasts while driving, and the list goes on. While many people may think they excel at multitasking, in reality, human brains lack the wiring for this process.
Here are nine reasons why multitasking simply doesn't work.
1. It Weakens Your Ability to Think Clearly
Doing more than one task at the same thing impairs your ability to do your best thinking. You end up paying less attention than you otherwise would. This becomes especially significant when one of your tasks poses a challenge or involves safety implications. The same holds true if one of your tasks requires accurate judgments, such as driving.
2. It Lowers Your Productivity
Contrary to popular perception, multitasking doesn't help you save time. In fact, it may cause to lose up to 40 percent of your productivity. When you think you're multitasking, you're actually switching between two tasks at short intervals. The only exceptions to this rule include some automatic behaviors, such as walking and talking. This rapid back-and-forth dulls your focus, rendering you unable to give your full attention to either task.
The time required to switch between tasks also increases with the complexity of the tasks and adds up as you continue to work in this manner. As a result, you end up spending more time completing that set of tasks than if you instead chose to work on each of them separately. For example, research shows that talking on a cell phone while driving — even when using a hands-free device — increases the time to reach a destination.
3. It Increases Your Chances of Making a Mistake
When you focus on a single task, both sides of your prefrontal cortex — the part of your brain responsible for decision-making and planning — work in harmony. When you tackle two tasks simultaneously, the left and the right sides must work independently. This increases your chances of missing important details and making mistakes, which can lower the quality of your work.
4. It Can Reduce Your Creativity
Your brain's prefrontal cortex comes into play again here because it also helps you put ideas together. While multitasking, you overload your brain and your prefrontal cortex doesn't get enough empty space to think about information. Ultimately, this negatively impacts your problem-solving skills and creativity.
5. It Can Stress You Out
Multitasking overwhelms and exhausts the brain, and, whenever demand exceeds capacity, stress follows. Moreover, stress caused by multitasking can increase when the tasks have greater importance.
Your body responds to stress by releasing adrenaline and other stress hormones. While this response may give you a temporary energy boost, increased levels of stress hormones can harm your health in the long run.
6. It Can Harm Your Health
Constant stress and anxiety can cause burnout or other physical symptoms, such as frequent headaches and back pain.
Multitasking also can cause you to gain weight. When you eat in front of the television or at your desk, you may overeat because you don't pay attention to the calories you consume. Your brain requires at least 20 minutes after you start eating to send out the "full" signal. If you're distracted, you may end up eating more than you need by that time.
7. It Can Hinder Your Ability to Retain Information
When you work on two different tasks simultaneously, your brain may struggle to process the two separate streams of information and store them in your short-term or working memory. Without that information in your short-term memory, your brain can't transfer it to your long-term memory. Now you know why you flunked the exam for which you studied while watching television.
Here's more bad news: Multitasking's negative impact on memory increases in older adults.
8. It Makes You "Not Present" in Your Life
When you try to focus on multiple tasks at the same time, you stop being "present" in your life. This less mindful and distracted state means you don't notice things right in front of you. This is why you sometimes see a person step off the sidewalk and onto a busy road while looking at something on their phone.
Multitasking also can start to affect your relationships. Focusing on your phone while your partner tries to start a serious conversation or checking Facebook during dinner with a friend sends the signal that you don't consider them important.
9. It Can Lead to Dangerous Situations
Finally, the distracted state of mind caused by multitasking comes with some switching "costs." Research shows that as humans switch from one task to another, the "executive control" processes in their brains must go through two different, but complementary stages called "goal shifting" and "rule activation." The first stage says, "I want to do this instead of that," and the second says, "I'm switching off the rules for this and switching on the rules for that." When these switching "costs" conflict with environmental and safety issues, such as while driving or walking on a busy road, accidents happen.
If you want to improve your productivity, look for other approaches and save multitasking for rote jobs that don't require much brainpower. For example, use to-do lists to map out your goals and identify your priorities. Alternatively, try "batching" instead of multitasking the next time you face a time crunch. Batching tasks that require the same resources, such as paying all of your bills, can help you get into the groove and complete them more efficiently.