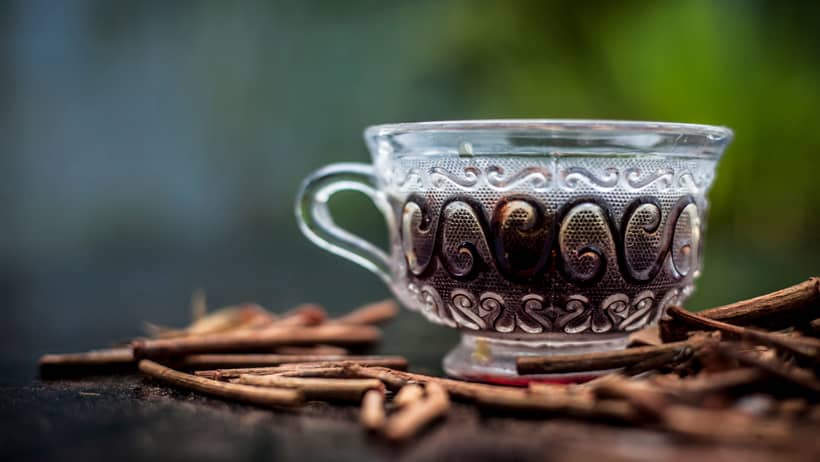 No matter how wholesome your diet and lifestyle, there is a certain amount of unavoidable toxic build-up associated with modern life. Similarly, stress, high-pressure jobs and a heavy workload are also things that many of us are familiar with. Luckily we have an herbal ally to support the body and mind maintain balance, no matter what life throws at us.
Manjistha is one of Ayurveda's most powerful tools for detoxifying, supporting the lymphatic system, and cleansing the blood. It is very effective in pacifying aggravated pitta dosha and alleviating the symptoms of increased internal heat, such as anger, irritability, and hot-headedness. Its deeply cooling quality makes manjistha an excellent tool for soothing skin irritations and digestive discomfort. It also reduces excess kapha dosha, purifying the bodily channels and removing any areas of stagnation or mucosal buildup.
What is Manjistha?
Manjistha (Rubia cordifolia), sometimes known as Indian Madder, is an Ayurvedic tonic herb. Its long list of health benefits and medicinal uses have made manjistha a highly valued and frequently used healer. Manjistha is perhaps best known for its powerful ability to reduce aggravated pitta dosha and its associated increase in internal temperature. Traditionally it has also been valued for its blood and lymph cleansing, and overall detoxification properties.
Manjistha's support of the lymphatic system is especially important as the lymphatic system plays a vital role in the smooth operation of the entire bodily system. It is the body's first line of defense when it comes to removing and purifying toxins.
Unfortunately, sluggish lymphatic systems are becoming more and more frequent in contemporary life and this is resulting in a number of unwelcome symptoms such as: irritated skin (rashes, eczema, acne, etc.), digestive issues, bloating, weight gain, mood swings, tender breasts during menstruation, swelling, low energy, lack of motivation, brain fog, allergies and low immunity. In order to support the lymphatic system it can be helpful to enlist the support of the potent manjistha root.
Health Benefits
Detoxifies the blood
Removes excess heat from the blood
Clears and cleanses the channels of the body
Antioxidant, antimicrobial, anti-inflammatory
Supports circulation
Maintains the health of the blood, plasma, and lymphatic tissues
Supports lymphatic drainage and detoxification
Relaxes the muscles and reduces arthritic pain
Excellent for reducing pitta and kapha doshas
Pacifies heat-related skin irritation (rashes/hives/eczema etc.)
Supports skin health to promote a glowing complexion
Maintains proper waste removal (supports the flow of urine and blood)
Aids healthy menstruation
Aids the healthy functioning of the liver and kidneys
Cooling and calming for the mind – reducing stress, anger and irritability
When to Take Manjistha
Manjistha is beneficial for anyone experiencing the symptoms of a sluggish lymphatic system or wishing to promote detoxification and blood purification. Anyone with high levels of ama or heavy kapha will benefit from the cleansing and purifying properties of manjistha.
Those with a pitta predominant constitution and who suffer from any of the associated symptoms — such as mood swings, anger and irritability, stress, PMS, digestive issues, skin irritation or the rising of internal heat — may profit from manjistha's soothing and cooling qualities.
How to Use It
Manjistha can be taken in many different forms. As a powder, ¼ to ½ tsp can be mixed with warm water and taken once or twice daily. It can also be taken in the form of a tablet or tincture. If you find the whole root, it can be brewed into a tea.
Manjistha can also be applied externally and is often one of the ingredients included in an Ayurvedic balm for muscles or skin soothing.
Contraindications
If you are pregnant, nursing, or currently taking any other prescribed medication, it is best to check with your health practitioner prior to taking manjistha as a supplement.