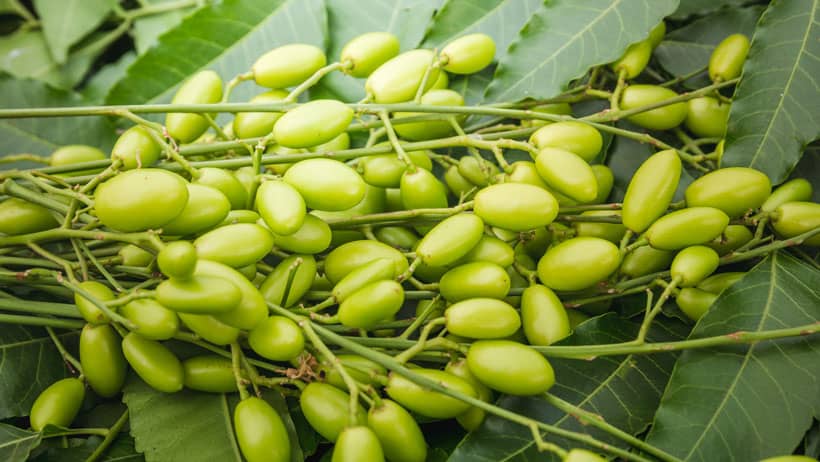 For over 5,000 years, neem has been used as an effective treatment for a wide range of illnesses and diseases. Neem remains very popular today as a means of pacifying aggravated pitta and kapha doshas, as well as being an excellent tonic for the stimulation of healthy skin, hair and gums.
Today, neem may most commonly be recognised as an ingredient in natural toothpaste and in balms for irritated skin. However, it has a much broader range of medicinal properties that are less commonly known.
What is Neem?
The neem tree (Azadirachta indica) has bitter and deeply cooling properties, as well as a whole host (over 130!) of active healing ingredients, which makes it one of the most widely used natural medicines. As well as being a key ingredient in some of Ayurveda's very earliest remedies, dating back 5,000 years, the leaves of the neem tree are also frequently used in Homeopathy and Unani medical traditions.
Neem's astounding versatility has resulted in the neem tree being referred to as the "village dispensary," as it can cater to such a vast variety of symptoms and diseases. Neem grows easily in warm climates and therefore is a free (or at least very cheap) medicine for many people in rural villages across India.
Neem is often considered a "wonder plant" due to its effectiveness as an antiviral, antibacterial and immune stimulator. It can be used in a wide variety of circumstances, from dressing wounds to treating chronic neuromuscular pain. Its most celebrated uses are for cleansing and rejuvenating the skin, and as a blood purifying tonic.
Health Benefits
Promotes healthy skin and a clear complexion
Cools and soothes aggravated skin
Boosts immunity
Pacifies pitta and kapha doshas (however, it can be aggravating to vata)
Detoxifies the liver
Purifies the blood
Antiviral and antibacterial
Supports the healthy function of the reproductive, digestive, circulatory, and respiratory systems
Treats nausea and intestinal worms
Encourages the rapid healing of wounds, burns, and skin disorders
Promotes healthy hair growth
Treats dandruff
Soothes sore or irritated eyes (this is especially helpful for persons with allergies)
When to Take Neem
Neem is excellent for dealing with nearly all pitta or kapha imbalances due to its cooling and bitter nature. It can also be paired with other herbs to counter its vata-aggravating qualities.
Neem is an excellent ally for anyone dealing with skin issues or looking to purify the blood.
How to Use It
For internal use, neem powder can be mixed with warm water and taken once or twice daily. The recommended dose is usually between ¼ and ½ tsp, or as directed by your practitioner. Alternatively, neem can be taken as capsules or tablets, or as a liquid extract.
For external application, you can use neem oil. It is important to ensure that the neem is in a sesame oil base carrier, as this lightly warming oil will balance out any excessive coolness of the neem. The oil can be applied topically to areas affected by heat or irritation. It is safe for use on the face.
Contraindications
Neem is not recommended during pregnancy or for anyone with a high vata constitution. Other contraindications for neem include hypoglycemia, extreme fatigue, or being very under-weight.
If you are taking prescription medications or have any conditions or symptoms to take into account, it is best to consult with your doctor before adding neem to your regime.