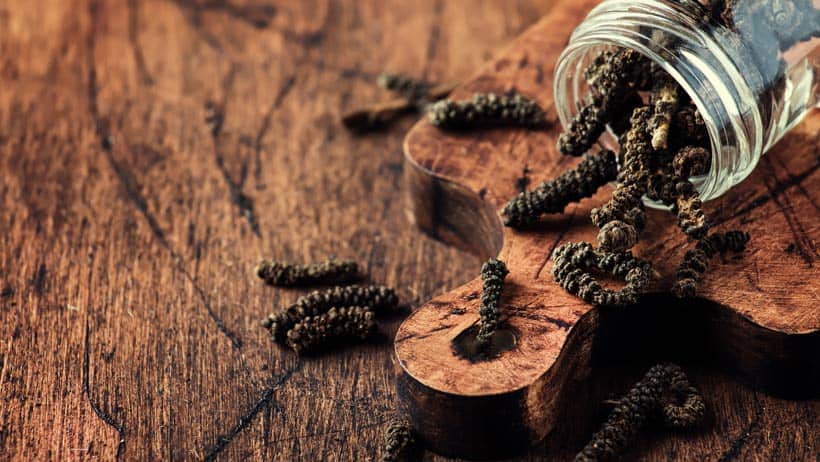 Pippali (Piper longum) is the Eastern relative of the black peppercorns that every dining table is familiar with. It is a highly-valued member of the Ayurvedic pharmacopoeia and has been used for centuries for its powerful medicinal, as well as culinary, properties.
What is Pippali?
Pippali means "to drink and digest," hinting at its strength in supporting the digestive system and burning off toxins. Known as long pepper in English, pippali has been used since the dawn of Ayurveda, and the ancient Vedic texts list the benefits of pippali at length. Perhaps best known as one of the key ingredients making up Trikatu (pippali, ginger, and black pepper), pippali is also used in isolation as a culinary spice or an herbal remedy renowned for its fantastic benefits on the respiratory system.
As a culinary herb, pippali is celebrated for its unique properties — it has a pungent taste, yet a sweet and comparatively cooling post-digestive effect. This is excellent news for those with a pitta constitution who usually have to avoid pungent herbs due to their heating nature. This also makes pippali suitable as a treatment of digestive disorders caused by aggravated pitta, as it will aid healthy digestion without adding extra heat.
Used as an herbal remedy, pippali contains a whole host of health benefits. It is deeply rejuvenating for most systems in the body, but perhaps none more so than the respiratory system. Pippali stimulates agni within the respiratory tract, helping to remove the cold, damp kapha and ama from the lungs. Its ability to ignite agni also benefits the digestive system (improving the metabolism), the circulatory system, and the reproductive organs.
As well as being a powerful remedy in its own right, pippali is commonly found as an ingredient in other medicinal blends, as it aids the proper assimilation of other herbs.
Health Benefits
Rejuvenative for the lungs
Treats coughs, colds, and asthma
Supports the entire respiratory system
Promotes a healthy metabolism and good digestion
Reduces gas and bloating
Strengthens the liver and lungs
Detoxifies by helping to digest ama and purify the intestinal lining
Prevents bacterial infection
Anti-parasitic and anti-microbial
Nourishes the blood
Promotes circulation
Benefits the nervous and reproductive tissues
Treats vata imbalance in the nervous system (e.g. anxiety, fear, worry etc.)
Tridoshic (benefits all three doshas) but is particularly beneficial for kapha dosha
Aids the expulsion of mucus
Reduces tumour formation
Alleviates hiccups
Cools fevers
Helps with weight loss and the management of diabetes
Stimulates the fire of intelligence
When to Take Pippali
Although pippali can be taken at any time throughout the year, Ayurvedic texts list spring as the major season in which pippali brings the greatest benefit. This is due to the predominance of kapha dosha during the spring season. If you are particularly susceptible to coughs, colds, congestion, or respiratory discomfort during the spring (or any other season for that matter!) then pippali is an excellent ally.
If you struggle with digestion — perhaps experiencing gas, bloating, or a weak metabolism — utilising pippali as a culinary herb would be of benefit. Pippali can also be taken during a cleanse or detoxification program to assist with the evacuation of ama, or toxic build up.
How to Use It
As fresh or whole pippali is hard to come by in the West, pippali powder is a useful alternative. Add ¼ or ½ tsp to warm water and drink once or twice daily.
Pippali is often also an added ingredient in many other herbal blends, usually in tablet form.
If you are able to find whole pippali, it can be used interchangeably with regular black pepper for culinary purposes.
Contraindications
While there are no noted contraindications to the use of pippali, it is always best to proceed with caution when considering the addition of a new herb to your regime. If you are pregnant, nursing, taking any medication or experiencing any symptoms that need to be taken into account, speak with your healthcare practitioner before proceeding. If you have any internal inflammation or excessive heat in the system, pippali is best avoided.