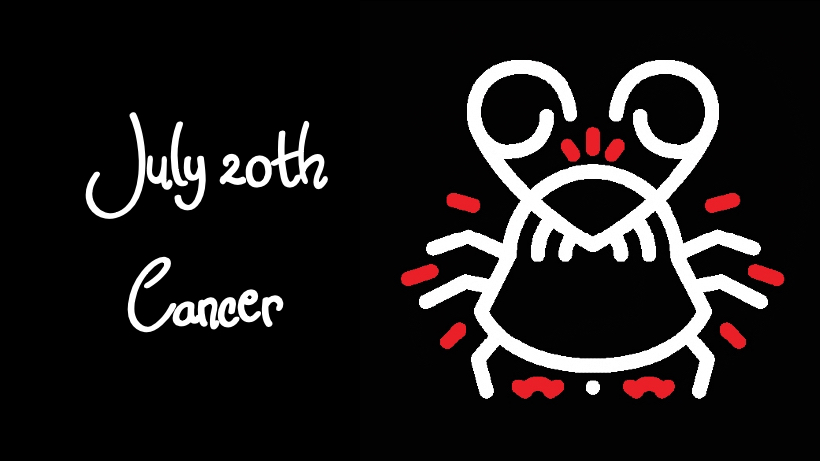 Were you born on July 20? If so, then according to Western astrology your zodiac sign is Cancer, the sign of the crab. This means that when you were born, the Sun was in the stars that make up the constellation known as Cancer. Learn the basics of your horoscope below.
Cancer Overview
Cancer is known as कर्कट (karkata) in Sanskrit, or "crab." Each sign of the zodiac is characterized by certain basic traits. This includes Symbol, Planetary Ruler, Element, Nature, and Gender. The general make-up of the Cancer sign is below:
Sign of the Crab. Cancerians are resilient, emotionally defensive, and progress through numerous different phases in life.
Ruled by the Moon. The Moon is the planet of the mind, motherhood, emotions, beauty, and water. Lunar individuals are creative and nurturing.
A water sign. Those with a Cancer moon are perceptive, artistic, and sentimental.
A movable sign. Persons born under this sign are fluid, spontaneous, and fond of change.
A feminine sign. This makes the native receptive, sensitive, and empathetic.
Cancer's preferred gemstone is the pearl. Cancers can also benefit from moonstone.
Traits of the Sun in Cancer
In Western Astrology, also known as Tropical astrology, a person's sign is determined by the position of the Sun. If you were born on July 20 then you're considered a Cancer according to most people in the Western world.
The influence of the Sun in a birth chart will change depending on which house it is located in, its relative position in relation to other planets, as well as other factors. However, the following general traits are likely to be found in a native whose Sun is in Cancer:
You are physically attractive. Cancer is a water sign, and when the Sun comes to this sign the native is very beautiful and physically attractive. You have the ability to charm and attract members of the opposite sex, and others admire you for your good looks.
You make quick decisions. You are a very decisive person. Whenever you wish to make a decision, you don't waste any time. You like to be on the move and you like to get things done. You are a bit restless, but you can use this energy to live a very productive life.
You don't like to work hard. You are someone who requires frequent breaks. One way you can stay productive is by having multiple small projects you are working on simultaneously. This way you can get a change of pace and do a different type of work to break up the monotony of constant effort on the same task.
You may have conflicts with family members. Cancer is a water sign, and this is a difficult position for the Sun, a fiery planet. You often are at odds with the people in your life, and you experience frequent conflicts. You have a hot temper, which doesn't help the situation at all. Try to empathize with those around you and think about things from their perspective. This will help a lot.
You may suffer financial difficulties. Wealth does not come easily to you. You lack the ambition and drive to run your own business, and you also have a hard time working for others. If you can find a profession that gives you some autonomy as well as a stable income, then that will be best for you.
RECOMMENDED: Check out all our articles on Vedic astrology to learn more about the different signs of the zodiac, as well as the planets, houses, and nakshatras.
Cancer Careers
Cancer-natives are expressive individuals who can excel in professions that utilize their natural creativity. As the moon moves through its phases of waxing and waning, you will see sharp rises and falls in your career. It is important to set aside savings in times of good fortune so that you can live comfortably during periods of decline.
Recommended careers: Anything creative. Cancerians make gifted poets, writers, actors, designers, inventors, scientists, marketers, consultants, and lawyers. Their maternal qualities make them exceptional doctors, healers, and therapists.
Careers to avoid: You should avoid careers that require detachment or harshness. For example, butchers, executioners, judges, prison personnel, or military strategists.
Cancer Mantras
A mantra is a short phrase that uplifts and cleanses our mind, heart, and consciousness. Most suffering takes place only within the mind, and by practicing mantra meditation, we can experience total relief from all suffering and negativity.
The Vedic wisdom texts offer many different mantras, powerful and sacred sound vibrations, that are customized for each individual depending on their unique, personal circumstances.
Cancers can especially benefit by meditating with the following mantra:
ॐ कृष्णाय नमः
Om krishnaya namaha
The Vedas contain many mantras that are effective for different people according to their particular situation. However, some mantras are universal. The following maha-mantra, or "super mantra," is beneficial for people born in any zodiac sign:
हरे कृष्ण हरे कृष्ण कृष्ण कृष्ण हरे हरे
हरे राम हरे राम राम राम हरे हरे
Hare krishna hare krishna krishna krishna hare hare
Hare rama hare rama rama rama hare hare
RECOMMENDED: In ancient times, all astrologers made calculations using the same sidereal system that's used in Vedic astrology. Check out our article on the differences between Western and Vedic astrology to learn more.
Famous Birthdays on July 20
Gisele Bundchen
Chris Cornell
Ben Simmons
Natalie Wood
Events in History on July 20
1994: Supreme Leader of North-Korea, Kim Il-sung is placed in a public Mausoleum at the Kumsusan Palace of the Sun
1994: Former NFL running back, broadcaster and actor O.J. Simpson offers $500,000 reward for evidence of ex-wife's klller
1402: Battle of Ankara: Army of Timur (Tamerlane) with its armor-plated elephants defeats forces of Ottoman Sultan Bayezid I, capturing Bayezid in the process leading to an Ottoman power vacuum
1304: Wars of Scottish Independence: Fall of Stirling Castle – King Edward I of England takes the last rebel stronghold of the war
Learn About the Zodiac
Learn more about your Zodiac Sign by checking out our complete guide on Cancer. You can also learn about the signs of your friends and family!
Find the birth sign of any day of the year! Check out our comprehensive archive page where you can easily look up the Zodiac Sign for any day of the year!
Discover Your Nakshatra
In Vedic astrology the nakshatra is a used to determine many important aspects of a your life and personality. We have developed a free nakshatra finder you can use to look up your nakshatra.