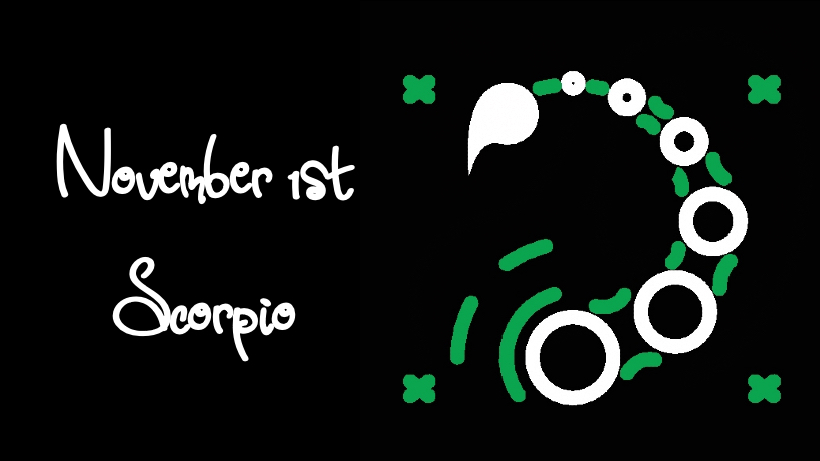 Were you born on November 1st? If so, then according to Western astrology your zodiac sign is Scorpio, the sign of the Scorpion. This means that when you were born, the Sun was in the stars that make up the constellation known as Scorpio. Learn the basics of your horoscope below.
Scorpio Overview
Scorpio is known as वृश्चिक (vrishchika) in Sanskrit, or "scorpion." Each sign of the zodiac is characterized by certain basic traits. This includes Symbol, Planetary Ruler, Element, Nature, and Gender. The general make-up of the Scorpio sign is below:
Sign of the Scorpion. Scorpio natives are intense and secretive. They may react harshly if provoked.
Ruled by Mars. Mars is the planet of war, explosions, sudden events, and land. Martian individuals are hard-working and self-confident
A water sign. Those with a Scorpio moon are perceptive, artistic, and sentimental.
A fixed sign. Persons born under this sign are steady, predictable, and slow to change.
A feminine sign. This makes the native receptive, sensitive, and empathetic.
Scorpio's preferred gemstone is red coral. Scorpios can also benefit from pink and white coral as well.
Traits of the Sun in Scorpio
In Western Astrology, also known as Tropical astrology, a person's sign is determined by the position of the Sun. If you were born on November 1st, then you're considered a Scorpio according to most people in the Western world.
The influence of the Sun in a birth chart will change depending on which house it is located in, its relative position in relation to other planets, as well as other factors. However, the following general traits are likely to be found in a native whose Sun is in Scorpio:
You are impulsive. You approach life with intensity and you don't like to waste time when making decisions. Some people find this trait impressive and attractive. However, you may also find yourself regularly facing unexpected consequences.
You have great courage. Natives with the Sun in Scorpio have a fearless quality about them. They are self-reliant and powerful. You know how to get yourself out of difficult situations. You may be a leader or pioneer in your field.
You are very intelligent. You have a burning passion for learning and expanding your knowledge of many varieties of subjects. You understand that knowledge is power, and you eagerly devour books, articles, and other content on topics that interest you.
You may frequently "go through the motions" of life. Because you are an intense person it is difficult for you to find meaning and fulfillment in the ordinary activities of day-to-day life. You may feel like your daily life is monotonous and you are running on autopilot. Developing a practice of meditation can help you become mindful and more appreciative of your surroundings and the people in your life.
You are likely to be more successful later in life. You may find that your inspiration and drive is somewhat lacking during the first part of your life. You are not likely to advance personally or professionally as much as you would like. However, once you enter your 30s you will start to see a visible improvement.
RECOMMENDED: Check out all our articles on Vedic astrology to learn more about the different signs of the zodiac, as well as the planets, houses, and nakshatras.
Scorpio Careers
Scorpios are tactical and precise. You manage your money well, and can succeed in a number of professions, including those in the realms of spirituality and mysticism. However, you may feel an urge to travel frequently, which could make long-term employment difficult.
Recommended careers: Scorpios make excellent surgeons, business professionals, naval or military officers, scientists, chemists, lawyers, political advisors, and administrators.
Careers to avoid: You may want to avoid roles that require a high degree of charisma or charm. For example, a career in television, sales, or diplomacy would not be the best fit for a Scorpio.
Scorpio Mantras
A mantra is a short phrase that uplifts and cleanses our mind, heart, and consciousness. Most suffering takes place only within the mind, and by practicing mantra meditation, we can experience total relief from all suffering and negativity.
The Vedic wisdom texts offer many different mantras, powerful and sacred sound vibrations, that are customized for each individual depending on their unique, personal circumstances.
Scorpios can especially benefit by meditating with the following mantra:
ॐ नरसिंहदेवाय​ नमः
Om narasimha-devaya namaha
The Vedas contain many mantras that are effective for different people according to their particular situation. However, some mantras are universal. The following maha-mantra, or "super mantra," is beneficial for people born in any zodiac sign:
हरे कृष्ण हरे कृष्ण कृष्ण कृष्ण हरे हरे
हरे राम हरे राम राम राम हरे हरे
Hare krishna hare krishna krishna krishna hare hare
Hare rama hare rama rama rama hare hare
RECOMMENDED: In ancient times, all astrologers made calculations using the same sidereal system that's used in Vedic astrology. Check out our article on the differences between Western and Vedic astrology to learn more.
Famous Birthdays on November 1
Tim Cook
Jenny Mccarthy
Penn Bagdley
David Foster
Anthony Kiedis
Coco Martin
Jeremy Hunt
Micaela Schafer
Larry Flynt
Cut Tari
Mario Barth
Les Mills
Masahiro Taneka
Events in History on November 1
2011: Danielle Steel's novel "Hotel Vendome" is published
2009: Tennis sisters Serena and Venus Williams clash in the season-ending WTA Championship
2009: British Mercedes driver Jenson Button finishes 3rd in inaugural Abu Dhabi Grand Prix
1998: Finnish McLaren driver Mika Häkkinen wins season ending Japanese Grand Prix
1997: Expanded Negro Leagues Museum and the new American Jazz Museum open in Kansas City's historic 18th and Vine district
1997: "Titanic" directed by James Cameron, starring Leonardo DiCaprio and Kate Winslet premieres at the Tokyo International Film Festival
1995: Revival of William Shakespeare's "Tempest" opens at Broadhurst Theater, NYC; runs for 71 performances .
1994: Chicago Bulls retire basketball superstar Michael Jordan's jersey #23 in a 2-hour ceremony at the United Center
1990: Rhetoric escalates as George Bush likens Saddam Hussein to Adolf Hitler
1990: Last of Margaret Thatcher's original government resigns, Deputy PM Howe
1982: MLB owners vote not to renew Commissioner Bowie Kuhn's contract;
1981: Darrell Waltrip wins his 4th straight NASCAR Cup race
1977: US President Jimmy Carter raises the minimum wage from $2.30 to $3.35 an hour, effective from 1st Jan 1981
1971: Eisenhower dollar put into circulation
1956: Nobel for physics awarded to William Shockley, Walter H. Brattain and John Bardeen
1954: US Senate admonishes Joseph McCarthy because of his slander campaigns
1954: General Fulgencio Batista elected President of Cuba
1950: Puerto Rican nationalists Griselio Torresola and Oscar Collazo attempt to assassinate US President Harry Truman at Blair House.
1894: Nicholas II becomes the new Tsar of Russia after the death of his father, Tsar Alexander III
Learn About the Zodiac
Learn more about your Zodiac Sign by checking out our complete guide on Scorpio. You can also learn about the signs of your friends and family!
Find the birth sign of any day of the year! Check out our comprehensive archive page where you can easily look up the Zodiac Sign for any day of the year!
Discover Your Nakshatra
In Vedic astrology the nakshatra is a used to determine many important aspects of a your life and personality. We have developed a free nakshatra calculator you can use to look up your nakshatra.