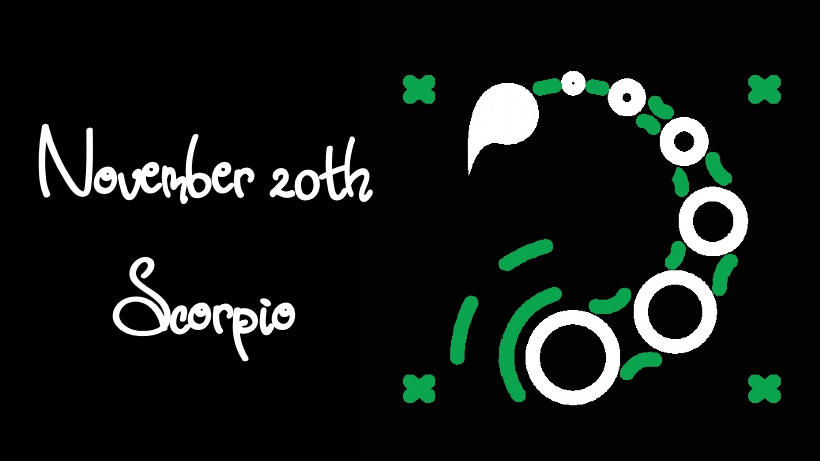 Were you born on November 20th? If so, then according to Western astrology your zodiac sign is Scorpio, the sign of the Scorpion.
This means that when you were born, the Sun was in the stars that make up the constellation known as Scorpio. Learn the basics of your horoscope below.
Scorpio Overview
Scorpio is known as वृश्चिक (vrishchika) in Sanskrit, or "scorpion." Each sign of the zodiac is characterized by certain basic traits. This includes Symbol, Planetary Ruler, Element, Nature, and Gender. The general make-up of the Scorpio sign is below:
Sign of the Scorpion. Scorpio natives are intense and secretive. They may react harshly if provoked.
Ruled by Mars. Mars is the planet of war, explosions, sudden events, and land. Martian individuals are hard-working and self-confident
A water sign. Those with a Scorpio moon are perceptive, artistic, and sentimental.
A fixed sign. Persons born under this sign are steady, predictable, and slow to change.
A feminine sign. This makes the native receptive, sensitive, and empathetic.
Scorpio's preferred gemstone is red coral. Scorpios can also benefit from pink and white coral as well.
Traits of the Sun in Scorpio
In Western Astrology, also known as Tropical astrology, a person's sign is determined by the position of the Sun. If you were born on November 20th, then you're considered a Scorpio according to most people in the Western world.
The influence of the Sun in a birth chart will change depending on which house it is located in, its relative position in relation to other planets, as well as other factors. However, the following general traits are likely to be found in a native whose Sun is in Scorpio:
You are impulsive. You approach life with intensity and you don't like to waste time when making decisions. Some people find this trait impressive and attractive. However, you may also find yourself regularly facing unexpected consequences.
You have great courage. Natives with the Sun in Scorpio have a fearless quality about them. They are self-reliant and powerful. You know how to get yourself out of difficult situations. You may be a leader or pioneer in your field.
You are very intelligent. You have a burning passion for learning and expanding your knowledge of many varieties of subjects. You understand that knowledge is power, and you eagerly devour books, articles, and other content on topics that interest you.
You may frequently "go through the motions" of life. Because you are an intense person it is difficult for you to find meaning and fulfillment in the ordinary activities of day-to-day life. You may feel like your daily life is monotonous and you are running on autopilot. Developing a practice of meditation can help you become mindful and more appreciative of your surroundings and the people in your life.
You are likely to be more successful later in life. You may find that your inspiration and drive is somewhat lacking during the first part of your life. You are not likely to advance personally or professionally as much as you would like. However, once you enter your 30s you will start to see a visible improvement.
RECOMMENDED: Check out all our articles on Vedic astrology to learn more about the different signs of the zodiac, as well as the planets, houses, and nakshatras.
Scorpio Careers
Scorpios are tactical and precise. You manage your money well, and can succeed in a number of professions, including those in the realms of spirituality and mysticism. However, you may feel an urge to travel frequently, which could make long-term employment difficult.
Recommended careers: Scorpios make excellent surgeons, business professionals, naval or military officers, scientists, chemists, lawyers, political advisors, and administrators.
Careers to avoid: You may want to avoid roles that require a high degree of charisma or charm. For example, a career in television, sales, or diplomacy would not be the best fit for a Scorpio.
Scorpio Mantras
A mantra is a short phrase that uplifts and cleanses our mind, heart, and consciousness. Most suffering takes place only within the mind, and by practicing mantra meditation, we can experience total relief from all suffering and negativity.
The Vedic wisdom texts offer many different mantras, powerful and sacred sound vibrations, that are customized for each individual depending on their unique, personal circumstances.
Scorpios can especially benefit by meditating with the following mantra:
ॐ नरसिंहदेवाय​ नमः
Om narasimha-devaya namaha
The Vedas contain many mantras that are effective for different people according to their particular situation. However, some mantras are universal. The following maha-mantra, or "super mantra," is beneficial for people born in any zodiac sign:
हरे कृष्ण हरे कृष्ण कृष्ण कृष्ण हरे हरे
हरे राम हरे राम राम राम हरे हरे
Hare krishna hare krishna krishna krishna hare hare
Hare rama hare rama rama rama hare hare
RECOMMENDED:In ancient times, all astrologers made calculations using the same sidereal system that's used in Vedic astrology. Check out our article on the differences between Western and Vedic astrology to learn more.
Famous Birthdays on November 20
Joe Biden
Future
Robert F Kennedy
Aaron Yan
Bo Derek
Ming Na Wen
Yoshiki
Joe Walsh
Joel Mchale
Sean Young
Richard Dawson
Dierks Bentley
Oliver Sykes
Events in History on November 20
2018: South African golfer Gary Player receives PGA recognition for his 3 Senior British Open wins
2017: German Chancellor Angela Merkel announces that coalition talks to form a government have collapsed
2016: Scotsman Andy Murray breaks through for a first season-ending ATP World Tour Finals
2016: Jimmie Johnson driving for Hendrick Motorsports, wins Ford EcoBoost 400
2014: Nearly 5 million illegal migrants in the US have the threat of deportation deferred
2013: US President Barack Obama posthumously awards civil rights activist Bayard Rustin the Presidential Medal of Freedom
2013: Ben Bradlee is presented with the Presidential Medal of Freedom by President Barack Obama at a White House ceremony
2011: 38th American Music Awards: Adele, Bruno Mars & Taylor Swift win
2005: David Nalbandian of Argentina outlasts defending champion Roger Federer
2002: "Die Another Day", 20th James Bond film released
2001: Josh Groban releases his debut album "Josh Groban"; sales exceed over 5 million units
2001: US President George W. Bush dedicates the US Department of Justice headquarters the Robert F. Kennedy Justice Building, on what would have been his 76th birthday
1998: Court in Taliban-controlled Afghanistan declares accused terrorist Osama bin Laden "a man without a sin"
1995: Diana, Princess of Wales, admits she cheated on Prince Charles in a TV interview
1994: American tennis star Pete Sampras beats Boris Becker to win his second ATP Tour World Championship title in Frankfurt, Germany
1992: Home crowd favorite Boris Becker claims his 2nd ATP Tour World Championship tennis title
1990: Saddam Hussein announces plans to release German hostages
1977: Egyptian President Anwar Sadat becomes the 1st Arab leader to address Israeli Knesset
1975: Ronald Reagan announces candidacy for Republican nomination for US President.
Learn About the Zodiac
Learn more about your Zodiac Sign by checking out our complete guide on Scorpio. You can also learn about the signs of your friends and family!
Find the birth sign of any day of the year! Check out our comprehensive archive page where you can easily look up the Zodiac Sign for any day of the year!
Discover Your Nakshatra
In Vedic astrology the nakshatra is a used to determine many important aspects of a your life and personality. We have developed a free nakshatra calculator you can use to look up your nakshatra.