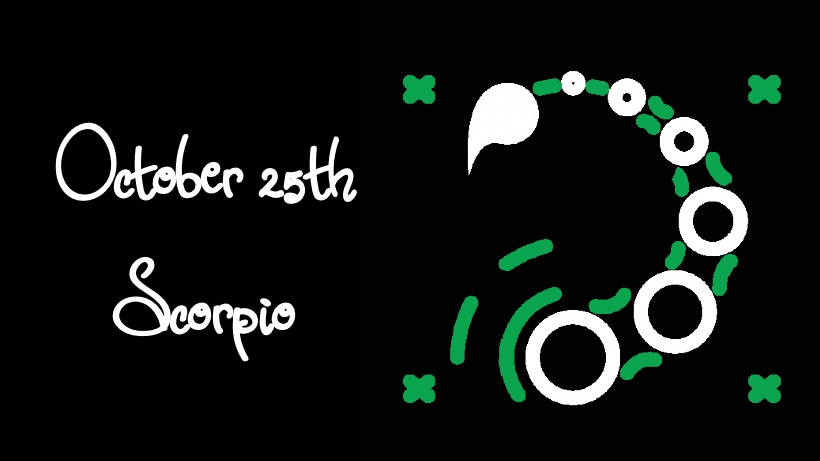 Were you born on October 25th? If so, then according to Western astrology your zodiac sign is Scorpio, the sign of the Scorpion. This means that when you were born, the Sun was in the stars that make up the constellation known as Scorpio. Learn the basics of your horoscope below.
Scorpio Overview
Scorpio is known as वृश्चिक (vrishchika) in Sanskrit, or "scorpion." Each sign of the zodiac is characterized by certain basic traits. This includes Symbol, Planetary Ruler, Element, Nature, and Gender. The general make-up of the Scorpio sign is below:
Sign of the Scorpion. Scorpio natives are intense and secretive. They may react harshly if provoked.
Ruled by Mars. Mars is the planet of war, explosions, sudden events, and land. Martian individuals are hard-working and self-confident
A water sign. Those with a Scorpio moon are perceptive, artistic, and sentimental.
A fixed sign. Persons born under this sign are steady, predictable, and slow to change.
A feminine sign. This makes the native receptive, sensitive, and empathetic.
Scorpio's preferred gemstone is red coral. Scorpios can also benefit from pink and white coral as well.
Traits of the Sun in Scorpio
In Western Astrology, also known as Tropical astrology, a person's sign is determined by the position of the Sun. If you were born on October 25th, then you're considered a Scorpio according to most people in the Western world.
The influence of the Sun in a birth chart will change depending on which house it is located in, its relative position in relation to other planets, as well as other factors. However, the following general traits are likely to be found in a native whose Sun is in Scorpio:
You are impulsive. You approach life with intensity and you don't like to waste time when making decisions. Some people find this trait impressive and attractive. However, you may also find yourself regularly facing unexpected consequences.
You have great courage. Natives with the Sun in Scorpio have a fearless quality about them. They are self-reliant and powerful. You know how to get yourself out of difficult situations. You may be a leader or pioneer in your field.
You are very intelligent. You have a burning passion for learning and expanding your knowledge of many varieties of subjects. You understand that knowledge is power, and you eagerly devour books, articles, and other content on topics that interest you.
You may frequently "go through the motions" of life. Because you are an intense person it is difficult for you to find meaning and fulfillment in the ordinary activities of day-to-day life. You may feel like your daily life is monotonous and you are running on autopilot. Developing a practice of meditation can help you become mindful and more appreciative of your surroundings and the people in your life.
You are likely to be more successful later in life. You may find that your inspiration and drive is somewhat lacking during the first part of your life. You are not likely to advance personally or professionally as much as you would like. However, once you enter your 30s you will start to see a visible improvement.
RECOMMENDED: Check out all our articles on Vedic astrology to learn more about the different signs of the zodiac, as well as the planets, houses, and nakshatras.
Scorpio Careers
Scorpios are tactical and precise. You manage your money well, and can succeed in a number of professions, including those in the realms of spirituality and mysticism. However, you may feel an urge to travel frequently, which could make long-term employment difficult.
Recommended careers: Scorpios make excellent surgeons, business professionals, naval or military officers, scientists, chemists, lawyers, political advisors, and administrators.
Careers to avoid: You may want to avoid roles that require a high degree of charisma or charm. For example, a career in television, sales, or diplomacy would not be the best fit for a Scorpio.
Scorpio Mantras
A mantra is a short phrase that uplifts and cleanses our mind, heart, and consciousness. Most suffering takes place only within the mind, and by practicing mantra meditation, we can experience total relief from all suffering and negativity.
The Vedic wisdom texts offer many different mantras, powerful and sacred sound vibrations, that are customized for each individual depending on their unique, personal circumstances.
Scorpios can especially benefit by meditating with the following mantra:
ॐ नरसिंहदेवाय​ नमः
Om narasimha-devaya namaha
The Vedas contain many mantras that are effective for different people according to their particular situation. However, some mantras are universal. The following maha-mantra, or "super mantra," is beneficial for people born in any zodiac sign:
हरे कृष्ण हरे कृष्ण कृष्ण कृष्ण हरे हरे
हरे राम हरे राम राम राम हरे हरे
Hare krishna hare krishna krishna krishna hare hare
Hare rama hare rama rama rama hare hare
RECOMMENDED: In ancient times, all astrologers made calculations using the same sidereal system that's used in Vedic astrology. Check out our article on the differences between Western and Vedic astrology to learn more.
Famous Birthdays on October 25
Pablo Picasso
Katy Perry
Clara
Craig Robinson
David Furnish
Johann Strauss II
Persia White
Chad Smith
Adam Goldberg
Phaedra Parks
Chandler Parsons
Nancy Cartwright
Ryan Clark Neal
Marion Ross
Samantha Bee
Ines Brasil
Mikhail Galustvan
Tracy Nelson
Bob Knight
Meghcad Brooks
Events in History on October 25
2021: Governor of New York Andrew Cuomo resigns amid a sexual harassment scandal
2020: Hong Kong tycoon Jimmy Lai is the most high-profile figure arrested in Hong Kong under its new security laws
2017: US President Donald Trump declares opioid addiction a national emergency
2017: Taylor Swift testifies, in Denver, Colorado court, that DJ David Mueller groped her
2015: Google announces its restructure as Alphabet, a holding company with Google, YouTube, Android and Chrome as subsidiaries
2008: American super-star swimmer Michael Phelps wins the 400m individual medley at the Beijing Olympics
2001: US and UK reject a proposal by UN Secretary General Kofi Annan to permit the Iraqi government to use $1 billion per year to fund infrastructure improvements and to increase oil production capacity
1997: Atlanta Braves sign Greg Maddux to then record 5 year, $57.5 million deal
1996: Bob Dole picks Jack Kemp as his Republican VP running mate
1993: Ruth Bader Ginsburg sworn in as a US Supreme Court Justice
1986: Pitcher Bob Forsch grand slams to lead Cardinals to a 5-4 win over Pittsburgh Pirates, in St. Louis
1984: The US beats Spain 96-65 to win the men's basketball gold medal at the Los Angeles Olympics
1983: 1st World Championships in Athletics: Carl Lewis wins gold in Men's Long Jump
1979: "Off the Wall" 5th studio album by Michael Jackson is released
1975: PGA Championship Men's Golf, Firestone CC: Jack Nicklaus wins his 4th PGA crown
1975: David Frost purchases exclusive rights to interview former US President Richard Nixon
1948: Bradman scores 133* Aust v Lancashire, 216 mins, 17 fours
1945: Japan announces willingness to surrender to Allies, provided Emperor Hirohito's status remains unchanged
1943: US General George S. Patton calls injured soldier "cowardly"
1943: Adolf Hitler watches lynching of allied pilots
1942: General Bernard Montgomery appointed commander British 8th Army in North Africa
1941: FDR & Churchill's 2nd meeting at Placentia, Newfoundland
1904: Angelo Giuseppe Roncalli (future Pope John XXIII) becomes a priest
1893: Rudolf Diesel's prime model internal combustion engine, a single 10-foot iron cylinder with a flywheel at its base, ran on its own power for the first time in Augsburg, Germany/li>
1792: Papers from the Tuileries Palace, proving the Comte de Mirabeau had secret dealings with the court are revealed
1792: A large scale insurrection against the French monarchy occurs in Paris
1776: American Revolutionary War: word of the United States Declaration of Independence reaches London.
1675: King Charles II and John Flamsteed lay the foundation stone of the Royal Observatory in Greenwich, London
1628: Swedish warship Vasa sinks in Stockholm, killing 30
Learn About the Zodiac
Learn more about your Zodiac Sign by checking out our complete guide on Scorpio. You can also learn about the signs of your friends and family!
Find the birth sign of any day of the year! Check out our comprehensive archive page where you can easily look up the Zodiac Sign for any day of the year!
Discover Your Nakshatra
In Vedic astrology the nakshatra is a used to determine many important aspects of a your life and personality. We have developed a free nakshatra calculator you can use to look up your nakshatra.