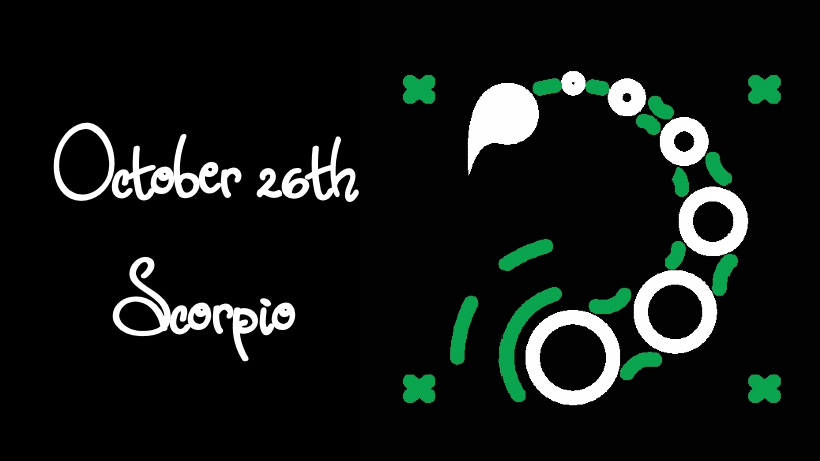 Were you born on October 26th? If so, then according to Western astrology your zodiac sign is Scorpio, the sign of the Scorpion. This means that when you were born, the Sun was in the stars that make up the constellation known as Scorpio. Learn the basics of your horoscope below.
Scorpio Overview
Scorpio is known as वृश्चिक (vrishchika) in Sanskrit, or "scorpion." Each sign of the zodiac is characterized by certain basic traits. This includes Symbol, Planetary Ruler, Element, Nature, and Gender. The general make-up of the Scorpio sign is below:
Sign of the Scorpion. Scorpio natives are intense and secretive. They may react harshly if provoked.
Ruled by Mars. Mars is the planet of war, explosions, sudden events, and land. Martian individuals are hard-working and self-confident
A water sign. Those with a Scorpio moon are perceptive, artistic, and sentimental.
A fixed sign. Persons born under this sign are steady, predictable, and slow to change.
A feminine sign. This makes the native receptive, sensitive, and empathetic.
Scorpio's preferred gemstone is red coral. Scorpios can also benefit from pink and white coral as well.
Traits of the Sun in Scorpio
In Western Astrology, also known as Tropical astrology, a person's sign is determined by the position of the Sun. If you were born on October 25th, then you're considered a Scorpio according to most people in the Western world.
The influence of the Sun in a birth chart will change depending on which house it is located in, its relative position in relation to other planets, as well as other factors. However, the following general traits are likely to be found in a native whose Sun is in Scorpio:
You are impulsive. You approach life with intensity and you don't like to waste time when making decisions. Some people find this trait impressive and attractive. However, you may also find yourself regularly facing unexpected consequences.
You have great courage. Natives with the Sun in Scorpio have a fearless quality about them. They are self-reliant and powerful. You know how to get yourself out of difficult situations. You may be a leader or pioneer in your field.
You are very intelligent. You have a burning passion for learning and expanding your knowledge of many varieties of subjects. You understand that knowledge is power, and you eagerly devour books, articles, and other content on topics that interest you.
You may frequently "go through the motions" of life. Because you are an intense person it is difficult for you to find meaning and fulfillment in the ordinary activities of day-to-day life. You may feel like your daily life is monotonous and you are running on autopilot. Developing a practice of meditation can help you become mindful and more appreciative of your surroundings and the people in your life.
You are likely to be more successful later in life. You may find that your inspiration and drive is somewhat lacking during the first part of your life. You are not likely to advance personally or professionally as much as you would like. However, once you enter your 30s you will start to see a visible improvement.
RECOMMENDED: Check out all our articles on Vedic astrology to learn more about the different signs of the zodiac, as well as the planets, houses, and nakshatras.
Scorpio Careers
Scorpios are tactical and precise. You manage your money well, and can succeed in a number of professions, including those in the realms of spirituality and mysticism. However, you may feel an urge to travel frequently, which could make long-term employment difficult.
Recommended careers: Scorpios make excellent surgeons, business professionals, naval or military officers, scientists, chemists, lawyers, political advisors, and administrators.
Careers to avoid: You may want to avoid roles that require a high degree of charisma or charm. For example, a career in television, sales, or diplomacy would not be the best fit for a Scorpio.
Scorpio Mantras
A mantra is a short phrase that uplifts and cleanses our mind, heart, and consciousness. Most suffering takes place only within the mind, and by practicing mantra meditation, we can experience total relief from all suffering and negativity.
The Vedic wisdom texts offer many different mantras, powerful and sacred sound vibrations, that are customized for each individual depending on their unique, personal circumstances.
Scorpios can especially benefit by meditating with the following mantra:
ॐ नरसिंहदेवाय​ नमः
Om narasimha-devaya namaha
The Vedas contain many mantras that are effective for different people according to their particular situation. However, some mantras are universal. The following maha-mantra, or "super mantra," is beneficial for people born in any zodiac sign:
हरे कृष्ण हरे कृष्ण कृष्ण कृष्ण हरे हरे
हरे राम हरे राम राम राम हरे हरे
Hare krishna hare krishna krishna krishna hare hare
Hare rama hare rama rama rama hare hare
RECOMMENDED: In ancient times, all astrologers made calculations using the same sidereal system that's used in Vedic astrology. Check out our article on the differences between Western and Vedic astrology to learn more.
Famous Birthdays on October 26
Emilia Clarke
Hillary Clinton
Keith Urban
Seth Mcfariane
CM Punk
Rita Wilson
Mohamamad Reza Pahalavi
Jaclyn Smith
Dylan Mcdermott
Katy Tur
Pat Sajak
Napoleon Hill
Mero Imai
Matsuko Deluxe
Tom Cavanagh
Aaron Kwok
Evo Morales
Schoolboy Q
Francois Mitterand
Toya Johnson
Events in History on October 26
2020: Japanese Prime Minister Yoshihide Suga says the country will becomes carbon neutral by 2050
2019: Raid by US Special Forces kills ISIS founder Abu Bakr al-Baghdadi in Syria
2017: Jacinda Ardern is sworn in as Prime Minister of New Zealand
2017: National Party of New Zealand found guilty of breaching the copyright of rapper Eminem's publisher
2017: Cremation ceremony for King Bhumibol Adulyadej of Thailand held in Bangkok, a year after his death
2015: "Spectre", 24th James Bond film, directed by Sam Mendes and starring Daniel Craig premieres in London
2014: Dilma Rousseff is re-elected President of Brazil
2000: Baseball World Series: NY Yankees beat NY Mets
1997: Jacques Villeneuve finishes 3rd in European Grand Prix at Jerez
1988: Donald Trump bills Mike Tyson $2,000,000 for 4 months' advisory service
1986: French McLaren driver Alain Prost retains his Formula 1 World Drivers Championship
1984: "The Terminator" directed by James Cameron, starring Arnold Schwarzenegger and Linda Hamilton is released in the US
1975: Anwar Sadat becomes the 1st Egyptian president to officially visit the United States
1972: Henry Kissinger declares "Peace is at hand" in Vietnam
1972 :Guided tours of the former prison at Alcatraz by the National Park Service begin
1972: Edwin Land introduces the first truly instant camera the Polaroid SX-70 camera at an event in Miami, Florida
1968: Future world heavyweight boxing champion George Foreman wins the Olympic heavyweight gold medal
1967: Shah of Iran Mohammad Reza Pahlavi crowns himself after 26 years on the Peacock Throne
1962: Nikita Khrushchev sends note to JFK offering to withdraw his missiles from Cuba
1962: JFK warns Russia that the USA will not allow Soviet missiles to remain in Cuba
1957: USSR fires defense minister Marshal Georgi Zhukov
1955: Ngô Đình Diệm proclaims Vietnam a republic with himself as President
1951: Winston Churchill re-elected British Prime Minister at the age of 76
1950: Mother Teresa founds Missionaries of Charity in Calcutta, India/li>
1941: Second meeting of partisans Tito & Draza Mihailovic in Yugoslavia
1922: Gertrude Bell appointed Honorary Director of Antiquities in new Department of Antiquities in Baghdad, Iraq
1922: Italian government resigns under pressure from fascists & Benito Mussolini
1919: US President Woodrow Wilson's veto of Prohibition Enforcement Bill is overridden
1861: Pony Express (Missouri to California) ends after 19 months
Learn About the Zodiac
Learn more about your Zodiac Sign by checking out our complete guide on Scorpio. You can also learn about the signs of your friends and family!
Find the birth sign of any day of the year! Check out our comprehensive archive page where you can easily look up the Zodiac Sign for any day of the year!
Discover Your Nakshatra
In Vedic astrology the nakshatra is a used to determine many important aspects of a your life and personality. We have developed a free nakshatra calculator you can use to look up your nakshatra.