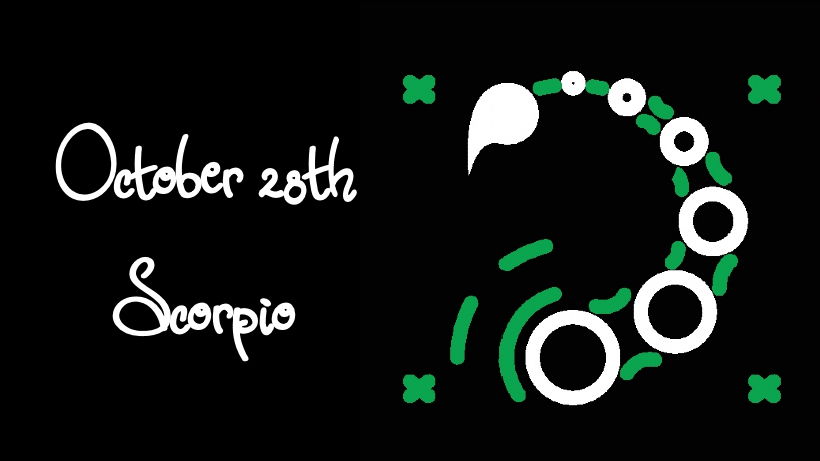 Were you born on October 28th? If so, then according to Western astrology your zodiac sign is Scorpio, the sign of the Scorpion. This means that when you were born, the Sun was in the stars that make up the constellation known as Scorpio. Learn the basics of your horoscope below.
Scorpio Overview
Scorpio is known as वृश्चिक (vrishchika) in Sanskrit, or "scorpion." Each sign of the zodiac is characterized by certain basic traits. This includes Symbol, Planetary Ruler, Element, Nature, and Gender. The general make-up of the Scorpio sign is below:
Sign of the Scorpion. Scorpio natives are intense and secretive. They may react harshly if provoked.
Ruled by Mars. Mars is the planet of war, explosions, sudden events, and land. Martian individuals are hard-working and self-confident
A water sign. Those with a Scorpio moon are perceptive, artistic, and sentimental.
A fixed sign. Persons born under this sign are steady, predictable, and slow to change.
A feminine sign. This makes the native receptive, sensitive, and empathetic.
Scorpio's preferred gemstone is red coral. Scorpios can also benefit from pink and white coral as well.
Traits of the Sun in Scorpio
In Western Astrology, also known as Tropical astrology, a person's sign is determined by the position of the Sun. If you were born on October 28th, then you're considered a Scorpio according to most people in the Western world.
The influence of the Sun in a birth chart will change depending on which house it is located in, its relative position in relation to other planets, as well as other factors. However, the following general traits are likely to be found in a native whose Sun is in Scorpio:
You are impulsive. You approach life with intensity and you don't like to waste time when making decisions. Some people find this trait impressive and attractive. However, you may also find yourself regularly facing unexpected consequences.
You have great courage. Natives with the Sun in Scorpio have a fearless quality about them. They are self-reliant and powerful. You know how to get yourself out of difficult situations. You may be a leader or pioneer in your field.
You are very intelligent. You have a burning passion for learning and expanding your knowledge of many varieties of subjects. You understand that knowledge is power, and you eagerly devour books, articles, and other content on topics that interest you.
You may frequently "go through the motions" of life. Because you are an intense person it is difficult for you to find meaning and fulfillment in the ordinary activities of day-to-day life. You may feel like your daily life is monotonous and you are running on autopilot. Developing a practice of meditation can help you become mindful and more appreciative of your surroundings and the people in your life.
You are likely to be more successful later in life. You may find that your inspiration and drive is somewhat lacking during the first part of your life. You are not likely to advance personally or professionally as much as you would like. However, once you enter your 30s you will start to see a visible improvement.
RECOMMENDED: Check out all our articles on Vedic astrology to learn more about the different signs of the zodiac, as well as the planets, houses, and nakshatras.
Scorpio Careers
Scorpios are tactical and precise. You manage your money well, and can succeed in a number of professions, including those in the realms of spirituality and mysticism. However, you may feel an urge to travel frequently, which could make long-term employment difficult.
Recommended careers: Scorpios make excellent surgeons, business professionals, naval or military officers, scientists, chemists, lawyers, political advisors, and administrators.
Careers to avoid: You may want to avoid roles that require a high degree of charisma or charm. For example, a career in television, sales, or diplomacy would not be the best fit for a Scorpio.
Scorpio Mantras
A mantra is a short phrase that uplifts and cleanses our mind, heart, and consciousness. Most suffering takes place only within the mind, and by practicing mantra meditation, we can experience total relief from all suffering and negativity.
The Vedic wisdom texts offer many different mantras, powerful and sacred sound vibrations, that are customized for each individual depending on their unique, personal circumstances.
Scorpios can especially benefit by meditating with the following mantra:
ॐ नरसिंहदेवाय​ नमः
Om narasimha-devaya namaha
The Vedas contain many mantras that are effective for different people according to their particular situation. However, some mantras are universal. The following maha-mantra, or "super mantra," is beneficial for people born in any zodiac sign:
हरे कृष्ण हरे कृष्ण कृष्ण कृष्ण हरे हरे
हरे राम हरे राम राम राम हरे हरे
Hare krishna hare krishna krishna krishna hare hare
Hare rama hare rama rama rama hare hare
RECOMMENDED: In ancient times, all astrologers made calculations using the same sidereal system that's used in Vedic astrology. Check out our article on the differences between Western and Vedic astrology to learn more.
Famous Birthdays on October 28
Matt Drudge
Bill Gates
Julia Roberts
Caitlyn Jenner
Joaquin Phoenix
Matt Smith
Frank Ocean
Ahmed Kaya
Lauren Holly
Annie Potts
Nolan Gould
Jami Gertz
Brad Paisley
Finn Wittrock
Kayo Noro
Peter Hitchens
Jack Eichel
Jonas Saik
Ozge Ulusoy
Sae Yamamoto
Events in History on October 28
2021: Mark Zuckerberg announces Facebook will change its corporate name to Meta amid increased public scrutiny over leaked internal documents
2020: French President Emmanuel Macron announces France will enter a new 4-week lockdown October 30 in televised address
2018 :British Mercedes driver Lewis Hamilton finishes 4th in the Mexican Grand Prix
2017: Spain's central government imposes direct rule on Catalonia, dismisses its government and calls for new elections in December
1988: Microsoft co-founder Paul Allen gives $10 million to University of Washington library
1978: Bobby Orr scores his last career NHL goal (vs Detroit Red Wings)
1976: Billy Martin named AL Manager of Year (NY Yankees)
1973: Indian Institute of Management Bangalore, designed by architect B. V. Doshi, inaugurated by Prime Minister Indira Gandhi
1971: The British Parliament debates the European Communities principle of membership and votes
1971: John Lennon and Yoko Ono record "Happy Xmas (War is Over)" in NYC
1965: Pope Paul VI proclaims Jews not collectively guilty for crucifixion
1962: Cuban Missile Crisis: US President JFK receives letter from Soviet Leaderr Khrushchev suggesting agreement
1958 :Angelo Giuseppe Roncalli elected Pope, taking name John XXIII
1956: Pope Pius XII publishes encyclical Luctuosissimi eventus
1954: Nobel Prize for Literature is awarded to Ernest Hemingway
1936: FDR rededicates Statue of Liberty on its 50th anniversary
1927: Josip Broz Tito begins 7 months jail sentence in Croatia
1924: Miner M.de Bruin discovers the infant fossil skull, "Taung child" in a lime quarry in Taung, South Africa.
1922: Italian fascists conduct the March on Rome, leading to the assumption of power by Benito Mussolini
1919: Volstead Act passed by US Congress, establishing prohibition, despite President Woodrow Wilson's veto
1918: Tomáš G. Massaryk claims independence for Czechoslovakia
1886: Statue of Liberty dedicated by US President Grover Cleveland, celebrated by first confetti (ticker tape) parade in New York City
1831 :Michael Faraday demonstrates his dynamo invention, an electrical generator
1793 Eli Whitney applies for a patent on cotton gin
1776: Battle of White Plains: George Washington retreats to New Jersey
1726: "Gulliver's Travels" by Jonathan Swift is published by Benjamin Motte in London
Learn About the Zodiac
Learn more about your Zodiac Sign by checking out our complete guide on Scorpio. You can also learn about the signs of your friends and family!
Find the birth sign of any day of the year! Check out our comprehensive archive page where you can easily look up the Zodiac Sign for any day of the year!
Discover Your Nakshatra
In Vedic astrology the nakshatra is a used to determine many important aspects of a your life and personality. We have developed a free nakshatra calculator you can use to look up your nakshatra.