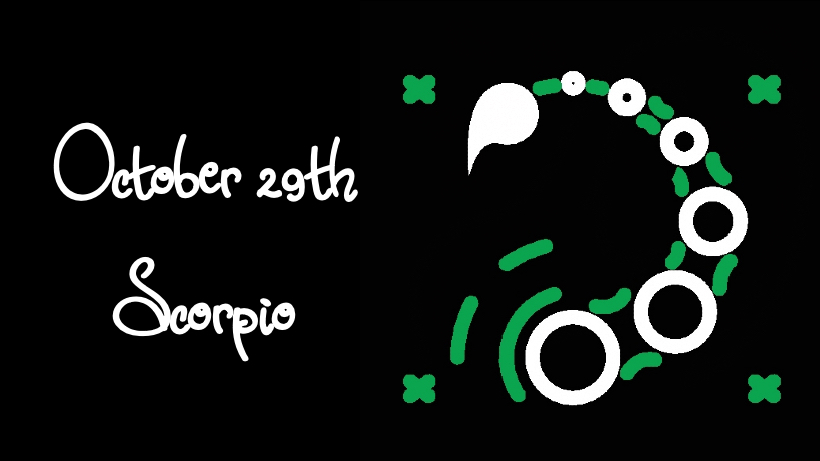 Were you born on October 29th? If so, then according to Western astrology your zodiac sign is Scorpio, the sign of the Scorpion. This means that when you were born, the Sun was in the stars that make up the constellation known as Scorpio. Learn the basics of your horoscope below.
Scorpio Overview
Scorpio is known as वृश्चिक (vrishchika) in Sanskrit, or "scorpion." Each sign of the zodiac is characterized by certain basic traits. This includes Symbol, Planetary Ruler, Element, Nature, and Gender. The general make-up of the Scorpio sign is below:
Sign of the Scorpion. Scorpio natives are intense and secretive. They may react harshly if provoked.
Ruled by Mars. Mars is the planet of war, explosions, sudden events, and land. Martian individuals are hard-working and self-confident
A water sign. Those with a Scorpio moon are perceptive, artistic, and sentimental.
A fixed sign. Persons born under this sign are steady, predictable, and slow to change.
A feminine sign. This makes the native receptive, sensitive, and empathetic.
Scorpio's preferred gemstone is red coral. Scorpios can also benefit from pink and white coral as well.
Traits of the Sun in Scorpio
In Western Astrology, also known as Tropical astrology, a person's sign is determined by the position of the Sun. If you were born on October 29th, then you're considered a Scorpio according to most people in the Western world.
The influence of the Sun in a birth chart will change depending on which house it is located in, its relative position in relation to other planets, as well as other factors. However, the following general traits are likely to be found in a native whose Sun is in Scorpio:
You are impulsive. You approach life with intensity and you don't like to waste time when making decisions. Some people find this trait impressive and attractive. However, you may also find yourself regularly facing unexpected consequences.
You have great courage. Natives with the Sun in Scorpio have a fearless quality about them. They are self-reliant and powerful. You know how to get yourself out of difficult situations. You may be a leader or pioneer in your field.
You are very intelligent. You have a burning passion for learning and expanding your knowledge of many varieties of subjects. You understand that knowledge is power, and you eagerly devour books, articles, and other content on topics that interest you.
You may frequently "go through the motions" of life. Because you are an intense person it is difficult for you to find meaning and fulfillment in the ordinary activities of day-to-day life. You may feel like your daily life is monotonous and you are running on autopilot. Developing a practice of meditation can help you become mindful and more appreciative of your surroundings and the people in your life.
You are likely to be more successful later in life. You may find that your inspiration and drive is somewhat lacking during the first part of your life. You are not likely to advance personally or professionally as much as you would like. However, once you enter your 30s you will start to see a visible improvement.
RECOMMENDED: Check out all our articles on Vedic astrology to learn more about the different signs of the zodiac, as well as the planets, houses, and nakshatras.
Scorpio Careers
Scorpios are tactical and precise. You manage your money well, and can succeed in a number of professions, including those in the realms of spirituality and mysticism. However, you may feel an urge to travel frequently, which could make long-term employment difficult.
Recommended careers: Scorpios make excellent surgeons, business professionals, naval or military officers, scientists, chemists, lawyers, political advisors, and administrators.
Careers to avoid: You may want to avoid roles that require a high degree of charisma or charm. For example, a career in television, sales, or diplomacy would not be the best fit for a Scorpio.
Scorpio Mantras
A mantra is a short phrase that uplifts and cleanses our mind, heart, and consciousness. Most suffering takes place only within the mind, and by practicing mantra meditation, we can experience total relief from all suffering and negativity.
The Vedic wisdom texts offer many different mantras, powerful and sacred sound vibrations, that are customized for each individual depending on their unique, personal circumstances.
Scorpios can especially benefit by meditating with the following mantra:
ॐ नरसिंहदेवाय​ नमः
Om narasimha-devaya namaha
The Vedas contain many mantras that are effective for different people according to their particular situation. However, some mantras are universal. The following maha-mantra, or "super mantra," is beneficial for people born in any zodiac sign:
हरे कृष्ण हरे कृष्ण कृष्ण कृष्ण हरे हरे
हरे राम हरे राम राम राम हरे हरे
Hare krishna hare krishna krishna krishna hare hare
Hare rama hare rama rama rama hare hare
RECOMMENDED: In ancient times, all astrologers made calculations using the same sidereal system that's used in Vedic astrology. Check out our article on the differences between Western and Vedic astrology to learn more.
Famous Birthdays on October 29
Winona Ryder
Bob Ross
Gabrielle Union
Ben Foster
Espinoza Paz
Joseph Goebbels
Tove Lo
Richard Dreyfuss
Rufus Sewell
India Eisley
Kat Timpf
Amarna Miller
Italia Ricci
Kate Jackson
Ariel Lin
C.J Wallace
Eleni Menegaki
John Magufull
Andy Dalton
Joely Fisher
Events in History on October 29
2018: German Chancellor Angela Merkel announces she will not seek re-election in 2021 and step down as party leader
2018: New mega airport opened in Istanbul by President Recep Tayyip Erdogan, planning to be world' busiest with 90 million passengers by 2021
2018: Far-right politician Jair Bolsonaro wins Brazil's presidential election defeating Fernando Haddad
2008: 10th century Archimedes Palimpsest, featuring lost works of Archimedes, made freely available on the web
2008: "Quantum of Solace" 22nd James Bond film starring Daniel Craig and Olga Kurylenko, premieres in London
2004: Arabic news network, Al Jazeera broadcasts an excerpt from a video of Osama bin Laden
1998: Space Shuttle Discovery blasts off on STS-95 with 77-year old John Glenn on board, making him the oldest person to go into space.
1994: Pink Floyd finishes their final concert tour with a show at Earls Court in London, England
1987: Thomas Hearns wins unprecedented 4th different weight boxing title
1986: British Prime Minister Margaret Thatcher opens the final stretch of London's Orbital Motorway
1982: Paul McCartney and Michael Jackson release single "The Girl is Mine";
1969: Tom Seaver voted NL Cy Young Award
1966: National Organization of Women founded in Washington D.C. with Betty Friedan as President
1960: Cassius Clay's [Muhammad Ali] 1st professional fight; beats Tunney Hunsake
1959: "Asterix" is first published in the French magazine "Pilote" by Rene Goscinny, illustrated by Albert Uderzo
1958: Boris Pasternak refuses the Nobel Prize for Literature
1956: Greek-American soprano Maria Callas makes her Metropolitan Opera debut
1956: NBC anchors Chet Huntley and David Brinkley first team up in "The Huntley–Brinkley Report".
1954: Colonel Gamal Abdel Nasser disbands the Muslim Brotherhood
1945: Getulio Vargas, President of Brazil, resigns
1924: Labour minority government loses British parliamentary election to Conservatives led by Stanley Baldwin
1915: Aristide Briand becomes Prime Minister of France for the 3rd time
1888: Lord Salisbury grants Cecil Rhodes charter for British South Africa Company
1692: Court of Oyer and Terminer, convened for Salem witch trials, dissolved
1682: William Penn lands at what is now Chester, Pennsylvania
1675: Gottfried Wilhelm Leibniz makes the first use of the long s, ∫, for integral, helping discover integral and differential calculus
Learn About the Zodiac
Learn more about your Zodiac Sign by checking out our complete guide on Scorpio. You can also learn about the signs of your friends and family!
Find the birth sign of any day of the year! Check out our comprehensive archive page where you can easily look up the Zodiac Sign for any day of the year!
Discover Your Nakshatra
In Vedic astrology the nakshatra is a used to determine many important aspects of a your life and personality. We have developed a free nakshatra calculator you can use to look up your nakshatra.