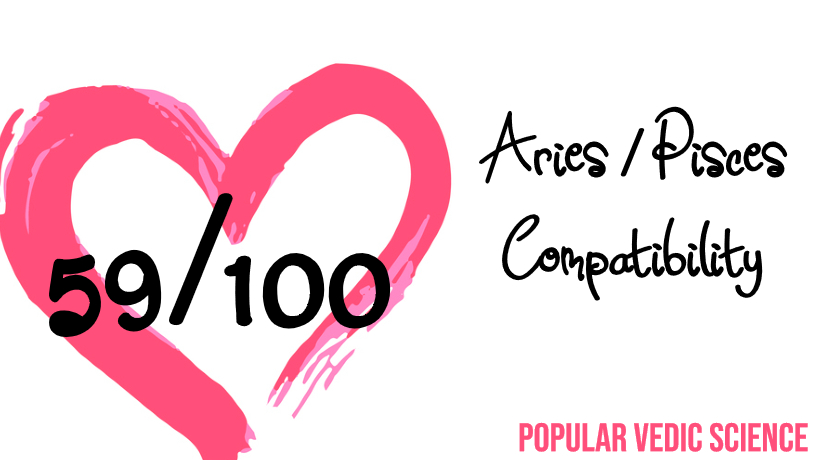 In this article we break down the astrological compatibility of Aries and Pisces signs, in terms of strengths and challenges in the relationship, romantic compatibility, communication, and more. We give tons of practical insights on how to nourish your relationship and overcome obstacles you'll likely face.
Recommended: Learn more about yours and your partner's overall personality, check out our complete guides to Aries and Pisces zodiac signs.
Aries Overview
Sign of the Ram. Aries natives are head-strong, and can be natural leaders. However, their competitive side might get them into trouble!
Ruled by Mars. Mars is the planet of war, explosions, sudden events, and land. Martian individuals are hard-working and self-confident.
A fire sign. Those with an Aries moon are temperamental, passionate, and energetic.
A movable sign. Persons born under this sign are fluid, spontaneous, and fond of change.
A masculine sign. This makes the native aggressive, bold, and thick-skinned.
Core Strengths
Natural born leaders
Ambitious and hard-working
Friendly and caring
Intelligent
Main Weaknesses
Overactive — may take on too much and leave things unfinished
Headstrong and reckless
Proud and boastful
Pisces Overview
Sign of the Fishes. Pisces natives are shy and soft-hearted. They can often be found encircled by loving friends.
Ruled by Jupiter. Jupiter is the planet of wisdom, spirituality, wealth, and learning. Jupiterians are religious and warm-hearted.
A water sign. Those with a Pisces moon are perceptive, artistic, and sentimental.
A dual sign.Persons born under this sign are adaptable and multi-talented.
A feminine sign. This makes the native receptive, sensitive, and empathetic.
Core Strengths
Sincere
Spiritual
Popular
Creative
Main Weaknesses
No clear direction in life
Vulnerable to flattery
Passive-aggressive
How Aries Approaches Relationships
Aries natives make excellent romantic partners when they see eye-to-eye with their spouse and experience genuine love and trust in the relationship. In fact, they might even become overly submissive out of a desire to please their partner. Ariens should make sure to be honest and open about their personal feelings and needs so that their partner has a chance to properly reciprocate with all that they are putting into the relationship.
How Pisces Approaches Relationships
Pisceans may have different ways of viewing the world from their partner. Their partner is likely to be more logical and rational about life, giving more importance to practical details, whereas the Pisces native prefers to focus on the big picture and leave certain things up to fate. This is not necessarily a sign of incompatibility — it just means that both partners need to work to appreciate one another's perspectives, and learn to leverage their individual strengths to work collaboratively as a single unit.
Planetary Compatibility
When assessing the compatibility of any two Zodiac signs, one of the first things to look at is the planetary friendships. Aries, under the direct influence of Mars, and Pisces, guided by expansive Jupiter, create a unique connection. In Vedic astrology, Mars and Jupiter are fast friends. The interplay between Mars' fiery assertiveness and Jupiter's spiritual and philosophical expansiveness produces an intriguing dynamic. Aries carries the torch of ambition and courage, while Pisces provides depth and wisdom. Together, they form a blend of enthusiasm and empathic wisdom. However, striking a balance between Aries' action-oriented approach and Pisces' contemplative nature can be challenging.
Strengths of the Relationship
One of the key strengths of the Aries and Pisces relationship is the mutual learning and growth that it facilitates. Aries, with its go-getter attitude, can help Pisces turn dreams into reality. Simultaneously, Pisces, with its deep insight and understanding, can teach Aries to be more empathetic and considerate.
Their relationship can also be characterized by the nurturing of dreams and ambitions. Aries provides the spark and drive, while Pisces contributes the vision and broader perspective. Together, they can make a formidable team, turning ideas into tangible achievements. However, the success of their relationship hinges on their ability to understand and respect each other's differing natures.
Challenges in the Relationship
The primary challenge in the Aries and Pisces relationship lies in their contrasting approaches to life. Aries' assertiveness and directness can be overwhelming for the sensitive and introspective Pisces. Similarly, Pisces' need for solitude and introspection may disappoint the sociable and outgoing Aries.
Pisces' tendency to retreat into a world of dreams and feelings can be perplexing for the action-oriented Aries. On the other hand, Aries' constant need for adventure and action might be exhausting for the peaceful Pisces. The key to overcoming these challenges is mutual understanding and compromise.
The Sexes at a Glance
The Aries Man
Influential
Spirited
Physically strong
Passionate / romantic
Egotistical
Likely to change residence
The Aries Woman
Straightforward
Outgoing
Ambitious
Dominant in relationships
Harsh in speech
Self-centered
The Pisces Man
Kind-hearted
Peaceful
Humble
Compassionate
Devout
Good memory
Overcommitted / no time for himself
The Pisces Woman
Selfless
Artistic
Satisfied
Humanitarian
Devout
Prefers to stay in the background
Romantic Compatibility
Romantically, Aries and Pisces can experience a mix of passion and compassion. Aries' fiery passion aligns with Pisces' deep emotional understanding to create a romantic bond that can be both intense and nurturing. However, Aries' need for constant adventure may clash with Pisces' desire for emotional bonding and depth, creating potential friction in their romantic life.
For their romantic compatibility to flourish, Aries must learn to slow down and appreciate Pisces' need for emotional depth, and Pisces should respect Aries' need for excitement and adventure. Striking this balance can be challenging but is crucial for their romantic life.
Things You Can Do Together
Aries and Pisces, with their contrasting yet complementary interests, can find a plethora of activities to enjoy together. Their unique combination of fire and water elements allows them to embark on both thrilling adventures and introspective explorations.
Aries, with its adventurous spirit, can introduce Pisces to outdoor activities such as hiking, rock climbing, or even white-water rafting. The thrill of these activities can bring out the hidden courage in Pisces while providing Aries with the adrenaline rush they crave. On the other hand, Pisces can invite Aries into a world of art, music, and spirituality. Attending concerts, visiting art galleries, or even engaging in meditative practices together can be enriching experiences for both.
Furthermore, the duo can find common ground in humanitarian causes, given Pisces' compassionate nature and Aries' leadership abilities. Volunteering at a local charity, participating in community service, or advocating for a social cause can be fulfilling and bonding experiences.
Intellectually, engaging in philosophical discussions can be another shared interest. Pisces' wisdom and Aries' curiosity can make for stimulating conversations. Book clubs, intellectual debates, or learning a new language together are additional activities that both partners may enjoy.
Despite these shared activities, it's crucial for both Aries and Pisces to maintain their individuality and enjoy their personal space. Aries should be mindful of Pisces' need for solitude, and Pisces should respect Aries' desire for independence. Balancing shared activities with individual pursuits is key to the health of their relationship.
How Aries and Pisces Communicate
Communication between Aries and Pisces can be a blend of straightforwardness and subtlety. Aries' direct and honest communication can sometimes be too blunt for the sensitive Pisces, while Pisces' indirect and symbolic communication might confuse the straightforward Aries. Understanding and adapting to each other's communication style is vital for maintaining harmony in their relationship.
For each sign, there are different strengths and weaknesses. Rather than focusing on what you don't like about your partner, try to see their strengths. There will inevitably be differences in communication styles between you and your partner. The key is to find respectful ways you and your partner can express yourselves while still staying true to your core values.
Summary and Overall Score
On average Aries and Pisces natives score 59/100.  This makes Aries and Pisces slightly compatible signs. Their strengths may be able to compensate for the challenges they will face in a partnership.
No two people are perfectly compatible. Thus, there is no such thing as 100/100 compatibility. For Aries, the best score attainable is with a Leo partner, which scores 88/100. The idea is that every relationship requires self-sacrifice, respect, and mutual effort.
Note: Astrological compatibility is a highly nuanced science, and it is always a good idea to get a complete reading from a skilled astrologer to learn about the specifics of your personal chart and your romantic compatibility with your partner.
The 12 Signs of the Zodiac
Learn about each of the twelve signs of the zodiac.