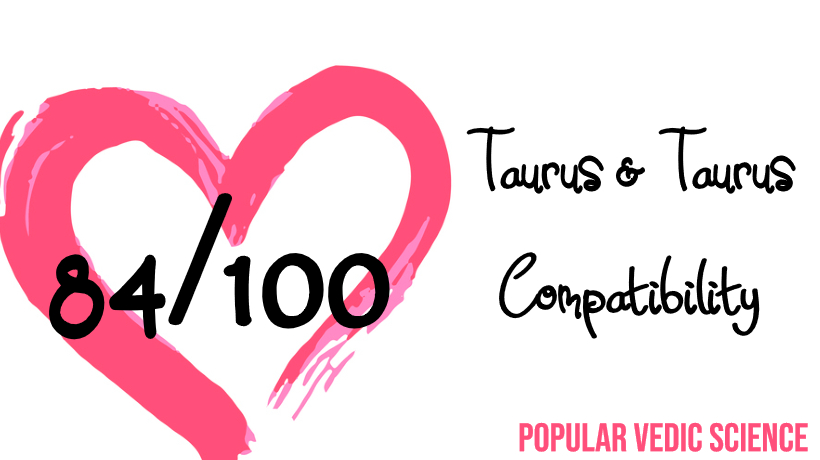 In this article we break down the astrological compatibility of Taurus and Taurus signs, in terms of strengths and challenges in the relationship, romantic compatibility, communication, and more. We give tons of practical insights on how to nourish your relationship and overcome obstacles you'll likely face.
Recommended: Learn more about yours and your partner's overall personality, check out our complete guide to the Taurus zodiac sign.
Taurus Overview
Sign of the Bull. Taurus natives are hard-working, determined, and have a big heart. However, they tend to show partiality to their own group, and can be callous toward outsiders.
Ruled by Venus. Venus is the planet of sensuality, fine food, the arts, and affairs of the home. Venetian individuals are fond of luxury and living the good life.
An earth sign. Those with a Taurus moon are grounded, thoughtful, and calm.
A fixed sign. Persons born under this sign are steady, predictable, and slow to change.
A feminine sign. This makes the native receptive, sensitive, and empathetic.
Core Strengths
Dutiful and hard-working
Easy-going
Thoughtful and contemplative
Caring and charitable
Main Weaknesses
Stubborn
Gullible and overly trusting
Sensual, prone to addictions
How Taurus Approaches Relationships
Taurus natives are loyal and committed partners, and their relationships tend to epitomize the saying "opposites attract." They just need to keep their stubbornness in check so that it doesn't come between them and their spouse. They should endeavor to find common values and interests that bring them and their partner together.
Planetary Compatibility
When assessing the compatibility of any two Zodiac signs, one of the first things to look at is the planetary friendships. The earthy Taurus is ruled by Venus, the planet of love, beauty, and pleasure. When two Taurus individuals come together, the influence of Venus is doubled, leading to a strong inclination towards harmony, aesthetics, and physical comforts. This Venusian influence creates an environment of mutual understanding and appreciation for beauty, luxury, and stability in their relationship. The two partners' shared values and similar lifestyle preferences make for a deep bond between the two of them.
However, the planet Venus also governs indulgence and materialism. Therefore, two Taurus individuals must be mindful of overindulgence or becoming too focused on material possessions. They must strike a balance between their love for luxury and the need for practicality and living within a budget. Moreover, the shared stubbornness, a typical trait of Taurus, might also pose challenges, especially when compromise is required.
Strengths of the Relationship
One of the primary strengths of a Taurus-Taurus relationship is their shared values. Both partners appreciate security, stability, and comfort, making it easy for them to understand each other's needs and desires. They are likely to agree on most things in life, from financial management to home decoration, and from food preferences to vacation spots.
Moreover, Taurus individuals are known for their loyalty and commitment. Once a Taurus makes a commitment, they stick to it, providing a sense of security and reliability to their partner. The trust that comes from this commitment forms a strong foundation for their relationship.
Another strength lies in their shared appreciation for the finer things in life. Both partners enjoy good food, beautiful surroundings, and physical comfort. This mutual love for luxury and beauty can lead to a lifestyle that both partners enjoy and appreciate.
Challenges in the Relationship
Despite the strong alignment between two Taurus individuals, certain obstacles could pose a challenge to their harmonious relationship. The key among these is their mutual resistance to change. Taurus individuals thrive in routine and can be wary of anything that disrupts their sense of security. This can limit their ability to adapt to new circumstances or take risks, which could lead to a monotonous relationship over time.
Further, their shared trait of stubbornness could trigger disagreements. While this obstinacy often translates into loyalty and perseverance, it can also make them uncompromising. In situations requiring adaptability, both partners might find it hard to concede their viewpoints, leading to potential stalemates.
Additionally, both Taurus individuals can be possessive, a trait arising from their need for security. While this can enhance their mutual commitment, it could also lead to instances of jealousy or over-protectiveness, which can put unnecessary strain on the relationship.
Lastly, their mutual appreciation for comfort may lead them into a sedentary lifestyle. This could affect their health and well-being over time, or lead to a lack of adventure and spontaneity in the relationship. Balance is crucial to avoid these challenges from overshadowing the numerous strengths of a Taurus and Taurus relationship.
The Sexes at a Glance
The Taurus Man
Steady
Moral
Responsible
Thrifty
Stubborn
May be overweight
The Taurus Woman
Positive
Respectful
Motherly
Pleasure-loving
Sexy
Worldly
Romantic Compatibility
When it comes to romance, a Taurus-Taurus relationship is likely to be filled with sensuality and affection. Both partners, being ruled by Venus, love to express their feelings in tangible ways, such as gifts, gestures, and touch. Their shared love language of physical touch and gifts creates a strong romantic bond between them.
However, their romance is not just about passion, but also about comfort and stability. Both partners value a stable and secure relationship, and their romantic expressions are likely to reflect this. They might prefer cozy dinner dates at home rather than wild nights out, and their expressions of love are likely to be steady and consistent, rather than grand and dramatic.
Things You Can Do Together
Taurus individuals, with their love for beauty and comfort, can find many activities to enjoy together. They might enjoy going to art galleries, concerts, or fine dining restaurants, appreciating the aesthetics and the sensory delights these experiences offer. Taurus natives have a strong appreciation for nature, so they might also find pleasure in outdoor activities such as gardening, hiking, or indulging in leisurely picnics in the park.
At home, creating a comfortable and beautiful environment is likely a shared interest. They might find joy in cooking together, turning meals into a feast for the senses with great food, good wine, and pleasant ambiance. Decorating their home, or simply enjoying their carefully curated living space, can also be a pleasant bonding experience in itself.
Additionally, with their shared practical nature, they might find fulfillment in working on DIY projects together or even running a business venture, where they can channel their dependability and determination.
In essence, the shared hobbies and interests of Taurus individuals provide a solid ground for mutual enjoyment. They can create a life filled with sensory pleasures and shared goals, offering both companionship and contentment in their shared activities.
How Taurus and Taurus Communicate
Communication between two Taurus individuals is typically straightforward and practical. Both individuals value clarity and honesty, and they are likely to appreciate each other's directness. They prefer to deal with issues pragmatically, discussing practical solutions rather than dwelling on emotional complexities. This can lead to effective problem-solving, but might sometimes leave emotional issues unresolved.
Taurus individuals are not known for their quick temper, but when provoked, they can hold onto grudges for a long time. It's important for a Taurus-Taurus couple to resolve conflicts in a timely manner, without letting issues simmer. Additionally, they should make an effort to discuss their feelings openly, rather than just focusing on practical matters. Learning to forgive one another and move on from past wrongs will be essential for maintaining a relationship based on love and trust.
In general, a Taurus-Taurus couple can have a harmonious communication style, as long as they remember to address emotional issues and avoid stubborn stand-offs. Their shared values and understanding of each other can help them overcome any communication challenges they face.
For each sign, there are different strengths and weaknesses. Rather than focusing on what you don't like about your partner, try to see their strengths. There will inevitably be differences in communication styles between you and your partner. The key is to find respectful ways you and your partner can express yourselves while still staying true to your core values.
Summary and Overall Score
On average Taurus and Taurus natives score 84/100.  This makes them highly compatible signs. Their many strengths are very likely to enable them to over come whatever challenges they face in a partnership.
No two people are perfectly compatible. Thus, there is no such thing as 100/100 compatibility. For Taurus, the best score attainable is with a Virgo partner, which also scores 84/100. The idea is that every relationship requires self-sacrifice, respect, and mutual effort.
Note: Astrological compatibility is a highly nuanced science, and it is always a good idea to get a complete reading from a skilled astrologer to learn about the specifics of your personal chart and your romantic compatibility with your partner.
The 12 Signs of the Zodiac
Learn about each of the twelve signs of the zodiac.