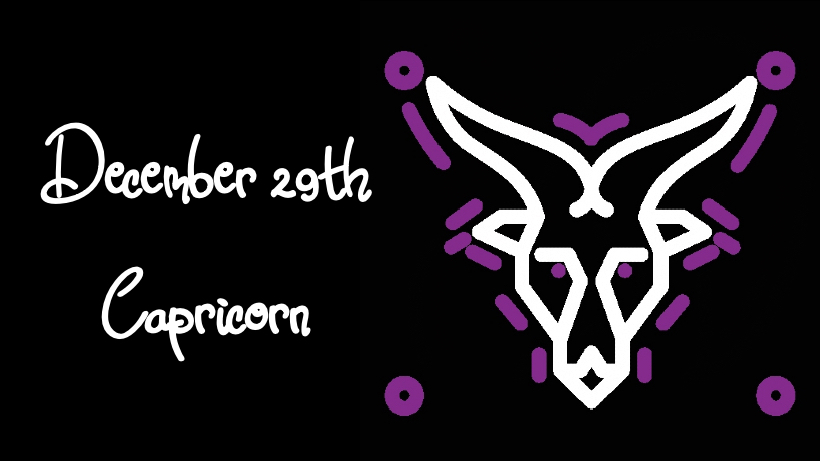 Were you born on December 29th? If so, then according to Western astrology your zodiac sign is Capricorn, the sign of the makara, or sea monster..
This means that when you were born, the Sun was in the stars that make up the constellation known as Capricorn. Learn the basics of your horoscope below.
Capricorn Overview
Capricorn is known as मकर (makara) in Sanskrit, or "crocodile." Each sign of the zodiac is characterized by certain basic traits. This includes Symbol, Planetary Ruler, Element, Nature, and Gender. The general make-up of the Capricorn sign is below:
Sign of the Makara. Capricorn natives are peculiar and powerful. They are very intelligent, but they often have a mean streak.
Ruled by Saturn. Saturn is the planet of karma, poverty, disease, austerity, and mysticism. Saturnine individuals are somber and mysterious.
An earth sign. Those with a Capricorn moon are grounded, thoughtful, and practical.
A movable sign. Persons born under this sign are fluid, spontaneous, and fond of change.
A feminine sign. This makes the native receptive, sensitive, and empathetic.
Capricorn's preferred gemstone is blue sapphire. Capricorn can also benefit from blue spinel and amethyst as well.
Traits of the Sun in Capricorn
In Western Astrology, also known as Tropical astrology, a person's sign is determined by the position of the Sun. If you were born on December 29th, then you're considered a Capricorn according to most people in the Western world.
The influence of the Sun in a birth chart will change depending on which house it is located in, its relative position in relation to other planets, as well as other factors. However, the following general traits are likely to be found in a native whose Sun is in Capricorn:
You are a natural businessperson. You are drawn to business, trade, and earning money. You can do well in an independent and competitive business environment. However, you may resort to unethical business practices. By giving a portion of your earnings in charity to a good cause, you can reduce your tendency toward greed.
You like to be on the move. You love to walk and see new places. You enjoy traveling. You are likely to have friends from foreign places, and you may do well in a business or profession that requires regular travel.
You have strong digestion. You like to eat and you have a good metabolism. This helps you stay in good shape and in sound physical health. According to Ayurveda, the digestive fire is one of the main factors that promotes wellbeing. When our digestion is weak, we are unable to properly assimilate food and this causes different varieties of disease.
You may struggle to live up to your full potential. You have many ambitions and ideas about what you could do in life, but you lack the motivation and willpower to see them through. By finding a mentor you will be able to properly channel your energies and will have a greater chance of realizing your full potential.
You are likely to have a variety of professions in life. You have diverse interests and are likely to pursue a number of different careers over the course of your life. Just be careful not to abandon a good opportunity solely out of boredom. If needed, you can always take up a side job or hobby without sacrificing your financial stability.
RECOMMENDED: Check out all our articles on Vedic astrology to learn more about the different signs of the zodiac, as well as the planets, houses, and nakshatras.
Capricorn Careers
Capricorn-natives are hard workers who can be found in a wide variety of professions.
Recommended careers: Anything stimulating to the intellect. Capricorns make good lawyers, writers, scientists, philosophers, professors, detectives, financial advisors, administrators, or industrialists.
Careers to avoid: You may want to avoid careers that require negotiation or compromise. For example, sales, diplomacy, or sports management.
Capricorn Mantras
A mantra is a short phrase that uplifts and cleanses our mind, heart, and consciousness. Most suffering takes place only within the mind, and by practicing mantra meditation, we can experience total relief from all suffering and negativity.
The Vedic wisdom texts offer many different mantras, powerful and sacred sound vibrations, that are customized for each individual depending on their unique, personal circumstances.
Capricorns can especially benefit by meditating with the following mantra:
ॐ वामनाय​ नमः
Om kurma-devaya namaha
The Vedas contain many mantras that are effective for different people according to their particular situation. However, some mantras are universal. The following maha-mantra, or "super mantra," is beneficial for people born in any zodiac sign:
हरे कृष्ण हरे कृष्ण कृष्ण कृष्ण हरे हरे
हरे राम हरे राम राम राम हरे हरे
Hare krishna hare krishna krishna krishna hare hare
Hare rama hare rama rama rama hare hare
RECOMMENDED: In ancient times, all astrologers made calculations using the same sidereal system that's used in Vedic astrology. Check out our article on the differences between Western and Vedic astrology to learn more.
Famous Birthdays on December 29
Jude Law
Marco Antonio Solis
Alison Brie
Ross Lynch
Jon Voight
Dylan Minnette
Charlotte Riley
Diego Luna
Ted Danson
Kel Nishikon
Danny McBride
Events in History on December 29
2016: US President Barack Obama retaliates against Russia for hacking American computer systems
2013: 7-time world F1 motor racing champion Michael Schumacher suffers a serious head injury
2007: Tom Brady sets a then-NFL record, throwing his 50th TD pass
1994: Australian cricket's spin king Shane Warne dismisses England's Phil DeFreitas, Darren Gough and Devon Malcolm for a famous hat-trick in 2nd Test win in Melbourne
1993: Courtney Love sues doctors for leaking news of her methadone treatment
1991: Boeing 747-200F freight plane of China Airlines crashes into mountain
1991: "A Christmas Carol", starring Patrick Stewart, in a one-man show, closes at Eugene O'Neill Theater,
1989: Václav Havel is selected to be president of Czechoslovakia
1984: Wayne Gretzky scores his NHL career 32nd hat trick
1984: Indian Prime Minister Rajiv Gandhi claims victory in parliamentary elections
1983: Indian cricket opening batsman Sunil Gavaskar scores an unbeaten 236
1978: Shah of Iran Mohammad Reza Pahlavi asks Shapour Bahktiar to form a civilian government
1970: Ballon d'Or: Bayern Munich striker Gerd Müller wins award for best European football player
1968: AFL Championship, Shea Stadium, NYC: New York Jets beat Oakland Raiders
Learn About the Zodiac
Learn more about your Zodiac Sign by checking out our complete guide on Capricorn. You can also learn about the signs of your friends and family!
Find the birth sign of any day of the year! Check out our comprehensive archive page where you can easily look up the Zodiac Sign for any day of the year!
Discover Your Nakshatra
In Vedic astrology the nakshatra is a used to determine many important aspects of a your life and personality. We have developed a free nakshatra calculator you can use to look up your nakshatra.