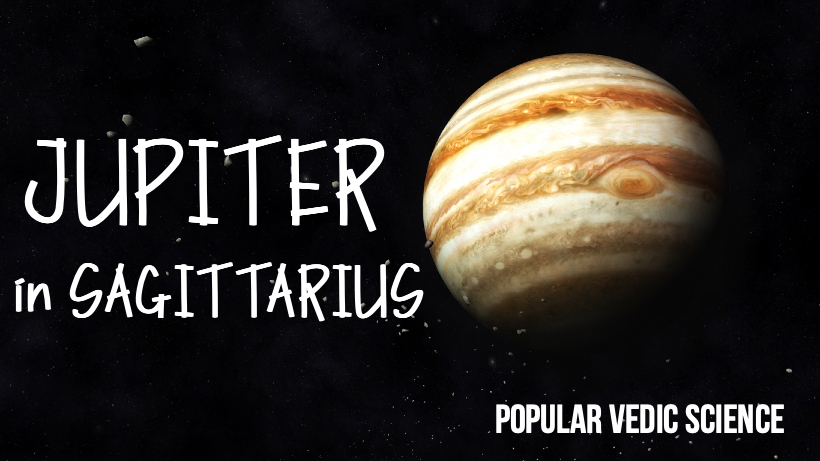 In this article we provide a detailed overview of Jupiter in Sagittarius as well as its impact in each of the 12 houses of the zodiac. Do you have Jupiter in Sagittarius in your horoscope? If so then this article is for you.
Jupiter: The Planet of Wisdom, Teachers, and Spirituality
In the royal court of the planets, Jupiter is the advisor and priest. In Vedic theology, Jupiter is known as Brhaspati, the guru of the gods. The Romans worshiped Jupiter as the king of the gods, seeking his blessings for good fortune and military victory. Their view seems to be an amalgamation of the original Puranic personalities of Brhaspati and Indra, the god of weather and king of the celestial realm.
Weekday
Jupiter's weekday is Thursday, known in Latin as Jovis, or the day of Jupiter. In Sanskrit, Thursday is known as Guruvar, or the day of Brhaspati, the guru of the gods.
Speed of Travel
One of the slower moving planets, Jupiter completes one round of the zodiac in approximately eleven years, ten months, and five days. Jupiter spends just under a year in each sign — eleven months and 26 days.
Areas of Influence
In an astrological chart, Jupiter governs the following:
Wisdom, devotion, and piety
Ministers, teachers, and gurus
The husband and children, especially sons
Worship, expansion, and liberation
Wealth, sacrifice, and self-control
Virtue, good manners, one's overall character
Reputation, position, education
Fruit, charity, and holy places
Initiation, spirituality, and one's worldview
Sagittarius: The Sign of the Archer
Sagittarius is the ninth sign of the zodiac. In Vedic astrology, Aquarius is known by the Sanskrit name dhanus, or "the archer." The sign of Sagittarius possesses a righteous, noble, and passionate nature. Sagittarius is a sign of good fortune. In an astrological chart, it indicates areas where you are religious and devoted in your efforts.
Basic Traits
Ruled by Jupiter. Jupiter is known as the planet of wisdom, devotion, and piety. He brings wisdom and a religious energy to the house he inhabits.
A fire sign. Sagittarius is temperamental, passionate, and energetic.
A dual sign. Sagittarius is adaptable and multi-talented.
A masculine sign. Sagittarius is aggressive, bold, and thick-skinned.
Areas of Influence
Aquarius influences its planetary lord in the following areas:
Virtue and wisdom
Spirituality and devotion
Passion and sacrifice
Vigor and athleticism
Fortune
Traits of Jupiter in Sagittarius
The influence of Jupiter in a birth chart will change depending on which house it is located in, its relative position in relation to other planets, as well as other factors. However, the following general traits are likely to be found in a native who has Jupiter in Sagittarius:
You give freely. Jupiter is the noblest planet among the nava-graha, or the nine planets that influence the birth chart in Vedic astrology. Sagittarius is one of two signs ruled by Jupiter, so for those who have Jupiter in Sagittarius in their native chart, the influence of this benevolent planet is further enhanced. You enjoy doing good deeds and giving to others, including sharing your time, your resources, and your affection.
You are likely to be in charge. As a noble-minded person, others naturally look up to you and trust you. For these reasons, you often find yourself in positions of leadership, whether you seek them out or not. You can have a positive influence by others if you act with integrity, keep your word, and follow ethical codes of conduct found in wisdom literatures like the Bhagavad-gita.
You are fortunate. You are one of the lucky ones. You likely took birth in an upper-middle-class or upper-class family, and you have more resources available to you than the average person.
You engage in activism. You believe in basic human rights and strive to help those who are less fortunate than you are. You fight for the causes you believe in, and you aspire to leave a meaningful legacy behind you when you die.
You are religious. Of all the signs, Sagittarius is the most likely to engage in devout religious practice. In the modern day, this doesn't always manifest as one of the mainstream Abrahamic faiths. Religion comes in all shapes and sizes — some being just one's own personal set of rules and codes for life. Nonetheless, you are very serious about how you live and the impact your life has on those around you.
Jupiter in Sagittarius in the 12 Houses
Every natal chart is unique. It is not possible to give a fully accurate reading without considering the various elements of the chart, including planetary combinations, aspects, friendships, directional strength, and more.
The traits below are general indications which will change depending on the influence of the factors listed above.
In the First House
The first house indicates physique and self-expression. You are a saintly person devoted to God consciousness. You will live a fortunate and happy life. You will do many good works for the sake of others.
In the Second House
The second house indicates wealth and cultural traditions. You possess a brilliant mind. You enjoy researching and learning about history, science, religion, philosophy, and all kinds of various subjects. You are physically attractive, and people find you charming and eloquent.
In the Third House
The third house indicates siblings, courage, and literary works. You travel often and may be a writer. You have a keen eye for aesthetics and art. You are very expressive and may do well in communications, entertainment, politics, or any role that leverages your strong speaking and rhetorical skills.
In the Fourth House
The fourth house indicates one's mother, home, and basic beliefs. You will be very happy throughout life. You have a loving family, and you are especially close with your mother. You will have a lucrative and promising career.
In the Fifth House
The fifth house indicates children, creative works, and overall success. You may work in the government or in an executive position at a company. You will make good money and may also earn extra income through wise investments. You are an optimist and others find you charismatic and exciting to be around.
In the Sixth House
The sixth house indicates debt, disease, and service. You may are likely to have an interest in mysticism and tantra. However, be wary of pursuing such things for the net result is misery. Real spirituality doesn't involve superhuman powers, but a pure heart and devotion to God. You may become famous, but you will suffer due to opposition from others.
In the Seventh House
The seventh house indicates the spouse, marital happiness, and sexual desire. You are witty, and friendly. You are a talented speaker and writer. You may even have talent for writing poetry. However, you are likely to be too attracted to romantic pursuits, and this may cause you trouble.
In the Eighth House
The eighth house indicates death, calamities, and interest in the occult. You like to travel, especially to spiritual places. You may spending most of your time serving or assisting others rather than pursuing your own initiatives. You will likely be dissatisfied in your marital life. Be wary of lending large sums of money to friends.
In the Ninth House
The ninth house indicates religion and morality. You are self-sacrificing, and may be attracted to a life of spirituality and renunciation as a monk or yogi. If you do choose to have a family and children, you will derive great happiness from them. You will be well-known both in your professional and personal circles.
In the Tenth House
The tenth house indicates one's father, career, and reputation. You are ambitious, and you have a high trajectory in life. You can achieve success in practically any undertaking. You are close with your parents and your peers admire and respect you. You will live a noble and fulfilling life.
In the Eleventh House
The eleventh house indicates gains, aspirations, and friendships. You will be very wealthy. You have many wonderful ideas, and may be drawn to a career as a researcher, inventor, or consultant. You are a natural networker and you can advance with the help of your friends. You care about your health. You steadfastly pursue your goals.
In the Twelfth House
The twelfth house indicates losses, misfortune, and liberation. This is a challenging position for Jupiter. You struggle to keep your integrity at times, and you may end up acting against your better judgment. This brings you shame and disrespect from those who know you. You are likely to travel frequently. Be courteous toward those around you so that you don't cause them undue difficulty.
Famous People with Jupiter in Sagittarius
Cameron Diaz
Vincent Van Gogh
Ben Affleck
Charles Prince of Wales
Jean-Claude Van Damme
Hugh Grant
Evelynne Dheliat
Stevie Nicks
Kim Jong-un
Edgar Cayce
Colin Firth
Tony Robbins
Adolf Hitler
Walt Disney
Katy Perry
Scarlett Johansson
Prince Harry of Sussex
Mark Zuckerberg
Khloe Kardashian
Vanessa Paradis
Tom Holland
Alyssa Milano
Margaret Thatcher
Avril Lavigne
Charlie Chaplin
Jude Law
Julie Gayet
Gwyneth Paltrow
Dwayne Johnson
Bono
Beethoven
Hailey Baldwin
Richard Gere
Jennifer Garner
Pope Francis
LeBron James
Learn More About Vedic Astrology
Expand your knowledge of astrology! Check out our guides to Vedic Astrology and the nine planets, known collectively in Sanskrit as the nava-graha. You can also learn about the differences between Western and Vedic astrology.
The Twelve Signs of the Zodiac
The 27 Nakshatras